Online Dating

The Best Online Dating Sites in the US
When it comes to online dating in the US, the number of options can start to make your head spin. Should you go with a niche dating site or one with a larger pool of potential dates? Is it worth it to pay for a subscription plan or should you just stick with the freemium version? These are all valid questions that you should consider when deciding which dating site to choose. So to make things easier for you, we've tried out the best dating sites and broken down how they compare to each other. Hopefully, these dating site reviews should give you more insight so you can choose the right one. Good luck!
This article contains affiliate-links.
eHarmony


A dating site with an enormous user base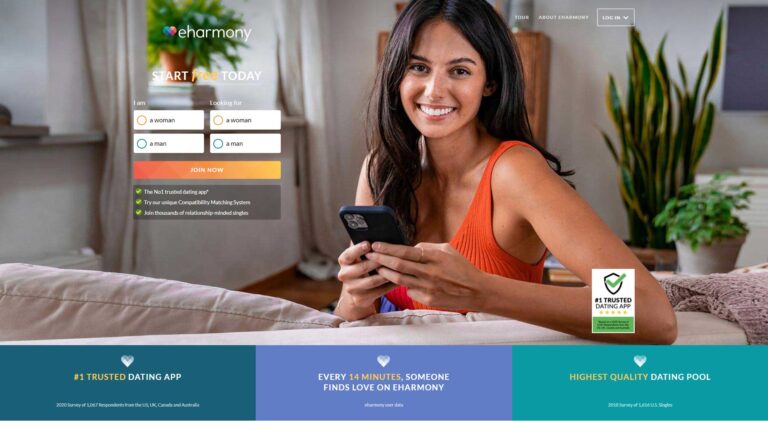 Member count:
15.5 million

Gender distribution:
47% Female | 53% Male

eHarmony has certainly made a name for itself over the years as the go-to spot for finding a long-term relationship, aka, true love. They use their "Compatibility Matching System" which is supposed to employ a psychological matching algorithm that uses the scientific research method. For those who are open to meeting singles of any demographic, the eHarmony platform has a lot to offer. With over 29 million members that come from diverse backgrounds and cultures, you're sure to find plenty of matches. However, the search filter for LGBT+ gender preference options is limited, so you might want to consider a more niche dating site if that is important to you.
As far as price goes, eHarmony is in the middle tier of dating sites. We think the site is priced fairly for everything the site and app give you. Features include sending smiles to let other users know you're interested. You can also kick off conversations by sending automated questions, which serve as ice breakers for people that don't feel comfortable initiating contact. Another feature we like is the "What If?" function that gives you an additional 30 matches per day that are outside your preference settings.
One of the major perks of choosing eHarmony is that both its website and app are intuitive and easy to use. There are some features that are limited to the desktop site, such as adding profiles to your favorites list, but that doesn't take much away from the app. For those that enjoy using dating apps on the go (e.g. work trips, vacations, etc.), the app makes dating more convenient. However, this isn't an app like Tinder. People on eHarmony are looking for serious companionship that lasts.
In-depth compatibility questionnaire
Large membership base
Easy to meet serious singles
Pricy payment plans
Not ideal for casual dating
How much does a membership at

eHarmony

cost?
| | | |
| --- | --- | --- |
| Duration | Price | Total |
| 6 months | $54.90 / month | $329.40 |
| 12 months | $39.90 / month | $478.80 |
| 24 months | $29.90 / month | $717.60 |
Match


The dating site for serious relationship seekers



Gender distribution:
51% Female | 49% Male

Chances are you've heard of Match.com. They're one of the originators in the dating site game and claim to have created more marriages than any other site. Whether that's because they've been around so long or it's just a great dating site, we're not sure. But we can say for certain that Match attracts the type of customers that are looking for long-term companionship. Maybe that's why they have produced so many marriages — people who use the app are in it for the same reason.
We like Match in particular because they've stuck to their roots, but they've also kept up with the times by adding more features, making the experience more entertaining. Match provides you with quite a few options to search for profiles. Those include Match Picks (where Match makes suggestions for you), Activity Date (where Match shows you recently active members), and Newest First (which shows you members that have joined recently). You can also search by Photo Count to see profiles with more pictures, and also Distance if you want to shorten or widen your search range. If those search features aren't enough, you can also find Mutual Matches (people you've liked and they've liked you back), as well as Reverse Match (suggests people who are looking for someone like you).
To take advantage of the features such as Instant Messaging, Anonymous Browsing, and Voice Calling, you'll have to pay for the premium membership. However, with the standard plan, which costs a bit less, you can still send messages and see if anyone has been viewing your profile. Match seems to be fairly confident in their product considering they guarantee a successful match with a 6-month membership. If they don't, you get another 6-month membership free of charge.
40% of matches stay together for several months
Exciting features like MatchPhone & Match Me
Events are held for members to meet
Members looking for companionship
Easy to use interface
There are some fake profiles on the site
No verification process
How much does a membership at

Match.com

cost?
| | | |
| --- | --- | --- |
| Duration | Price | Total |
| 3 months | $34.99 / month | $104.97 |
| 6 months | $24.99 / month | $149.94 |
| 12 months | $19.99 / month | $239.88 |
EliteSingles


A dating site that takes personality compatibility serious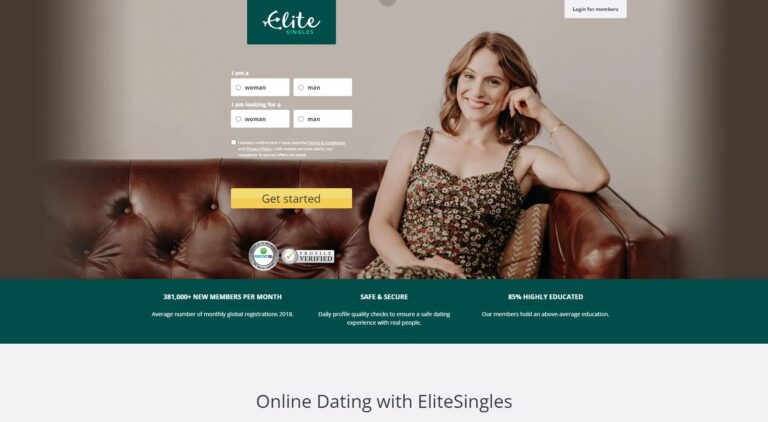 Gender distribution:
57% Female | 43% Male

As the name suggests, EliteSingles is for people that match up both intellectually and financially. In other words, the singles on this dating site will have a higher education level and take their career very seriously. With so many single Americans that fall into this category, it's no wonder EliteSingles has become so popular with over 5 million members. What the site has done particularly well is attract an equal ratio of men to women, which isn't usually the case for most dating sites. This puts its members on an equal playing field.
Because its member base is highly educated and career-driven, you'll find most are between the ages of 30 and 45. In fact, almost 90% of its members are 30 years old and above. At this point, you can probably guess that EliteSingles is pricier than most other dating apps, and you are absolutely right. While there is a free plan available, it is extremely limited (you can only send winks and use the search filter). If you pay for the premium subscription, you can send, receive, and reply to messages. You can also utilize the Wildcard Match feature, which allows you to receive an extra 20 matches a day.
EliteSingles boasts that their platform helps "2500 singles find love each month." They accomplish this by finding you 3 to 7 compatible matches each day based on the personality test that you fill out. This test was created using the "Five Factor Model" which assesses different levels of openness, conscientiousness, extraversion, agreeableness, and neuroticism. The idea is that by filling out this personality test, the EliteSingles algorithm should find you matches that are in line with your personality, making the process of finding a compatible partner easier and more swift.
In-depth personality test for matchmaking
Impressive safety features
In-depth personality profile
Successful and intelligent users
For those serious about finding love
Not ideal for the casual dater
Lengthy personality test
Not ideal for singles in their 20s
A limited number of singles outside cities
How much does a membership at

EliteSingles

cost?
| | | |
| --- | --- | --- |
| Duration | Price | Total |
| 1 month | $59.95 / month | $59.95 |
| 3 months | $57.95 / month | $173.85 |
| 6 months | $44.95 / month | $269.70 |
SilverSingles


For those looking for a second chance at love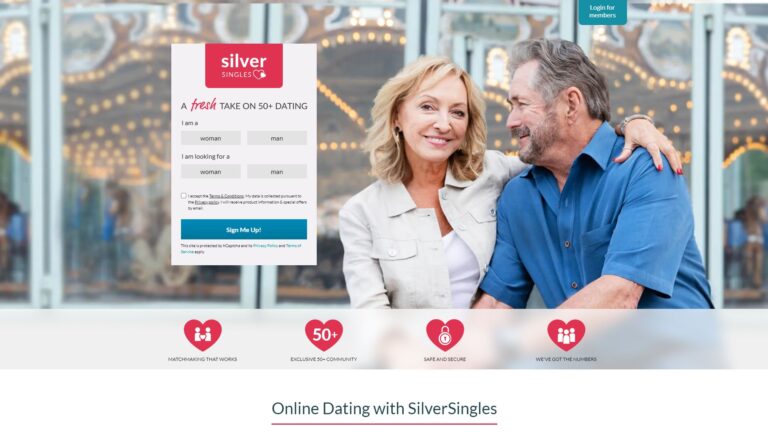 Gender distribution:
59% Female | 41% Male

Just because the dating site is named SilverSingles doesn't mean you need to have gray hair to join the platform. However, you should be someone that's 50 and over looking to find true companionships. In most cases, members on the platform are recently divorced or widowed and looking for a second chance at love. However, there are some younger users as well in their 30s and 40s. That's because the site doesn't want to limit singles in their 50s and 60s from matching with singles younger than them.
SilverSingles is a desktop-only dating site where you can sign up for free, a process that typically takes between 20 and 30 minutes. The reason for this lengthy sign-up process has to do with SilverSingles' required personality test, which contains over 100 questions. While this task may seem tedious, the idea is to know all the traits, habits, and characteristics that make you who you are. This way, SilverSingles' algorithms can match you with like-minded individuals. For this reason, it's important to answer each and every question truthfully and honestly. After you have set up your account, the site will calculate the probability of you matching with other members, and suggest the perfect matches for you.
Aside from the personality test meant to match you with ideal candidates, members also have to write out the answers to 7 questions that will be visible on their profiles. This allows you to get to know matches better before deciding if you want to message them. However, you might find that there aren't as many active users on the site as SilverSingles suggests. Don't be surprised if you find less than 8 matches per day, or even less if you live in a more rural area.
Ideal for those looking for love
Improved match-making with personality test
A helpful customer service
Easy-to-use application
Need premium membership for most features
Must sign up for a minimum of 3 months
How much does a membership at

SilverSingles 

cost?
| | | |
| --- | --- | --- |
| Duration | Price | Total |
| 3 months | $37.95 / month | $113.85 |
| 6 months | $21.95 / month | $131.70 |
| 12 months | $19.95 / month | $239.40 |
Zoosk


An online dating site for serious and casual relationships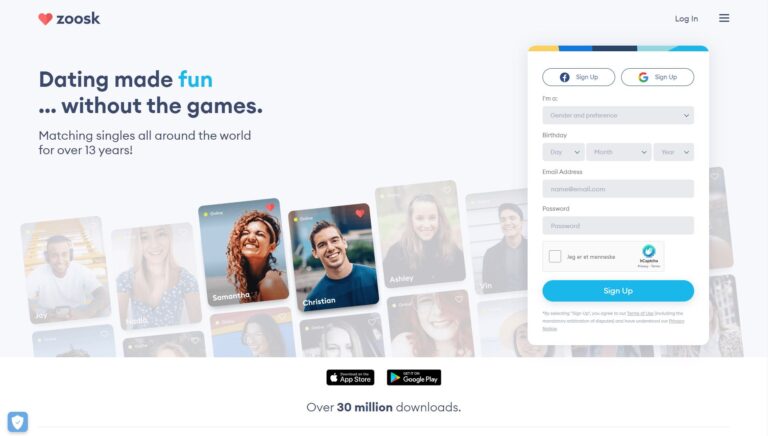 Gender distribution:
52% Female | 48% Male

If you're looking for an online dating site that doesn't cater to a specific niche, then Zoosk might be the place for you. Here you can find singles looking for both long-term and casual relationships. You can either use the desktop website or the application from the Apple or Google app store, which has been downloaded over 30 million times. The monthly membership cost is reasonably cheap compared to other dating sites on this list, starting at just $12.49/month if you sign up for 6 months. They do offer a freemium membership, but it only allows you to view profiles and send smiles and hearts.
Zoosk prides itself on its proprietary "Behavioral Matchmaking" technology, which is the brains behind its operation. This machine learning technology learns from the actions of 40 million members to create better matches each time. The majority of these members fall between the ages of 25 and 35, but with such a large member base, you're guaranteed to find plenty of other age groups as well if you desire. If you'd like to see who's available on the site, it only takes 3 to 5 minutes to sign up, and you can do that by linking your Facebook or Google account.
Basically, there are two ways to match with other users. First, there is the carousel feature where they show you one profile preview at a time, and you can either click on X, Maybe, or Check. The second matching feature is their signature SmartPick function, which learns your site navigation behaviors and uses that information to suggest like-minded individuals. You can identify whether people are real or not because each profile shows you how they verified themselves. If you notice anything suspicious, you can report/block that member's profile.
A large, active userbase
Solid verification process
Quick registration process
Not ideal for older demographic
Extra cost for Zoosk coins
Need social media to verify profile
How much does a membership at

Zoosk 

cost?
| | | |
| --- | --- | --- |
| Duration | Price | Total |
| 1 month | $29.95 / month | $29.95 |
| 3 months | $19.98 / month | $59.95 |
| 6 months | $12.49 / month | $74.95 |
OurTime


Where singles over 50 can find love or friendship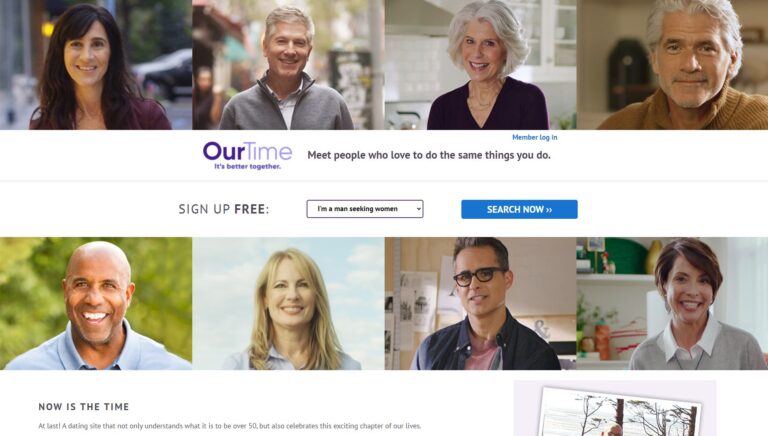 Gender distribution:
52% Female | 48% Male

Here is another over 50s dating site that gives older singles the chance to meet that special someone. The main thing that separates OurTime from SilverSingles is that the platform also allows you to find friends, pen-pals, and other types of relationships as well. We like this aspect of the site because a lot of recently divorced or widowed singles over 50 aren't necessarily ready to jump right into another long-term relationship. This site gives them the opportunity to take things slowly by simply finding someone to get coffee with.
Functionally, the site doesn't try to complicate things too much. Registration is a breeze, you can upload up to 30 photos, and most non-tech savvy individuals can navigate the site with ease. Much like other dating sites on this list, you must pay for a subscription plan if you want to freely message other users. Otherwise, you're limited to sending "Flirts," OurTime's version of sending likes or pokes to show your interest in a potential match. Premium members are also able to customize their profile background colors and themes to separate themselves from others in order to stand out. However, due to the location-based matching algorithm, members in rural areas probably shouldn't expect a ton of matches.
In addition to a paid subscription, OurTime also has a currency system in the form of tokens that members can purchase. With these, you can buy virtual gifts that you can give to matches, or you can boost your visibility so more members come across your profile. Both the Best Value Plan and the Standard Plan give you full access to OurTime's mobile app, which has the same number of features as the desktop version.
Allows you to send virtual gifts
Created for 50 and over singles
Offers mobile application as well
Fits all kinds of budgets
Simple to register and use
Try it out for free
No verification process
Must be near urban area
Must pay for useful features
Look out for fake profiles
How much does a membership at

OurTime

cost?
| | | |
| --- | --- | --- |
| Duration | Price | Total |
| 1 month | $34.96 / month | $34.96 |
| 6 months | $15.96 / month | $95.76 |
Christian Mingle


The largest community of Christian singles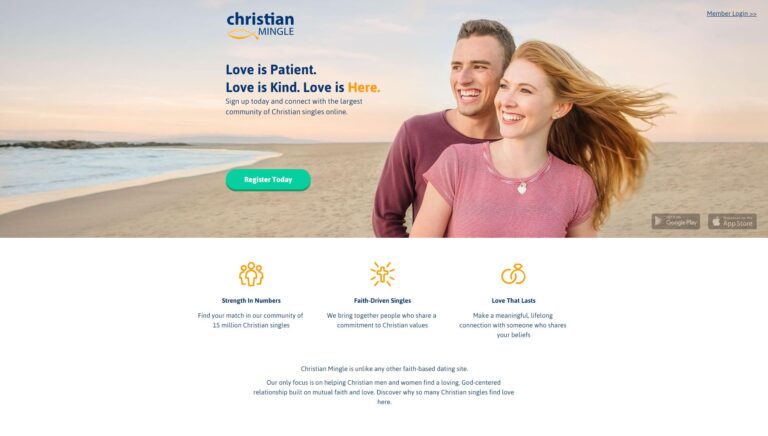 Gender distribution:
56% Female | 44% Male

If you're a Christian single looking for love, Christian Mingle is an excellent place to start. As the largest community of Christian singles online, its member base has reached 15 million. Christian Mingle prides itself as a place where faith-driven singles can find love that lasts. With a balanced ratio of men to women, members of both sexes should have an equal chance of finding someone. There's even a free downloadable app that users can use while on the go. However, a membership is going to cost you a bit more than some of the other dating sites on this. So we'd recommend giving the free trial a go before making any quick decisions.
You'll find that most members of the site fall between the ages of 25 and 40, the age most folks are ready to settle down, get married, and have kids. Because Christian Mingle relies on Christian values, beliefs, and family importance, they don't provide a personality test to connect people. Instead, most users enjoy using the search function to browse profiles based on different preferences such as ethnicity, Christian beliefs, and much more. However, like most other dating sites, Christian Mingle also gives you daily suggested matches based on the preferences you filled out when you signed up.
You'll find that there are fake profiles on Christian Mingle, but their team does its best to eliminate them as quickly as possible. Images that are uploaded go through a reverse search to identify images that came from Google or other search engines. You can also report fake profiles that are trying to scam people, and their support team will act fairly quickly. Just remember that users can add up to 6 photos, so if a profile only contains one or two, it's most likely fake.
Ideal for serious commitment
For those who share similar values
Balanced gender ratio
7 million members
Easy to use website and app
Strictly Christian singles
Lacks a search function
Not easy to cancel membership
Fake profiles & scammers to look out for
On the pricier end of the dating site spectrum
How much does a membership at

Christian Mingle

cost?
| | | |
| --- | --- | --- |
| Duration | Price | Total |
| 1 month | $49.99 / month | $49.99 |
| 3 months | $34.99 / month | $206.94 |
| 6 months | $24.99 / month | $149.94 |
AdultFriendFinder


The largest online dating site for casual hookups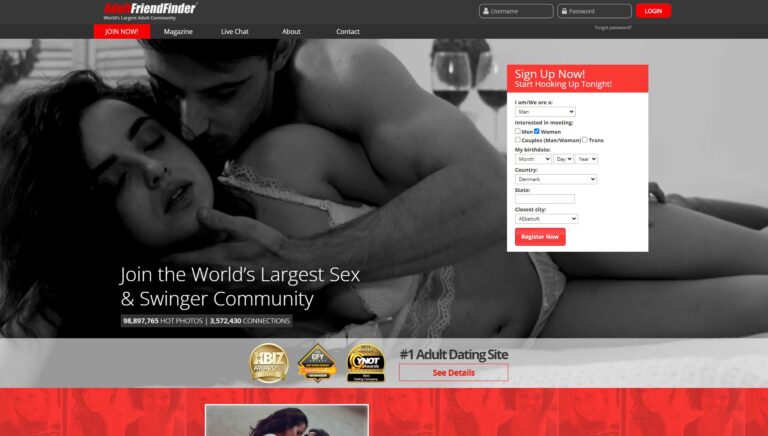 Gender distribution:
40% Female | 60% Male

While Adult Friend Finder is considered a dating app in a general sense, the platform is in fact made for casual sex, friends with benefits, and those looking to spice up their sex lives. We included it on our list because there are over 64 million members in the US on the site, making it one of the largest dating sites in the world. You'll find that a large portion of those members is people looking for threesomes and couples looking to swing. Additionally, you'll find all sorts of different kinks, fetishes, and sexualities.
If you're looking to take advantage of all of the cool features Adult Friend Finder has to offer, you'll have to pay for a membership plan, which can be pricey. Those features include reading and sending messages, viewing full profiles, chatting, and adding friends. With the standard plan, you can still watch public streams and videos, leave comments and likes on photos and videos, as well as search using filters. If you're looking for men on the site, you'll have countless options because males far outnumber women. But with such a large user base, both sexes shouldn't have any problems finding what they're looking for.
We think it's a fair assessment to say the ideal person for Adult Friend Finder is someone open to trying something new and adventurous. With an almost endless number of features and search filters, you're bound to find a suitable sexual partner. Just look out for scammers and bots on the site due to the ease of registering with the minimal basic information required. However, it should be easy to spot fake profiles because real ones will be detailed and informative with lots of photos. We'd recommend providing as much content on your profile as possible to find like-minded individuals.
Welcomes all kinds of desires
Paid membership includes lots of features
Users are very active
Not for serious relationship seekers
Contains explicit content and fake profiles
How much does a membership at

AdultFriendFinder

 

cost?
| | | |
| --- | --- | --- |
| Duration | Price | Total |
| 1 month | $39.95 / month | $39.95 |
| 3 months | $26.95 / month | $80.85 |
| 12 months | $19.95 / month | $239.40 |
Plenty of Fish – POF


One of the worlds largest online dating sites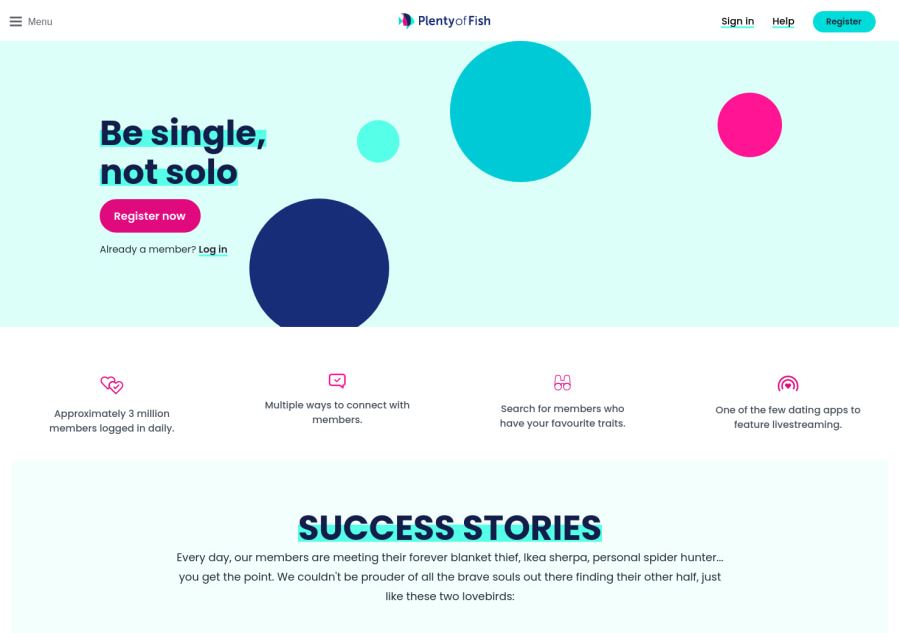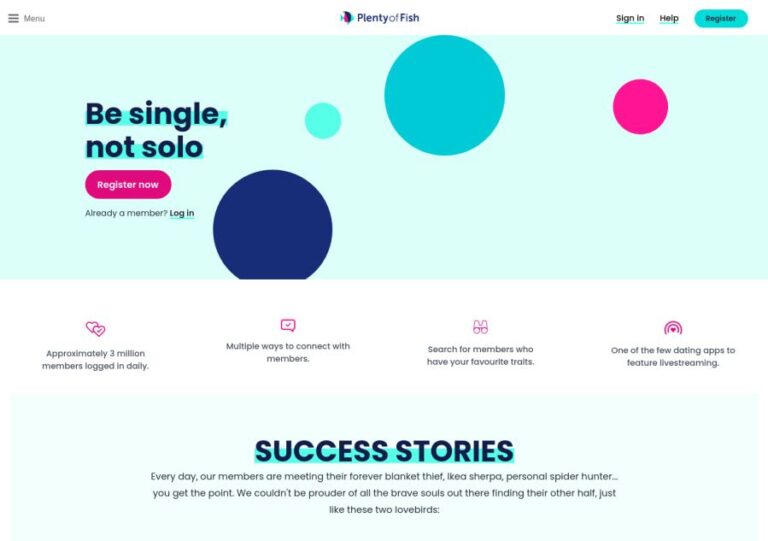 Gender distribution:
40% Female | 60% Male

Plenty of Fish, also known as POF, has over 90 million members worldwide, making it one of the largest and most successful dating sites. So many singles are drawn to the site because you can find both casual and long-term relationships. Plus, they offer a free membership plan that includes sending and receiving messages, a rarity for most dating sites. Members can also find friends on POF, which is great for people looking to expand their social circle. And because the site has a growing member base in Canada, the UK, and Australia as well, users can utilize the platform when traveling abroad to those places.
You'll notice that the bulk of its members are in their 20s and 30s, with men making up most of the population, which is common for a dating site of this nature. In particular, we like that almost all of the profiles on POF are authenticated with its RealMe background feature, which verifies each account via phone number. You won't have to link any social media accounts and the registration process is free to both Standard and Premium members. Once you're signed up, any member can get matches and send messages to those who like each other. Women with either plan can send private messages to whoever they like.
The quality of profiles on POF is generally high, with multiple profile photos, information, and catchphrases. This is because users must complete a questionnaire and provide enough information before their profiles can go live. This ensures that the POF algorithm can make comprehensive matches that are compatible. With a premium membership, users can add twice as many photos and include a catchphrase to grab more attention.
Easy to use application
Fast registration process
Affordable premium plans
Not for younger demographics
No video chatting feature
How much does a membership at

Plenty of Fish

 

cost?
| | | |
| --- | --- | --- |
| Duration | Price | Total |
| 2 months | $19.35 / month | $38.70 |
| 4 months | $12.75 / month | $51.00 |
| 8 months | $10.18 / month | $81.40 |
OkCupid


An online dating site that has something for everyone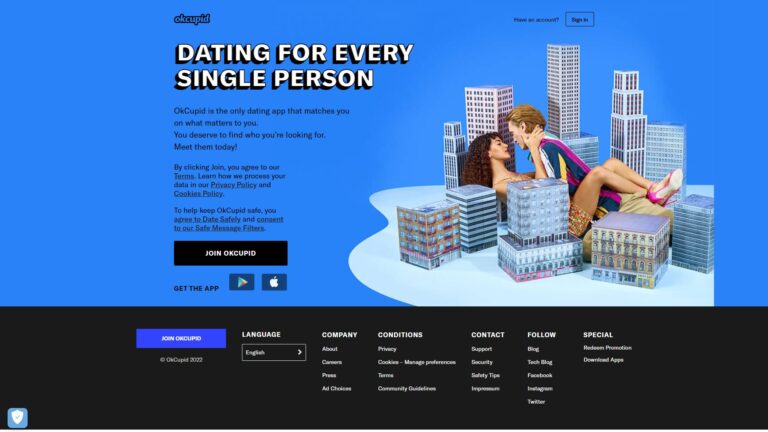 Gender distribution:
48% Female | 52% Male

OkCupid is a dating site that markets itself as a "Dating Site for Every Type of Person." What does this mean exactly? Well, in short, they don't want to pigeonhole themselves specifically as a place for long-term relationships or only for hookups. They want to give their users the option. So when you sign up, you must choose between "Long-Term Dating," "Short-Term Dating," "New Friends," or "Hookups." Because the majority of OkCupid's member base falls between the ages of 25 and 35, most people are looking for long-term relationships.
Even though OkCupid says its platform is made for everyone, its main focus is on helping people find "love and happiness through meaningful connections," and they have the algorithm to back up that claim. OkCupid asks thousands of questions about yourself so the algorithm can match you with like-minded individuals. Questions will include everything there is to know about you, including your thoughts on climate change and even cilantro. You can also choose from 22 different gender options and 13 orientation choices. You can do all of this via desktop or from their mobile application available on both the Apple and Google app stores.
Some special features of OkCupid include Double Take, See Who You Like, See Who Likes You, Boosts, and Super Boosts. Those are pretty self-explanatory, however, the Stacks feature is somewhat interesting. Because the app has so many users that you're likely to match with, Stack allows you to categorize them by "Online," "Recommended," "Nearby," or "Question Pros," which are users that answered the majority of the compatibility questions. OkCupid also takes health safety seriously by allowing members who have had at least one COVID vaccine to add an "I'm Vaccinated" badge to their profile.
An inclusive platform for all types
A smooth interactive user interface
Ideal for younger demographic
For serious and casual daters
Comprehensive questionnaire
Offers useful freemium plan
Mostly for those in their 20s & 30s
Tons of fake profiles and scammers
How much does a membership at

OkCupid 

cost?
| | | |
| --- | --- | --- |
| Duration | Price | Total |
| 1 month | $39.99 / month | $39.99 |
| 3 months | $26.66 / month | $79.98 |
| 6 months | $19.99 / month | $119.94 |
Badoo


A place for young people to meet and date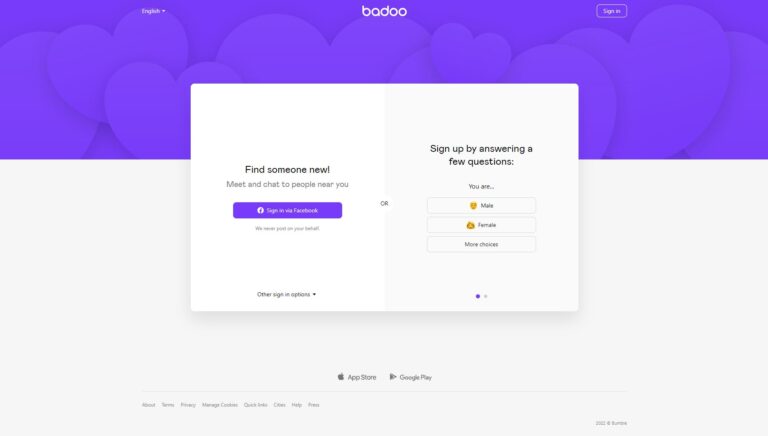 Gender distribution:
30% Female | 70% Male

Badoo is a social network with an emphasis on meeting people and also finding dates. Badoo is actually the second largest social network in several countries in South America and Southern Europe. A major part of Badoo's popularity has to do with its free app that allows users to chat free of charge. Most members use the platform to meet new people and go on casual dates. While most of its member base is in Europe, Badoo still has a large, growing population in the US with over 12 million users. Most of them tend to be in their late teens to early 20s. However, you will find a fair share of users in their 30s as well that are looking for something more serious.
To sign up for Badoo, you must link a social media account or verify your phone number. If you've properly gone through the verification process, your profile will receive a blue checkmark so other users know you're a real person and not a bot or scammer. If you want to upload a photo, you'll have to go through another verification process. This requires you to take a photo of yourself in the same pose as the sample image Badoo sends you. This will actually freeze your account until the photo has been verified. So we would recommend checking out the platform and browsing other users' profiles to see if you like Badoo before uploading a photo.
The two main features of Badoo are Badoo Encounters and People Nearby. Encounters is Badoo's version of swiping left or right, where you click one on your keyboard (or press the heart icon on the app) if you are interested, or you click two (or the X icon on the app) if you want to pass. People Nearby is Badoo's search function where you can narrow down your results by gender, location, age, distance, and who's currently online.
Lots of ways to communicate
A reliable verification process
Top-rated casual dating site
Stark gender distribution ratio
Based on photos, not compatibility
How much does a membership at

Badoo

cost?
| | | |
| --- | --- | --- |
| Duration | Price | Total |
| 1 month | $9.99 / month | $9.99 |
| 3 months | $8.33 / month | $24.99 |
| 6 months | $5.83 / month | $34.99 |
ChristianCafe


A place to meet Christians with like-minded values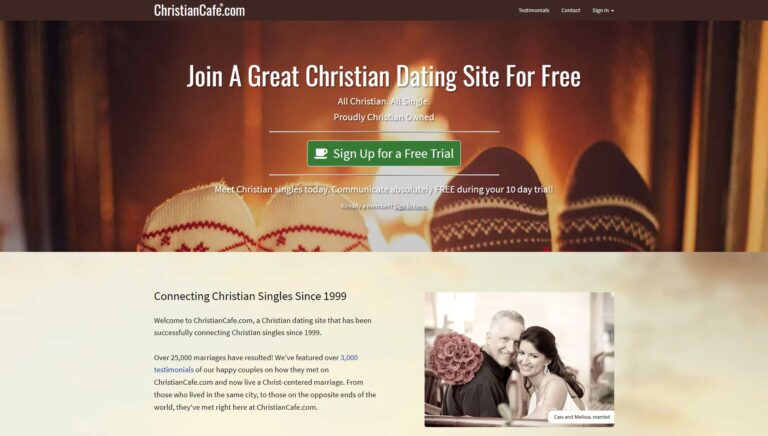 Gender distribution:
60% Female | 40% Male

Here's another dating site that exclusively caters to the Christian singles community, much like Christian Mingle. They market themselves as a premium dating site that's proudly Christian-owned and have produced over 25,000 marriages since 1999. Christian Cafe members can use the site not only to meet other Christian singles, but also to seek support, fellowship, and advice through group conversations. It's estimated that about half of their members come from the US (around 1 million), while the other half come from diverse nationalities. All of these members are looking for love, companionship, and serious relationships.

After you've set up your account by providing all the necessary details about yourself, you can start making contact on Christian Cafe. You'll be given a 10-day free trial before you have to pay their subscription fees. With the information you've provided, Christian Cafe will match you with other users and show you a compatibility percentage score. The criteria of this score depends on the information you filled out such as age, location, sect or religious branch, and interests. You can also search for other users by sorting by different filters as well. If you'd like to make contact with other users, you have the option to send winks, messages, and exchange contact information. However, you won't be able to exchange contact information during the free trial period.

When browsing profiles, there are 3 sections of different information provided. The first thing you'll notice about someone is their "Vitals," which includes basic details like location, age, and the last time they've been online. In the next section labeled "Profile," you'll get to know more about their faith, number of children, schooling, employment, and so on. And finally, you'll find the user's self-written paragraph if they've chosen to write one. We recommend filling out as much information as possible if you want more people to contact you on Christian Cafe.
High-quality matches
Specified match results
Tons of success stories
Outdated website design
Fewer users to match with
How much does a membership at

ChristianCafe

cost?
| | | |
| --- | --- | --- |
| Duration | Price | Total |
| 1 month | $34.97 / month | $34.97 |
| 3 months | $16.65 / month | $49.95 |
| 6 months | $13.33 / month | $79.95 |
Online Dating FAQ
What is online dating?
Online dating, also known as internet dating, is a way for people to meet online with the intent of eventually going on dates and forming a relationship. Online dating, for the most part, has been around since the birth of internet popularity. Last year, it was estimated that 44.2 million Americans used online dating services, and that number is expected to climb to 55.3 million by 2025. It's also reported that over 40% of heterosexual couples in the US have claimed to meet their partner online. That's compared to just 22% in 2009. 
What is the best online dating site?
We wish we could give a clear answer to that question. But unfortunately, the best online dating site for everyone doesn't exist. However, there is the best dating site specifically for you. To discover the best site, you have to consider what you're looking for. For instance, not all demographics see online dating as a place to meet and form long-term relationships. Many people in their 20s often see online dating as a place for casual dating or hookups. It's important to choose the right dating site depending on what kind of relationship you're seeking. For the most part, you'll find that free dating sites cater to casual encounters, while sites with subscription plans and personality quizzes cater to serious relationship seekers. After reading through these reviews, you should have a better idea about which dating site is best for you. 
How do I get started with online dating?
The basics of online dating involve you choosing a site that seems right, creating an online profile with photos and other information, and choosing your match preferences. After that, the online dating site uses its algorithm (mathematical formulas) to match you with other users based on the details you provided. For most sites, you'll also have the option to search for other profiles by narrowing down your results by location, age, religion, etc. To make contact with someone, you'll have the option to send them a message, like, or even a gift. Our advice is to try out different freemium plans and free trials so you can get a feel for the platform before deciding to spend money on a subscription plan. 
How do I start a conversation?
You can simply say something like "Hey, how are you?" or you can break the ice in a more effective way. We recommend taking these effective steps to help your response rate:
Do a little recon before sending a message — By this, we mean to go through their profile photos and the information they provided to figure out what they're interested in. Who knows, maybe you have multiple things in common that you can talk about. 
Send something interesting — Online dating site users are bombarded with boring messages constantly. Try something a little more interesting like a question that forces them to really think about the answer. Try something along the lines of "What do you prefer to do on your day off – head to the mountains, chill on the beach, or sleep till noon?"
Try again if your first message didn't get a response — You never know, a lot of people live busy lives. Try a follow-up message before you give up entirely. If he or she doesn't respond to your follow-up, move on to the next match. You don't want to come off as weird or look like a stalker. 
Know when to ask the person out — Don't keep a conversation online going for weeks on end. Try looking for hints, such as "What are your plans this weekend?" These are great opportunities to say something like "I was going to walk my dog or go on a hike. Would you like to join?" 
When should I swap numbers when dating online?
Usually, the time to exchange numbers is when you've already decided to meet up or go on a date. It's much easier to text or call someone if you're looking for them in public or messaging back and forth to find each other. After that first date, you can keep that line of communication. We wouldn't recommend giving out your personal number if you just started chatting on an online dating platform, just in case they turn out to be troublesome. 
When should we meet in person?
Most experts recommend meeting as soon as possible. While it might seem like you're getting to know someone by messaging, meeting in person is a whole 'nother ball game. You really can't perceive someone's personality through messaging as you can in person. That's why it's even better to talk over the phone or video chat with someone before you meet in public. That way, you can see if you get along well before deciding to meet for real. 
Is online dating safe?
Online dating is as safe as you make it. Either way you look at it, you're still meeting a stranger online. For this reason, it's always important to take the necessary precautions to protect yourself. We recommend using these safety tips:
Don't give anyone sensitive information such as your address, location, bank details, social media, phone number, etc.
Do some research on the people you're talking to online by Googling their names, checking out their profiles, or looking at their Instagrams posts or Tweets.
Always meet in a public place with lots of people around, tell someone where you're going, share your live location, and don't rely on transportation from your date. 
Report anyone acting suspiciously to the online dating website. This way they can't keep using the platform for whatever it is they're trying to do.