Dating Sites

The Best Dating Sites in the US
When we combine work with everything else going on in our lives, finding someone to date can be difficult. For this reason, a lot of us have turned to online dating sites to meet like-minded people we can connect with. But it's not always easy to find the perfect dating site that matches your lifestyle. For this reason, we've done an in-depth comparison of 12 US dating sites. Hopefully, one of them will work for you!
This article contains affiliate-links.
eHarmony


For singles looking for a serious relationship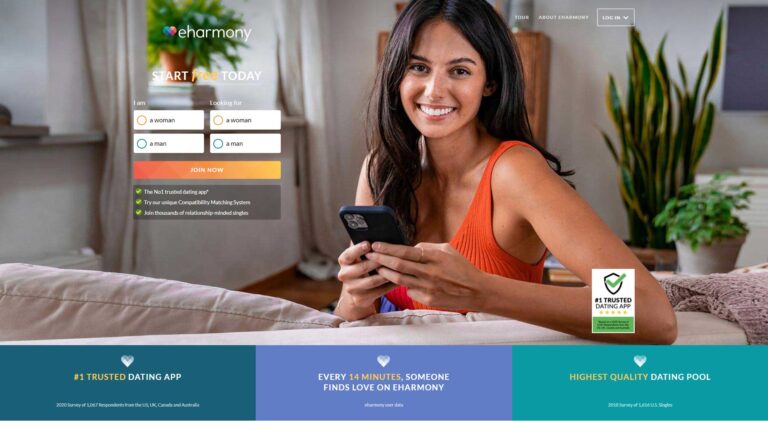 Member count:
15.5 million

Gender distribution:
47% Female | 53% Male

With approximately 37 million users across 200 countries, eHarmony has certainly made a name for itself. But if you'd like to become one of those users, make sure you put aside a good chunk of time because eHarmony's sign-up process is long—with over 400 questions to answer. However, the questions they ask are also fun for the most part and don't seem too cumbersome.
While the site is certainly not cheap, you at least get what you pay for. The price ensures that only genuine, serious singles take part in the platform. With the freemium version, you can still view profiles, send smiles, icebreakers, and greetings. But you'll need the premium plans to enjoy features such as video chats, unlimited messaging, and more detailed searches and results. Unlike Match, you'd be glad to know that eHarmony has a real ID verification process so you don't have to worry about scammers.
Because eHarmony has a 400-question personality profile, an ID verification check, and secure video chat, you can feel safe and secure while on the site. With over 15 million matches a day, most users (70%) find love fairly quickly, usually within a year of signing up. Furthermore, the site is responsible for 4% of all marriages in the US today. That's because the site measures nearly 30 different aspects of your personality to match you with a compatible partner. But that's also why the site is aimed at more long-term relationship seekers. If you're looking for a casual dating site, you should consider a different dating site.
In-depth compatibility questionnaire
Large membership base
Easy to meet serious singles
Pricy payment plans
Not ideal for casual dating
How much does a membership at

eHarmony

cost?
| | | |
| --- | --- | --- |
| Duration | Price | Total |
| 6 months | $54.90 / month | $329.40 |
| 12 months | $39.90 / month | $478.80 |
| 24 months | $29.90 / month | $717.60 |
Match


One of the original dating sites



Gender distribution:
51% Female | 49% Male

Established in 1993, Match has almost been around since the beginning of internet use. We're talking about the days of AOL and VHS tapes! But as you know, longevity doesn't exactly equate to modern-day success. However, Match is one of those companies that have kept up with the times, now with over 20 million users worldwide. Members get to enjoy an intuitive interface that provides great filtering tools, including a video chat feature to connect before meeting in person.
From a technical perspective, Match works much like other dating sites. You create a profile before browsing the platform and an algorithm matches you with potential partners. The algorithm is built with machine learning which allows it to learn more about your preferences the more you interact with it. To help start conversations, Match has a set of 20 questions that you can ask on your profile to use as conversation starters. Sadly, the main issue is that the site doesn't have much of a verification process, which is unfortunate. But they do provide plenty of safe dating tips and videos, as well as a private mode for added security.
What helps Match reach a broader audience is that they cater to both the serious and casual daters. For the most part, those users tend to be between 30 – 50 years, with 75% having some form of higher education. While the premium plan gives you unlimited access to all their features, the standard plan tends to be sufficient for those on a tighter budget. And for all those social butterflies out there, Match hosts mixers and other social events if you'd like to meet other singles in a fun setting.
40% of matches stay together for several months
Great for attracting a specific niche
Exciting features like MatchPhone & Match Me
There are some fake profiles on the site
No verification process
How much does a membership at

Match.com

cost?
| | | |
| --- | --- | --- |
| Duration | Price | Total |
| 3 months | $34.99 / month | $104.97 |
| 6 months | $24.99 / month | $149.94 |
| 12 months | $19.99 / month | $239.88 |
EliteSingles


For those that are dedicated to their careers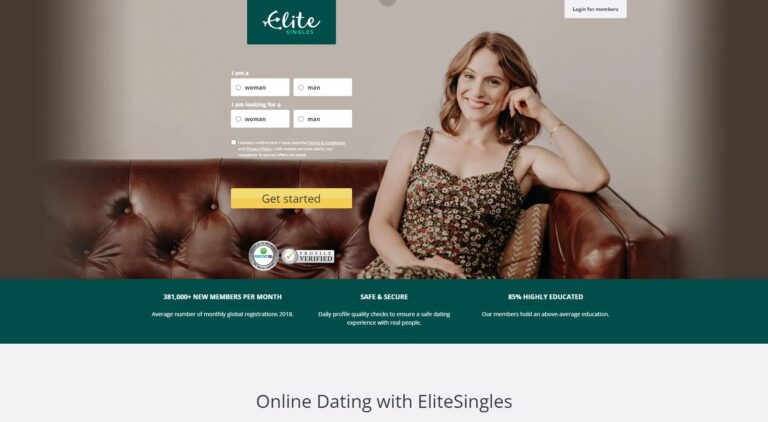 Gender distribution:
57% Female | 43% Male

EliteSingles was created for professionals dedicated to their jobs, those with higher education, or those particular about their dating criteria. In short, it's for educated singles that want to find other educated singles. Most of the time, these are individuals serious about commitment. However, because their userbase tends to be in this demographic, the average age range is between 35 and 55 years of age. So if you're looking for something more casual, you might want to look elsewhere.
The sign-up process reflects the seriousness of its member base, with a process that takes around 30 minutes to complete (includes a 115-question personality test). You can complete the sign-up form, browse through profiles, and send smiles to others without having to pay. But if you want to send messages and take advantage of EliteSingles' advanced algorithm, you'll have to pay for the subscription. The algorithm matches you with singles based on a thorough compatibility test based on 5 personality parameters. And like the previous dating sites reviewed, they offer ice breaker features to get a dialogue started.
For your peace of mind, EliteSingles takes safety seriously by using profile verification, as well as abuse reports and blocking. With 13 million members throughout the world and 2,500 successful matches each month, the dating site is efficient at finding relevant matches for those serious about getting into a relationship. In summary, EliteSingles is for people who know what they want and aren't messing around.
In-depth personality test for matchmaking
Impressive safety features
Ideal for serious professionals
Not ideal for the casual dater
Lengthy personality test
How much does a membership at

EliteSingles

cost?
| | | |
| --- | --- | --- |
| Duration | Price | Total |
| 1 month | $59.95 / month | $59.95 |
| 3 months | $57.95 / month | $173.85 |
| 6 months | $44.95 / month | $269.70 |
SilverSingles


For those over 50 looking for love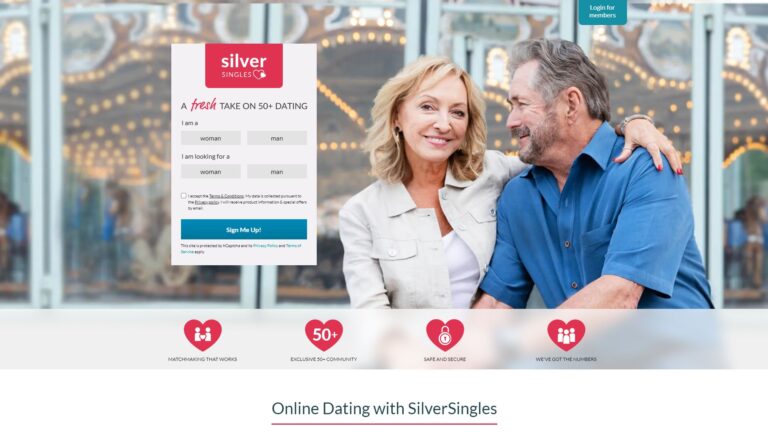 Gender distribution:
59% Female | 41% Male

As the name suggests, SilverSingles is for singles over the age of 50 looking for companionship. The dating site is intended to be easy to use and is a place for singles to meet, chat, and of course, date. The majority of the 85,000 monthly users on this dating site are over 50 years old, and the website's focus is on romantic, long-term relationships.
Much like the other dating sites, SilverSingles utilizes an algorithm that uses the questionnaire you fill out to match you with appropriate people. Your profile will be based on questions you answer about your preferences, personality, and lifestyle. Usually, you will get matched up with 2 to 7 people per day, and you can send a message to any one of those matches. And as an added social feature, members can participate in communal conversations in group chats. SilverSingles takes security seriously by blocking messages with offensive content and verifying photos before they can be posted. You also have the ability to report abusive users who will then be deleted. However, these extra security measures do come at a cost, as the dating site can be a bit pricy for some.
Because SilverSingles is aimed at an older demographic, they chose to keep the site features fairly basic. For those that aren't necessarily technology savvy, this can be seen as a good thing. The site still features interactive profiles, a mobile application, and a digital dating diary. If you're someone that's over 50 looking for other singles your age to date, SilverSingles is a viable option that has been around for nearly 20 years.
Thorough personality test for matching
A helpful customer service
Easy-to-use application
Need premium membership for most features
Must sign up for a minimum of 3 months
How much does a membership at

SilverSingles 

cost?
| | | |
| --- | --- | --- |
| Duration | Price | Total |
| 3 months | $37.95 / month | $113.85 |
| 6 months | $21.95 / month | $131.70 |
| 12 months | $19.95 / month | $239.40 |
Zoosk


Great dating site aimed at younger audience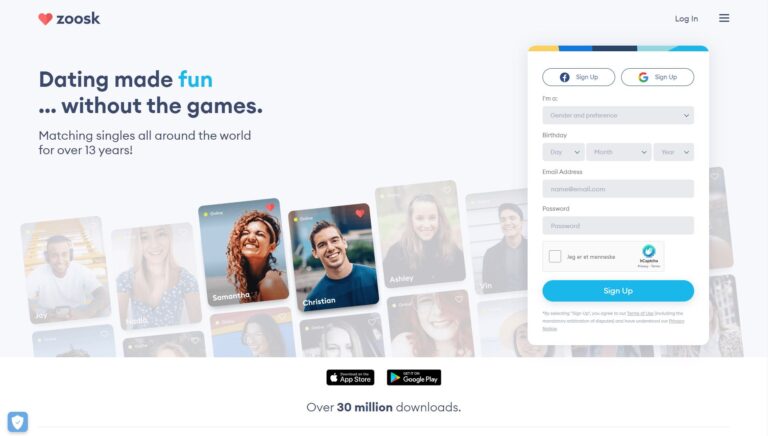 Gender distribution:
52% Female | 48% Male

With 40 million members worldwide and over 3 million messages sent every day, Zoosk is clearly a popular dating site. A major reason for its popularity is that it's easy to use, has a reliable mobile app, and it's quick to register. Even more, the site isn't flooded with fake profiles and scammers. They certainly do exist, but Zoosk does a decent job at eliminating as much as they can considering its size.
Zoosk has a fairly good track record of linking people with like-minded profiles. Part of their success has to do with their carousel feature, which is similar to how Tinder functions. Essentially, it's swipe-style dating, where they display the photo and basic information about a person. You can then select the green approval button, the red disapproval button, or the gold star if you feel strongly about a perfect match. To ensure that the person really is who they say they are, they have a Facebook verification feature. Zoosk uses your Facebook profile to verify the information you gave them. However, one worry most users have is that Zoosk will post on their Facebook wall. But you can rest assured that Zoosk does not do this.
You'll be happy to know that Zoosk doesn't have different levels of memberships, meaning you get all the features when you sign up. The one exception to that is the extra coins (or credits) that you can purchase. You can use those coins to boost where your profile shows up in search results or to give gifts to other members. Aside from that, it's fairly easy to register and use, and can actually be quite fun.
A large, active userbase
Facebook verification
Quick registration process
Not ideal for older demographic
Extra cost for Zoosk coins
How much does a membership at

Zoosk 

cost?
| | | |
| --- | --- | --- |
| Duration | Price | Total |
| 1 month | $29.95 / month | $29.95 |
| 3 months | $19.98 / month | $59.95 |
| 6 months | $12.49 / month | $74.95 |
OurTime


Real connections for the 50+ demographic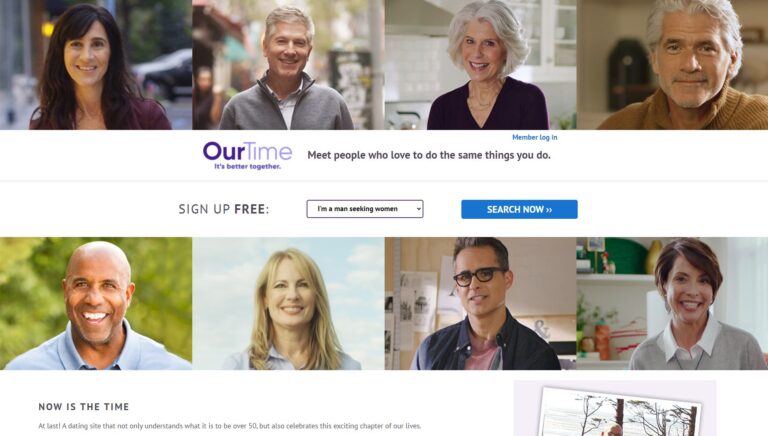 Gender distribution:
52% Female | 48% Male

For older singles who are fed up with dating sites that mostly cater to a younger demographic, OurTime is a good alternative. Here, you'll find 50 and up singles that are more interested in serious romance than casual flings. A good portion of their users are either widowed or divorced, which means if you fall into that category, you'll find a lot of people at a similar place in their lives.
One of the main attractions of this site is the ease of use. OurTime has created a website that is simple and easy to navigate with a layout that is fairly straightforward. Even non-technically inclined people should be able to register and navigate the website effortlessly. As for communicating with your matches, it's as easy as clicking a button to send a message. With the paid subscription, you can see who has opened and read your messages as well. The site also offers content such as blogs on dating advice and how to create a winning dating profile.
There are some demographical factors that are going to affect your experience on OurTime. The dating site is catered for those 50 and over living in the US, so if you fit that description, great! But it's important to know that 60% of those on OurTime are women, so men will have more choices if in a heterosexual relationship. Finally, the best part is that you can sign up and browse for free. So if you're not sure, check it out and decide if you want to pay later.
Fits all kinds of budgets
Simple to register and use
Try it out for free
No verification process
Must be near urban area
How much does a membership at

OurTime

cost?
| | | |
| --- | --- | --- |
| Duration | Price | Total |
| 1 month | $34.96 / month | $34.96 |
| 6 months | $15.96 / month | $95.76 |
Christian Mingle


For Christian singles looking for companionship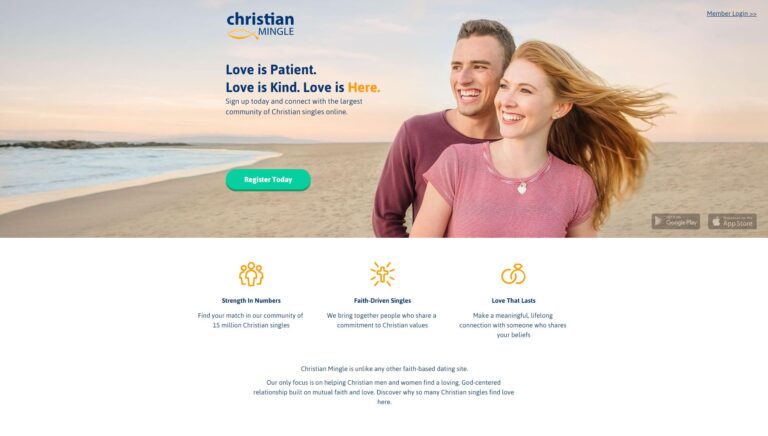 Gender distribution:
56% Female | 44% Male

Finding someone to date at church can be difficult. Maybe you go to a small church, or your church doesn't have a singles ministry, or maybe you're just trying to expand your horizons outside your current conjugation. If you're having trouble finding a partner, Christian Mingle is a good dating site to give you that faith-focused, God-centered relationship. It's 100% niche-focused on Christian dating.
Users tend to like this religious dating site for several reasons. Firstly, the website is easy to use. You can sign up with little to no hassle and find matches without much technological experience. Secondly, there are 15 million users on the site. With more people to meet and more opportunities, you're more likely to find that special someone. And thirdly, everyone will be of the same faith as you, which takes some guesswork out of the equation.
If you've done some research on other dating websites Christians are also using, you might have noticed eHarmony as well. eHarmony is certainly another good website for Christians, but it's not specifically catered to people of faith. With Christian Mingle, you know that with every match, you've found a faith-based individual. And to sweeten the pot, the website is also easy to use, reasonably priced, and actually fun to use. Plus, you can try it out, see photos, and even respond to users that are paying for free.
7 million members
Easy to use website and app
Strictly Christian singles
Lacks a search function
Not easy to cancel membership
How much does a membership at

Christian Mingle

cost?
| | | |
| --- | --- | --- |
| Duration | Price | Total |
| 1 month | $49.99 / month | $49.99 |
| 3 months | $34.99 / month | $206.94 |
| 6 months | $24.99 / month | $149.94 |
Adult Friend Finder


The casual adult dating and hookup site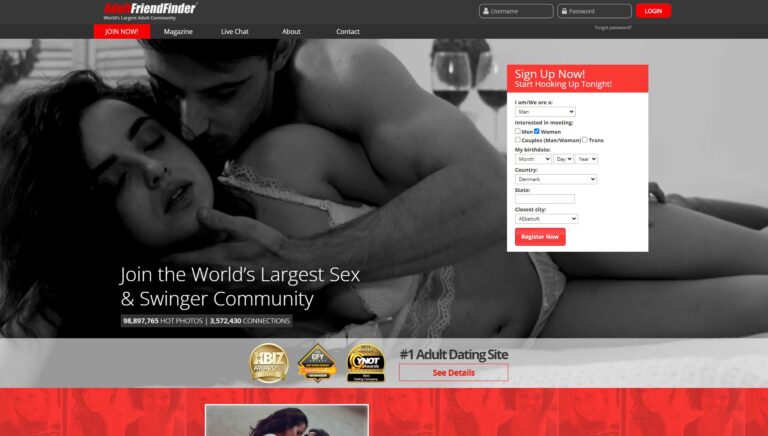 Gender distribution:
40% Female | 60% Male

If you're looking for hookups or casual dating, Adult Friend Finder is a prominent dating website for anything along those lines. It's actually so prominent that it's one of the 200 most popular websites in the US. And with over 60 million visits every month, it's one of the most popular dating websites as well. We included this in our list of best dating sites in the US because 75% of Adult Friend Finder's users are located in the US.
It's important to point out that 60% of the website's users are male, as is typically the case with sites of this nature. And as you can probably infer, the demographic lies between 25 – 34 years of age, with the 35 – 44 bracket following second. You might also find a lot of spam and nudity on the site, as well as people attempting to scam you. For these reasons, it's important to conduct further research into the sight so that you know what you're getting yourself into.
Adult Friend Finder offers a ton of features, such as search & filter, browse, live-action, preferences, privacy settings, and much more. If you don't mind the somewhat scandalous nature of the dating site, the pricing is very competitive (for what it offers) compared to other dating websites. And considering most people on site are looking for the same thing, the success rate for chatting and meeting up seems to be good. But like other dating websites, ensure that your profile is optimized for better results.
Welcomes all kinds of desires
Paid membership includes lots of features
Users are very active
Not for serious relationship seekers
Contains explicit content and fake profiles
How much does a membership at

AdultFriendFinder

 

cost?
| | | |
| --- | --- | --- |
| Duration | Price | Total |
| 1 month | $39.95 / month | $39.95 |
| 3 months | $26.95 / month | $80.85 |
| 12 months | $19.95 / month | $239.40 |
Plenty of Fish – POF


A 'fish-out-of-water' dating site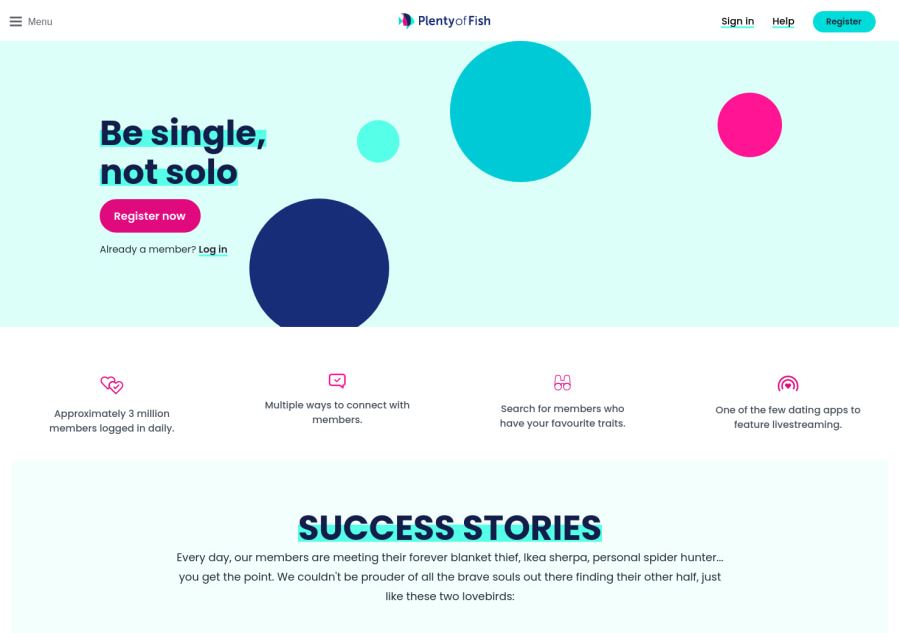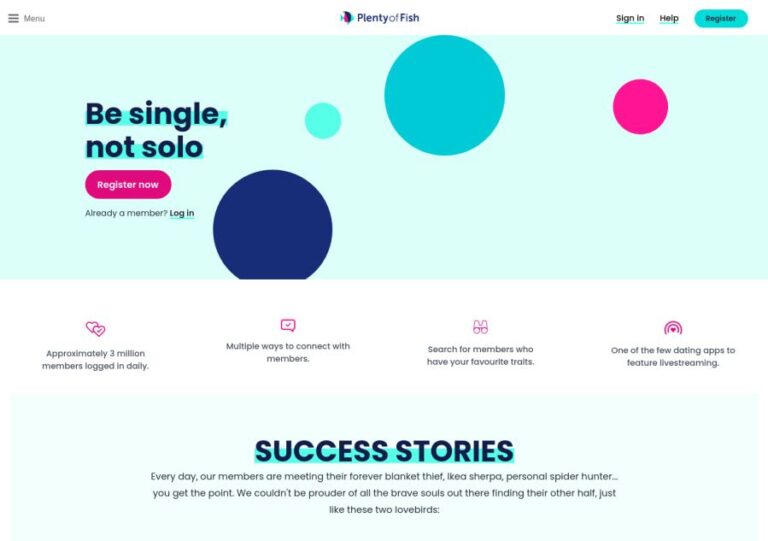 Gender distribution:
40% Female | 60% Male

You probably heard of Plenty of Fish some time ago. The dating site was made popular in the early 2000s from its catchy commercials. Even if you haven't heard of it, you might be wondering if it's a prevalent dating site nowadays. Well, as you can imagine, it's mostly for the demographic that still remembers its infancy—the over 35-year-olds.
Since Match purchased the company in 2015, it actually hasn't gone through many changes. They've changed some guidelines and grown to over 150 million members, but the basic concept is the same. That being said, it does have some features that stand out, starting with POF Live. This feature allows users to live stream themselves to matches or even potential matches, allowing them to showcase their personality. Another popular feature is Meet Me, which forgoes personality matching and allows you to live message chat with a match to decide if you want to meet up.
With the two features just mentioned, the dating site feels a bit more old school, hence the reason older generations are more into it. Instead of younger, tech-savvy professionals that you might find on newer dating sites, Plenty of Fish users tend to adhere to old-fashioned values. That isn't to say the site is for seniors, but here you'll find more people who have kids, own a business, or have more life experiences. Considering the platform has won multiple user awards, is rated 4.2 stars on the Apple Store, and has a decent-sized user base, they must be doing something right!
Easy to use application
Fast registration process
Affordable premium plans
Not for younger demographics
No video chatting feature
How much does a membership at

Plenty of Fish

 

cost?
| | | |
| --- | --- | --- |
| Duration | Price | Total |
| 2 months | $19.35 / month | $38.70 |
| 4 months | $12.75 / month | $51.00 |
| 8 months | $10.18 / month | $81.40 |
OkCupid


An affordable dating site with much to offer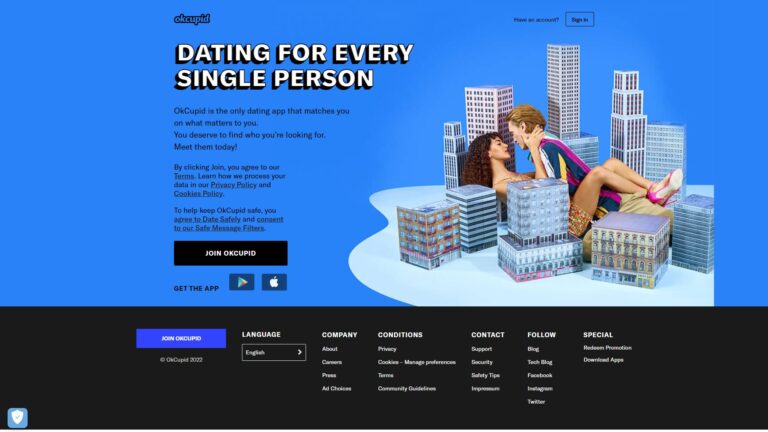 Gender distribution:
48% Female | 52% Male

Do you want more friends? Maybe a casual hookup? Or even a long-lasting relationship? You can find all of those things on OkCupid. With a simple-to-use interface and its own straightforward, unique design, it doesn't take much to get started. It's no wonder the app gets over 3 billion page reviews every month and is one of the fastest-growing dating sites. And with so many people on the platform, there are a lot of potential matches out there.
While OkCupid is available in both app and desktop form, the majority (60%) of its users prefer the app. As you can imagine, that means its userbase tends to be on the younger side. A lot of that has to do with its price point as well, as older dating site users are more willing to spend more on their love life.
Unfortunately, OkCupid doesn't share much data pertaining to its success rate. While there are tons of success stories available throughout the web, we just don't know what percentage of couples found love from the site. That may be in part to how the company doesn't market itself as being part of a certain niche (e.g. companionship, casual, hookup, etc.). However, if you are seeking a long-term relationship, you'd be better off trying dating sites with that kind of track record. OkCupid's success, from what we've gathered, is more geared towards users finding dates, and not as hookup-centric as Tinder and other dating apps.
An inclusive platform for all types
A smooth interactive user interface
Ideal for younger demographic
For serious and casual daters
Comprehensive questionnaire
Offers useful freemium plan
Mostly for those in their 20s & 30s
Tons of fake profiles and scammers
How much does a membership at

OkCupid 

cost?
| | | |
| --- | --- | --- |
| Duration | Price | Total |
| 1 month | $34.99 / month | $34.99 |
| 3 months | $23.33 / month | $69.99 |
| 6 months | $17.49 / month | $104.94 |
Badoo


World's largest social discovery network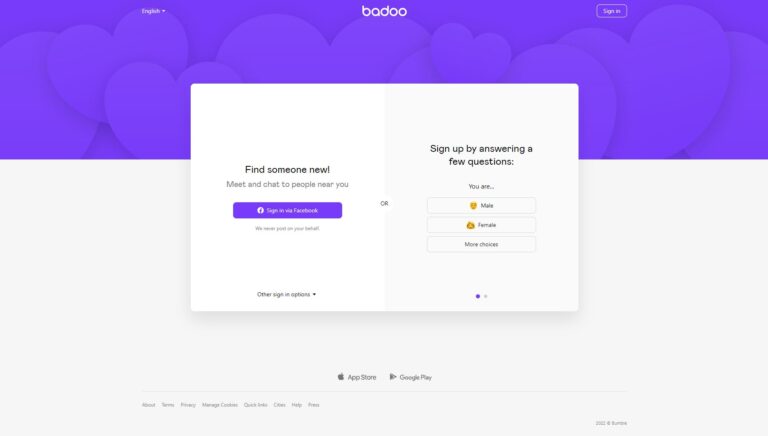 Gender distribution:
30% Female | 70% Male

If you haven't already heard about Badoo, then you'll be surprised to learn that it is the largest online dating website out there. In fact, it has 300 million more users than Tinder. Much like other online dating sites, you sign up (a quick process!) by answering some questions about yourself and adding some photos. Badoo then goes a step further by giving you the option to verify your account. They accomplish this by giving you a photo that you must mimic in real-time by taking a selfie with your phone. Once they've verified that you are indeed the person in your photos, you'll receive a verified checkmark that other users can see.
When it comes to functionality, Badoo is similar to Tinder in that you use carousal style matchmaking to swipe left for no or right for yes. Like other dating sites, you see photos and information about the other person. What's different is you can also see their intentions. This is helpful on Badoo because users are on the platform for many reasons, so being able to identify your intentions helps people know what you're looking for.
The reason we call this a social discovery network is that Badoo also has a popularity gauge and the ability to connect to social media. The popularity gauge shows your popularity among other users. This can inform you how well your profile is set up and how well you are engaging with other users. With the option to connect with your friends that are both on Badoo and other social media platforms, it gives the dating site a more casual feel.
Lots of ways to communicate
A reliable verification process
Top-rated casual dating site
Stark gender distribution ratio
Based on photos, not compatibility
How much does a membership at

Badoo

cost?
| | | |
| --- | --- | --- |
| Duration | Price | Total |
| 1 month | $9.99 / month | $9.99 |
| 3 months | $8.33 / month | $24.99 |
| 6 months | $5.83 / month | $34.99 |
ChristianCafe


A reliable site for Christian singles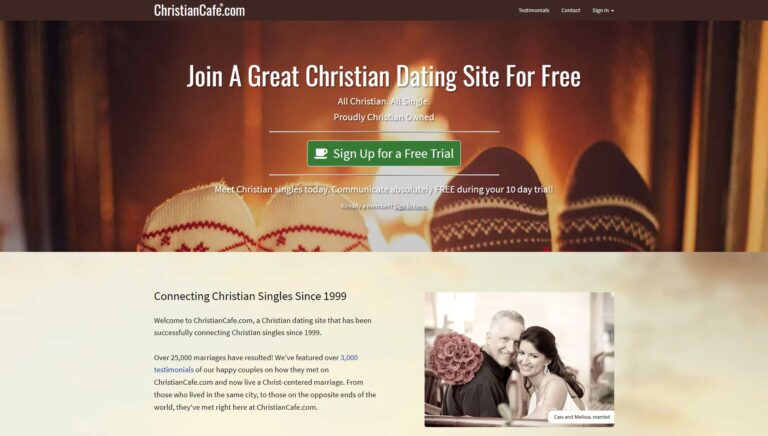 Gender distribution:
60% Female | 40% Male

As one of the oldest Christian dating sites on the market, Christian Cafe has built a good reputation and a dedicated following. Its success is based on the quality of singles on the platform, despite the fact that the website has a bit of an aged feel. One thing that gets more people to the site is the testimonials of happy couples and their dating stories.

Christian singles will be glad to know that this 22-year-old company is also owned and operated by a Christian couple. Credited for over 25 thousand marriages, they have an exceptional success rate. Mostly, that's due in part to the demographic who are seeking long-term, serious relationships that will lead to building a family. Users can also narrow down what they're looking for because the sign-up process offers a wide variety of search and filter features. That even includes information on people's faith, including how faithful they are, their denomination, and how often they go to church.

One of the most beneficial features of Christian Cafe is they let you try their service for 10 days completely free. That will help you get a better idea of whether you should go with their dating site or another like Christian Mingle or eHarmony. While the number of matches might be fewer than other dating sites, the quality of the matches seems to be much better. For this reason alone, it's worth giving Christian Cafe a shot.
High-quality matches
Specified match results
Tons of success stories
Outdated website design
Fewer users to match with
How much does a membership at

ChristianCafe

cost?
| | | |
| --- | --- | --- |
| Duration | Price | Total |
| 1 month | $34.97 / month | $34.97 |
| 3 months | $16.65 / month | $49.95 |
| 6 months | $13.33 / month | $79.95 |
FAQ – Dating sites
What dating site should I choose?
It entirely depends on what you're looking for. Are you looking for Christian singles? Then you might want to consider eHarmony, Christian Mingle, or Christian Cafe. Are you looking for something casual? Maybe Zoosk, OkCupid, or even Adult Friend Finder would be ideal. If you're looking for a long-term companion, try checking out Match, SilverSingles, or Plenty of Fish. 
Once you decide what you're looking for, it becomes easier to narrow down your options. After that, it's just a matter of trial and error to see what dating site feels more comfortable. Lastly, you have to decide which website is within your budget. However, even if you can afford the most expensive dating site, that doesn't mean it's the right site for your needs. 
What are the best dating sites in the US?
If this was an easy question to answer, we wouldn't have to compare all these US dating sites. Unfortunately, like anything else in life, there is no black and white when it comes to dating sites. Each one comes with a little give and take. 
It's really about finding the best dating site for your needs, rather than simply choosing the dating site with the best ratings. First, weed out the ones that don't cater to your demographic. Then, narrow your options down to the sites that appeal to you. Then lastly, see which ones you can afford, read some reviews, and then try it out (for free sometimes!). 
How do dating sites work?
In terms of functionality, the majority of dating sites work in similar ways. Essentially, a dating site takes the data that you gave them via personality tests and uses intelligent matchmaking to pair you with other users. The algorithm will find others with similar interests, common locations, and match your preferences with those individuals. 
In short, to maximize a website's potential, you want to be as honest as possible when answering the questionnaire. This will ensure the computer matches you with the right people. After that, the rest is really up to you. How you create your profile with information and photos, and then finally messaging and meeting up with people you've been matched with. 
How much does it cost to use dating sites?
While freemium plans do exist for a good portion of dating sites, they tend to be quite limited. So if you're serious about dating, you should look into the paid subscription plans. The premium versions of the dating sites we covered range between $5 and $70. As you can see, there is a massive difference in dating site prices, so it all comes down to what you need it for. 
In general, you find that the younger demographics spend less, while the older ones spend more. This more or less has to do with the type of relationships they're looking for. Casual dating and hookup sites are typically more affordable, and serious relationship sites usually cost more. 
Why should I pay for a dating site?
Nobody said you have to pay for a dating site, but as the saying goes, "you get what you pay for." There is a reason people pay for dating sites—they want a better and higher quality experience. Paid dating sites have spent millions of dollars on algorithms that can match your personality with like-minded individuals that are looking for the same things. That means you probably don't have to message and meet up with as many people to find a compatible partner as you would with a free dating site. 
How do I succeed on a dating site?
There's no magic recipe for succeeding on dating sites, but there are some tips to give you a headstart. Start by taking advantage of the personality tests offered by most dating sites. They are there for a reason—to help them help you! But don't start looking for dates after that. Make sure your profile is completely filled out and looks great to your friends or family members (get an outside perspective). 
Finally, patience is a virtue. There is a reason 3-month, 6-month, and 12-month subscriptions exist. You're most likely not going to strike gold right from the get-go. Take your time to message or video chat with matches before meeting up. Go on dates with different people before you decide to commit to one person. Make sure you're getting the most out of your online dating experience!
How do I start a conversation on a dating site?
Sending the first message is always a nerve-racking experience. There are a million thoughts going through your head because you don't want to mess it up. But you have every right to think this way. The first line of contact can be a dealbreaker. If you don't leave a good impression, the person you matched with could be turned away. 
However, just try to remember that there are other fish in the sea. If this one doesn't bite, it's not your fault, there will be others. Just try to be yourself when messaging someone because that's who you're going to be if you eventually meet. Online dating is all about finding the person you're compatible with, so pretending to be someone else will just backfire in the end. 
How do I get a response?
Breaking the ice is all about piquing their interest. Try not to copy and paste the same message to every match. Remember, you matched with this person because you most likely have similar interests. If their photo shows them on a hike you frequent, mention the trail to them and the beautiful sites you enjoy there. Whatever ammo you have, use it. Just make sure you use proper grammar and spelling before sending your messages!
Do dating sites really work?
In short, yes. A Pew Research Center study found that of the Americans that have used online dating sites, 57% say they had a positive overall experience. That same study also revealed that the majority of users found dates easily with people they found attractive and shared interests with. 
Now, your experience will undoubtedly differ from others, so it's important to give yourself the best chance of having a positive experience. That means researching the best dating sites that match your needs and putting in the effort to find someone. There's no 'get rich quick scheme' to finding love. 
Is it safe to use dating sites?
Absolutely if you're using them correctly. But, there are some things you should know. Your first line of defense is getting to know someone before meeting them. Preferably, it would be best to video chat beforehand to get a better idea of their personality. Secondly, for your initial contact, always meet in a public setting like a bar, restaurant, or even the zoo. But remember that while it's always a good idea to play it safe, the person you matched with is most likely a paying customer looking for companionship as well, so it shouldn't be a frightening experience. Just don't throw caution to the wind.