Lesbian Dating Apps
The 10 Best Dating Apps for Lesbians

Plenty of ladies are ready to mingle, and the lesbian online dating scene is on the rise. Women are ready to get out of the house and meet new singles in coffee shops, bars, restaurants, in the park walking the dogs, and anywhere else you can think of. Lesbian, bi-sexual, and queer women are turning to dating apps to meet like-minded women that they can share their lives with. The only question is, "Which dating app is the best for your needs?"
Well, there are niche dating apps that cater to lesbian dating and there are mainstream dating apps that have a much larger pool of users. We know it can get complicated. That's why we've put together this list of the best dating apps for lesbian dating and reviewed them for you. Hopefully, this information will help you make a more informed decision when choosing the best dating app for your needs. Happy reading and good luck!
This article contains affiliate-links.
HER


A dating and social media app rolled into one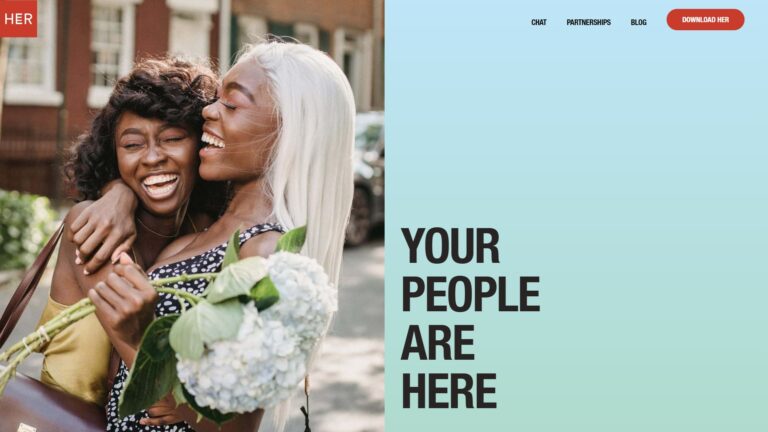 Gender distribution:
100% Female | 0% Male
What began as Dattch in 2013, HER rebranded in 2015 and has since become one of the most popular lesbian dating apps in the United States and the world. With 1 million members in the US and 4 million globally, HER serves as both an LGBTQ+ women's social media platform and a dating application. You can sign in by either using your Facebook or Instagram account, and the app uses that information and photos to populate your profile. But you can also change that information and upload different photos if you don't want your social media information to match your dating app profile.
For the most part, HER is a free dating app that allows you to view profiles, send and receive messages, get notifications, meet other singles, and post and comment on the feed. If you want more out of the app, you can upgrade to the premium subscription plan that starts at $7.50/month for 12 months. That will allow you to see who's online now, see who liked your profile, change your location, swipe as much as you'd like, read receipts, and rewind profiles you passed on. Matches work somewhat like Tinder and other similar dating apps, where you select whether you are interested or not on a profile you are shown. Once you have matched with another user, you can start communicating.
What separates HER from other dating apps is its "Feed" feature, which allows you to post your thoughts/interests/whatever and comment on others' posts. This is a cool way to communicate with other people on the app without having to match with them. It's also a great way to get more exposure, increasing your odds of meeting more people and going on dates or meeting up. Most people you will encounter on the HER app fall in the age range of 20 and 35. You'll find that most people are looking for serious relationships, however, there are also many members interested in making friends too.
Great freemium plan
Intuitive features and design
Secure verification process
Difficult to sign-in for singles not on social media
Not for singles attracted to men as well
How much does a membership at
HER
cost?
| | | |
| --- | --- | --- |
| Duration | Price | Total |
| 1 month | $14.99 / month | $14.99 |
| 6 months | $10.00 / month | $59.99 |
| 8 months | $7.50 / month | $59.99 |
PinkCupid
A detail-oriented lesbian and bi-curious dating app

Gender distribution:
100% Female | 0% Male

PinkCupid was started in 2006 by the Cupid Media network that is known for operating several dozen niche dating sites. Most of its membership base comes from the United States, but you'll also find singles from Canada, the United Kingdom, Australia, and a few other countries. With around a million users on the app, PinkCupid is a leading dating site for lesbian and bi-curious women to meet and fall in love or become friends. So far, PinkCupid says that thousands of couples have met on the platform, and there are stories on its site to back up those claims.
If it's security you're worried about in a dating app, PinkCupid's sign-up process should put your mind at ease. If you're going to register with your email address, the app makes you verify it by uploading a photo of a valid ID. You can also sign up through your Facebook account as well to skip the lengthy verification process. Either way, you will still have to fill out several fields relating to your status, interests, and hobbies, and provide other details about yourself. Unfortunately, you can't skip any fields and must upload at least 3 photos before getting started.
Most of the singles on PinkCupid are on the younger side, usually between the ages of 24 and 35. This age bracket tends to be mostly interested in hanging out or casual flings. However, there are also plenty of members interested in something more serious. It's also pretty easy to get an idea of what other members are looking for when you click their profile. You'll see data about their appearance, lifestyle, background / cultural values, personal information (optional), and what kind of person they're seeking. Then it's up to you to send a message or like if you want to let them know you're interested. For full messaging privileges, you'll have to become a paying member.
Part of an established niche dating network
Solely dedicated to gay and bi-curious women
Great for making friends and going on dates
Not as large as other dating sites
Complicated subscription choices
How much does a membership at
PinkCupid 
cost?
| | | |
| --- | --- | --- |
| Duration | Price | Total |
| 1 month | $29.98 / month | $29.98 |
| 3 months | $20.00 / month | $59.99 |
| 12 months | $10 / month | $119.99 |
Lex


A dating app for those that despise dating apps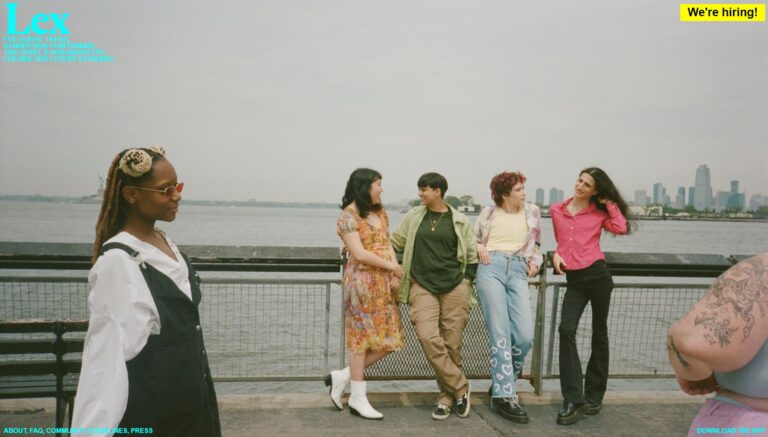 Gender distribution:
100% Female | 0% Male
Tired of dating apps that all function similarly? Do you want a different way of meeting new people? Meet Lex, a non-text platform where you can post personal ads about yourself. No more swiping through profile photos and matching with other singles that like you back. With Lex, you do it the old-school way by writing about yourself in classified ads, and then people can contact you if they're interested in what you wrote. Created by Kell Rakowski, Lex is for "lesbian, bisexual, non-binary, trans, genderqueer, intersex, two-spirit, asexual, and queer people." Because users of the app don't include photos of themselves in their ads, interest is based on content alone.
Lex is a place for people to express their opinions and socialize with others that might share their opinions or want to talk about them. According to the Lex team, no prejudice, harassment, name-calling, or anything of that nature is tolerated on the app. If any kind of hate speech is detected in any chat, the person directing it will be banned from the app. Lex attracts the Gen Z demographic for the most part, as they are the most gender-fluid and gay-friendly generation in United States history. However, you can find people of all age groups on the platform.
While the app doesn't rely on personality tests, questionnaires, photos, and other preliminary data to match singles, you can still find singles that match your criteria by filtering your search results. This ensures only advertisements that meet your age requirements and keywords show up in your search results, saving you time and effort skimming through ads. But at the core of Lex is the enabling of people meeting through shared interests rather than just looks alone. And for that reason, you can read tons of success stories of people finding love or friendship.
Match based on personality and interests
A safe place for LGBTQ+ people to be themselves
A free dating service to post personal ads
No photos available to see on personal ads
Doesn't automatically match like-minded singles
How much does a membership at
Lex 
cost?
Full access for free. No Premium subscription is available.
Zoe


One of the fastest growing dating apps on the market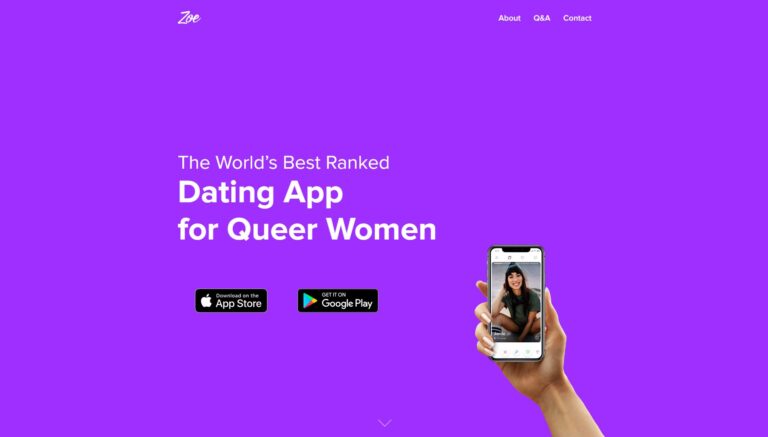 Gender distribution:
100% Female | 0% Male
If you're just looking at Apple and Android app store ratings alone, you're definitely going to choose Zoe, "The World's Best Ranked Dating App for Queer Women." After all, that is the app's claim to fame and the first words you see when you visit the Zoe website. But does a 5-star rating on app stores tell you the entire story? That's where we come in because 5-star ratings don't tell the entire story. For instance, an app could be fun to use and help you socialize with other singles. But if it's only getting you casual flings when you're looking for something serious, then it might not be the best dating app for you.
With Zoe, you get a free lesbian dating app that allows you to see who liked you and you can like them back. Profiles are verified and you can swipe and chat for free. Like Tinder and other similar swiping apps, you can only chat once you've matched with someone you like. The only way you can see who liked you before you decide if you want to like them back is if you pay for the Premium service. Again, much like other dating apps. The difference is that Zoe was created exclusively for lesbians seeking other lesbians, which takes a lot of the guesswork out of trying to figure out who's queer and who's not.
If you are serious about finding a compatible partner and increasing your chances of meeting more people, the Premium subscription is worth it. Not only does the paid service tell you who likes you, but it also allows you to narrow down your searches and go back to profiles you might have passed on. Even more, you can view another single's questionnaire so you can get a better idea if your personalities match up. Also, if you want to avoid matching with fake accounts, make sure you only like singles that have a shiny checkmark verifying their identity.
Free version has much to offer
Verified profiles with proven badge
Good for casual and serious dating
The app is still new and gaining members
Must pay for some of the best features
How much does a membership at
Zoe 
cost?
| | | |
| --- | --- | --- |
| Duration | Price | Total |
| 1 month | $15.99 / month | $15.99 |
| 3 months | $12.99 / month | $38.99 |
| 12 months | $9.99 / month | $119.99 |
Taimi


A dating platform for the entire LGBTQ+ community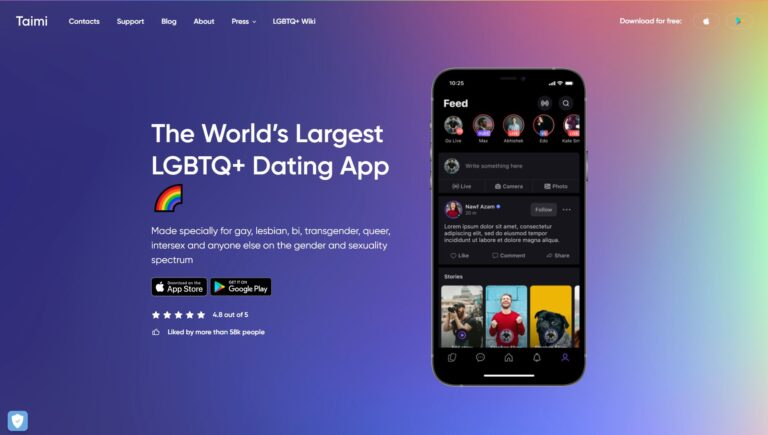 Gender distribution:
30% Female | 70% Male

Is it a dating app or a social media platform? The answer is yes to both. Taimi is a hybrid dating and social media app that attracts all sorts of LGBTQ+ members. You can create posts and stories, host live streams, interact over video calls, join streaming sessions, network, share content, and even become a Taimi influencer. With so many options to choose from, it's no wonder the app has grown to over 15 million members in 138 countries. And while Taimi certainly attracts more gay men than lesbians to the site, with such a large pool to choose from, there should still be plenty of women in your area (granted you live in a populous city).
The price of Taimi really depends on what you want out of it. The freemium plan allows you to sign up, create an account, and send messages to matches. If you want much more out of the app, you'll have to purchase a Taimi XL subscription. This will get you boosted visibility, full messaging privileges, extended filters, access to private photos, and the ability to switch to incognito mode. If you're from the United States, you'll be happy to know that most members are located in North America. There are also many members from the United Kingdom, Australia, and New Zealand.
Most of the singles you'll find on Taimi are in their 20s due to the nature of the app. When signing up, you'll be given the option to register using your Facebook, Snapchat, or Google account. You can also sign up the traditional way using your email address and filling in basic information manually. One thing that you might find interesting is the question regarding your role in the bedroom. This is intended to help naughty singles learn about your bedroom preferences before deciding if they'd like to match with you. To chat with other members, you have the option to mutually match and then start a conversation, or you can send a chat request that needs to be accepted.
Great for social media lovers
Ideal for younger lesbian and gay singles
Large app with lots of singles
Not explicitly created with lesbians in mind
Not for casual encounters and flings
How much does a membership at
Taimi 
cost?
| | | |
| --- | --- | --- |
| Duration | Price | Total |
| 1 month | $49.99 / month | $49.99 |
| 12 months | $6.00 / month | $71.99 |
Lovoo


One of the fastest growing social dating apps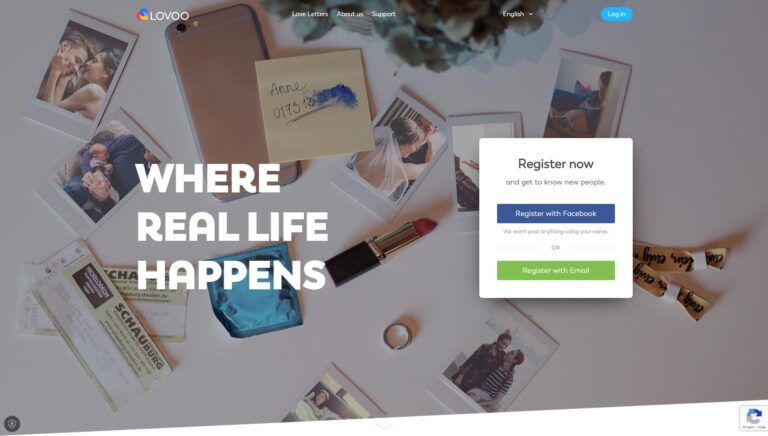 Gender distribution:
25% Female | 75% Male
Lovoo is not a dating app explicitly created with lesbians in mind. But with such a large member base, there are lesbians and other LBGTQ+ people that use the app to meet other singles. That doesn't necessarily mean there is a field that includes a user's sexual identity, but you can clarify your interests through conversation or state your sexual identity in your profile. Hopefully by doing so, other lesbian singles will see that and swipe accordingly. There's no promise that everyone will read your bio before swiping, but that should clarify things once you match with other singles.
While most members are located in European countries (Lovoo is a German app), there is a large community of singles using the app in the United States as well. If you're one of those people in the US, you should know that most Lovoo users are interested in friendship. We noticed that there are a lot of young professionals using the app to widen their social circles or meet someone to hang out with when they move to a new city. That isn't to say there aren't lesbians on the app interested in dating, it's just not the majority, seemingly. It's also an app dominated by male members, which could be a problem if you don't live in a populous city.
The great part about Lovoo is that registration is free and easy, and you can start swiping on singles today. Profiles are also verified through a rigorous process so that you know other users are legit. You can like or pass on members as they are shown to you and start messaging once you have matched. If you would like to narrow your search, you can do so by gender, age, and location (depending on where you live). Not all profiles are detailed, but you can write a short introduction on your profile stating that you are a woman interested in another woman. Additionally, you can let other users know if you are interested in friendship or a relationship.
Has more than 70 million users worldwide
Great platform to meet new friends and find dates
Has a high user activity and is easy to use
Not many lesbian singles to match within the US
Profiles lack information regarding interests
How much does a membership at
Lovoo 
cost?
| | | |
| --- | --- | --- |
| Duration | Price | Total |
| 1 month | $12.99 / month | $12.99 |
| 6 months | $7.50 / month | $44.99 |
| 12 months | $5.42 / month | $64.99 |
eharmony


A dating app to find real and endearing love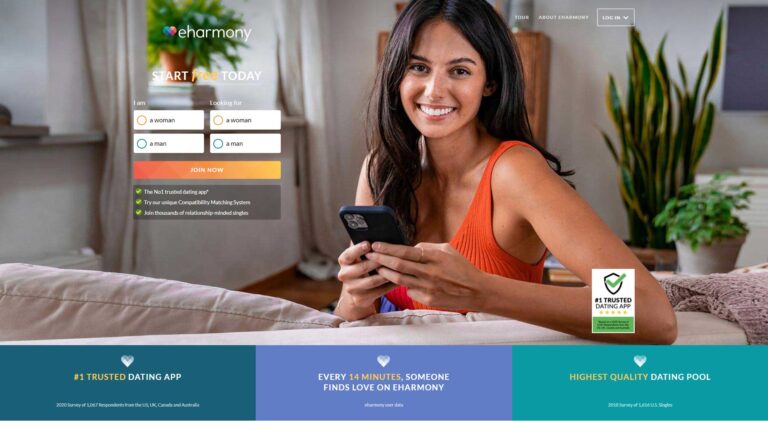 Gender distribution:
53% Female | 47% Male
At first, eharmony was the last place any LGBTQ+ person would be caught trying to find a date. Back in 2000, the dating site's Christian conservative leadership supported only heterosexual relationships built on traditional values. In fact, eharmony's co-founder Neil Clark Warren made several statements regarding his views against same-sex marriage. However, since then, he has stepped down from his role in the company and eharmony made its platform much more accommodating towards gay and lesbian singles. Now, the platform is more inclusive and attracts tons of lesbians who are interested in long-term relationships and marriage.
Lesbian singles now get the same level of service on eharmony as heterosexual singles. And with such a large member base in the United States, there shouldn't be any problem finding lesbian singles to match, chat with, and go on dates with. When you begin the registration process, the first field you fill in is your sex and the sex you are interested in. That way, the app will match you with like-minded individuals of a particular sex. However, you are limited to choosing your sex (male or female) and the sex you are interested in (male or female). That means you can't choose anything else, such as bi-sexual.
As a mainstream dating platform, same-sex dating isn't exactly eharmony's forte. But the company has redeemed its image over the year, even airing advertisements showcasing lesbian couples. That's brought many more gay and lesbian singles to its platform, which is one of the best match-making dating apps in the game. Eharmony is consistently ranked as one of the number one dating sites for finding long-term companionship. And for that reason alone, it should be highly considered when deciding which dating site to with for lesbian dating. With an active lesbian community, there's no reason to write it off just because of its past.
Active lesbian community 
One of the most successful dating apps
Creates a quality overall experience
Has bad reputation in LGBTQ+ community
Membership cost is pricey
How much does a membership at
eHarmony
cost?
| | | |
| --- | --- | --- |
| Duration | Price | Total |
| 6 months | $65.90 / month | $395.40 |
| 12 months | $45.90 / month | $550.80 |
| 24 months | $35.90 / month | $861.60 |
Tinder
One of the biggest dating apps in the world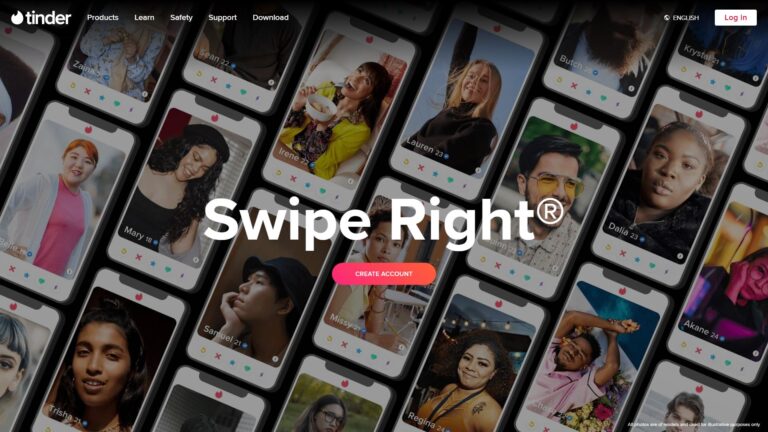 Gender distribution:
39% Female | 61% Male
From strictly a numbers game, Tinder is a great place to find dates no matter who you are interested in. It's not necessarily a lesbian dating app, but you can keep swiping until you find lesbian matches. You can also change your setting to "looking for women" to ensure Tinder's algorithm sets you up with female matches. It's also important to let your personality shine through by uploading photos that attract the right type of ladies. That means non-selfie photos that show your personality, hobbies, interests, and lifestyle. In the bio area ("About Me"), make sure that you reveal aspects of your personality so that other women can get a better feel for who you are.
Now that you know how to use Tinder as a lesbian dating site, let's talk about the platform itself. As you probably know, Tinder is known as a place to find quick dates and casual hookups. However, there are tons of different types of people using the app, and many of them are also interested in finding companionship. Sure, profiles don't provide as much substance as other dating apps, but you can still find singles that tell you what they're looking for and upload enough photos to tell you about their personality. Plus, it doesn't get much easier than simply swiping left or right. If you play the numbers game, you should be able to match with plenty of lesbians. And if you run out of singles to like, just wait a few days and there should be a lot more.
Because Tinder gives you plenty of features for free, it's not a bad place to start. Plus, it's fun to use and has an endless pool of singles ready to mingle. If you don't find any success after a few weeks, you can always switch to a lesbian-based dating app and pay for features that get you better results. But there's a reason millions of people flock to Tinder—people love the platform!
Millions of singles all in one place
Allows you to specify who you're interested in
Connect with people quickly
Not exclusively designed for lesbian dating
Scammers and incomplete profiles
How much does a membership at
Tinder 
cost?
| | | |
| --- | --- | --- |
| Duration | Price | Total |
| 1 month | $17.99 / month | $17.99 |
| 6 months | $9.00 / month | $53.99 |
| 12 months | $6.00 / month | $71.99 |
Feeld
A place for singles and couples to mingle and meet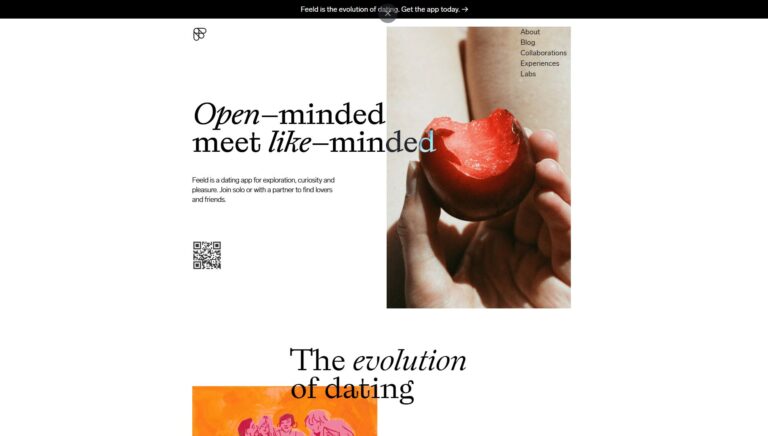 Gender distribution:
40% Female | 60% Male

Gay, lesbian, heterosexual, bisexual, polysexual—you name it—Feeld is a place where the "open-minded meet the like-minded," according to its website. It's an app where couples and singles come to explore relationships and desires. With a singles account, you can match with other singles or couples. With a couples account, you can sign up with your partner, lover, or a curious friend. Members of Feeld enjoy the app to find unique and alternative relationships or to explore their desires. With over 20 different gender identities and sexualities to choose from, Feeld also allows you to choose your desires and fantasies (threeways, friendship, BDSM, submissive, etc.).
Feeld was started by couple Dima and Ana after Ana admitted she has feelings for a woman. That's when Dima created a space for other couples like them to meet like-minded people. Now, over 2 million connections are made and 30 million messages are sent on the app every month. It works much like other apps where you are shown potential matches and you can either like or pass on the profile. You also have the option to search for possible matches. Once you and another single or couple have mutually liked each other, you can start chatting about yourselves and your desires.
Feeld can be used as a free dating and hookup app and allows you to use most functions. If you want to experience a more feature-rich Feeld, you can upgrade to a premium membership plan. Most of the members on the platform are from the United States and of those, most are couples (60%). While other dating apps are inclusive of couples, Feeld by far has the most inclusive. And the couple and singles on the app are highly active, with over half a million logins each week. You can also see who's been online recently so you increase your odds of liking someone that checks their Feelp app regularly.
A place for lesbian couples and singles
Idea for hookups, friendships, and any desire
Requires strict verification steps
Not a place for serious long-term relationships
Must register using your Facebook account
How much does a membership at

Feeld 

cost?
| | | |
| --- | --- | --- |
| Duration | Price | Total |
| 1 month | $11.99 / month | $11.99 |
| 3 months | $8.00 / month | $23.99 |
OkCupid


An inclusive dating app with a large member base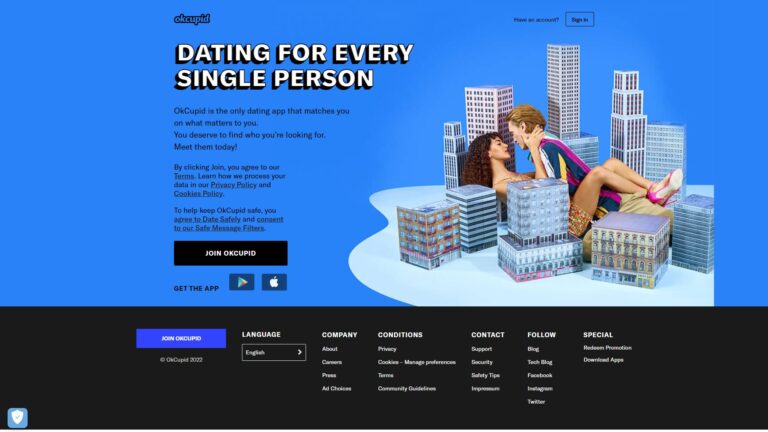 Gender distribution:
40% Female | 60% Male

This inclusive app's motto is "Dating For Every Single Person." That means whatever matters to you is what OkCupid specialized in. Even its homepage showcases gay, lesbian, and heterosexual couples showing affection for each other. Some of the pros gay and lesbian singles like about OKC include the "Hide from straight people" feature, social justice compatibility matching, and how the app shows what percentage of things you agree on. This open-minded space translates to a more comfortable and better experience for queer women. The only catch is that the best features are included in the premium service, which is going to cost you.
The good thing about OKC is that you can still register, search for matches, message other users, browse profiles, and use basic search filters for free. That means you can get a good feel for the platform before deciding if you want more features to help you meet more compatible matches. The premium service shows who likes you, takes away ads, boosts your profile once a day, shows public answers to questions, and unlocks advanced search filters. There are also separate one-time purchases for "Super Boosts" and "Read Receipts." As far as contacting goes, things have changed in recent years. You used to be able to message anyone freely but now you need to mutually like each other before starting a chat.
With over 50 million users worldwide and over 10 million in the United States, you shouldn't have much trouble matching with other lesbian singles. However, that is dependent on where you live, as singles in more populated areas will have greater success. OkCupid also attracts a demographic that falls between the ages of 24 and 35, most of which are young professionals looking for something serious and long-term. That being said, there are members interested in hookups, casual flings, or even friendship.
An inclusive app with millions of members
Matches singles based on personality traits
Popular dating app for singles in their 30s and 40s
Most members are located in big cities
Need to watch out for scammers and fake profiles
How much does a membership at
OkCupid 
cost?
| | | |
| --- | --- | --- |
| Duration | Price | Total |
| 1 month | $34.99 / month | $34.99 |
| 3 months | $23.33 / month | $69.99 |
| 6 months | $17.49 / month | $104.94 |
FAQ – Lesbian Dating Apps
How should I approach online lesbian dating?
If you're trying to get over the jitters associated with meeting strangers online, we recommend looking at it this way: Online dating isn't just about getting romantic right away. You can meet someone with no strings attached. You might even become good friends instead of lovers if sparks aren't flying. It's possible that you meet someone and their group of friends to widen your social circle. Online dating doesn't happen one certain way—just get out there and meet people and see what happens. You never know, you might just meet your one and only. 
When should I meet up with someone in person?
Most online dating experts recommend meeting in person after chatting online for just a few days or a week. That's because you don't want to waste time messaging each other if you end up not connecting in person. Someone's texting and phone call personality can be much different than their in-person personality (including yourself). So get together right away for that cup of coffee or walk in the park. You'll be doing yourself and her a favor. And if you're worried about meeting so soon without knowing each other, try having a video chat beforehand so you know what to expect in person. 
Is there a secret to having a successful first date?
Honestly, it's not what you do during the date that will make it successful. It's all the things you do before meeting in person that sets you up for success. What we mean by this is not surprising your date when you meet up. Make sure you provide enough details about your personality, preferences, and lifestyle in your profile bio. This way, she will know about your strong opinions, hobbies, career, and other details before meeting. That gives her time to prepare questions and have something to talk about. We also recommend setting an end time for the date, which will help if the date isn't going well. Remember, you can always agree to meet again so you can continue your conversation. 
How can I be safe on my first date?
This is a question we get a lot, and we understand that meeting a stranger in public can be intimidating. That's why we always recommend doing a video call with your match before meeting in person. This will give you a much better idea about her personality and help you feel more comfortable meeting in a public space. Meeting in public is also very important for your safety, which should be your number one priority. Even if you've talked on the phone, you don't want to leave anything to chance. Meet in a crowded space on your first date and don't rely on your date for a ride. We know it might seem like an overkill, but you and your date will feel more comfortable if you follow these rules.