For serious singles 50+ looking for love
9 Million Monthly Members
For serious singles 50+ looking for love
9 Million Monthly Members
In-Depth Review Of


OurTime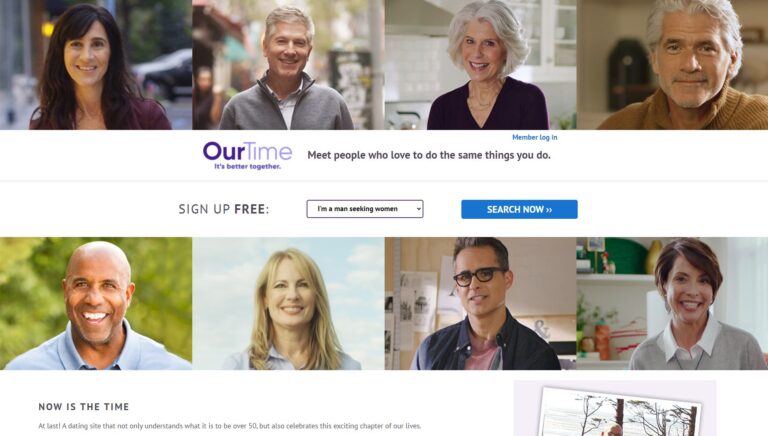 With countless new online dating services popping up everywhere and covering every niche and interest, getting back into the dating world can be daunting to say the least. If you're over the age of 50 and have never used online matching platforms, or have been hesitant to try, Ourtime was designed for you. With ease-of-accessibility in mind, Ourtime is a matchmaking service that caters to the 50+ crowd (a so-called senior dating site), understanding that its target audience may be new to the concept of online dating as a whole.
Created in 2001 by the Meetic Group, Ourtime is a matchmaking service intended for singles over 50 who are looking for another, or even a first, shot at love. It's a noble and exciting undertaking, and to see how well they pull it off, we signed up ourselves. Read on to find out if Ourtime shines in the 50+ dating market and is a platform more than worth your time.
All members are 50 years and above
Verified profiles
Fits all kinds of budgets
Simple to register and use
Try it out for free
No verification process
Must be near urban area
Signing Up for

OurTime
Catering to its demographic, signing up for Ourtime is a quick, easy, and efficient process. To add to that, it's also free of cost. By using either the website or mobile app, you simply enter the basics of first names, gender, date of birth, and sexual orientation to unlock the features of the site.
Once you're through the sign up, the site will encourage you to expand on who you are as a person, and what you're looking for in a romantic partner. These questions don't begin that much more complicated than the sign-up, with things like age, weight, and height all coming into play. However, there are enough options here to really fine tune what you're looking for. After that's all done, you're free to upload a profile picture and establish the city you live in.
The city you live is technically optional, but it's also a great feature of Ourtime as in addition to matching you with potential partners in your area, it also hosts local events where users are encouraged to get out and meet one another. This unique feature that is noted in the sign-up phase really is exciting about Ourtime and something definitely worth checking out.
1 MONTH
Per month: $34.96
Total: $34.96
6 MONTHS
Per month: $15.96
Total: $95.76
Member Structure
The bread and butter of Ourtime is that it caters to a 50+ audience. To keep that age range fairly consistent, there are a number of security measures in place to verify identities and limit anyone that doesn't fit into that particular demographic.
That being said, even by limiting the dating pool to the 50+ crowd, there are still plenty of fish swimming in this sea of love. Across the US there are 9 million monthly active members, and of those members there is a fairly even split of 48% males and 52% females. 
Matching Process
The matching process on Ourtime incorporates a lot of popular methods for dating platforms. The most straightforward approach comes in the form of Daily Matches, which are roughly ten new profiles recommended to your account per day based on a number of compatibility parameters and who you've shown interest in since you started on the site. The basic rule of thumb is that the more you use the site, the better it comes to understand who exactly you're looking for.
In addition to the matches, users can also search for their own matches based on specific criteria. These searches also influence the Daily Matches as the site becomes aware of your interests faster. But if none of these approaches appeal to you and you're really looking to explore the site, the Gallery function works similarly to Tinder, where you can swipe through potential matches and choose yes or no as a method of reaching out, or moving on.
Finally, Ourtime's most unique feature is what really sets it apart and also specifically caters to its demographic. Although online dating has become synonymous with dating, some of the 50+ crowd still would rather meet in person somewhat organically to build a connection. To accommodate that, the Meetic Group hosts events where singles can gather together, mingle, and hope that sparks fly.
Contact Options
Like many other dating platforms, Ourtime's primary function is its direct messaging feature. However, also similar to many dating platforms, Ourtime puts those features necessary to really build those connections behind a paywall. In order to send and receive messages from potential partners, you do need to have the monthly subscription. After you sign up, however, the added features of your premium account more than make up for the costs.
In addition to the messaging, more security and safety option, and viewing profiles in incognito mode alongside a more direct line to Ourtime support, you also get access to the in-person get togethers hosted by the Meetic Group with your premium subscription. It's hard to overstate just how unique and wonderful these gatherings are for so many members in the 50+ crowd to meet new potential matches in a controlled, safe, and more comfortable environment than simply online.
OurTime

App
Ourtime is a fully integrated website with a mobile app that features all of the same features. Available on iOS and android, the mobile app is just as easy to use as the website and makes keeping up with potential matches on-the-go, a breeze. To add to that, it's also a great way to be alerted to the potential in-person gatherings being hosted with the when & where easily accessed from your pocket.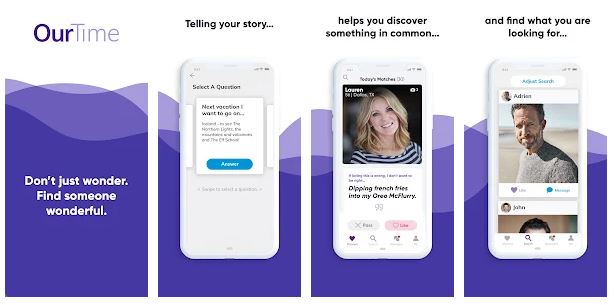 Conclusion
Online dating may have become synonymous with dating, but that doesn't mean that every demographic is as welcoming of it as others. By combining the natural ease of in-person dating, and the immediate accessibility of online dating, Ourtime is the perfect blend for singles 50+ to find exactly what they're looking for in the wide world of dating.
With easy-to-use features, a very large dating pool, and a digital space that feels welcoming, safe, and accommodating, Ourtime proves that you're never too old to find a lasting love. If you are looking for a little old-school mixed with a little new in your search for love, Ourtime is the perfect site for you!