For serious singles looking for love
For serious singles looking for love
In-Depth Review Of


eharmony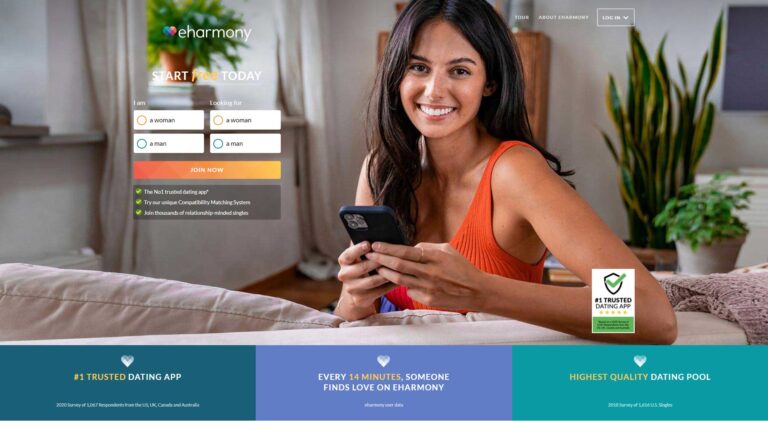 With so many options out there for online dating, it's hard to be sure which one is right for you. That being said, whether you're experienced in the world of online dating or not, you've likely heard of one of its biggest names – eHarmony.
Created right at the turn of the 21st century by clinical psychologist Dr. Neil Clark Warren, eHarmony was the first ever algorithm-based dating site that provided matches to its clients based first and foremost on scientific research and compatibility parameters. After decades of solidifying itself as a brand name in dating, eHarmony is one of the most recognizable and "#1 trusted" names in dating apps around.
Boasting the highest quality dating pool across all apps for U.S. singles, eHarmony claims to help someone find love "every 14 minutes." The question is, will you be the next? It's safe to say eHarmony has built quite a name for itself over the years, but we want to see how it stacks up against modern contenders in the dating world. To find out just how effective it is at helping you find love, we tried it out for ourselves. Read on to find out everything we learned and everything you need to know!
Only for serious singles
Sophisticated and advanced matchmaking 
Easy to use
Plenty of members in the US and across the world
Registration takes a while
Signing Up for

eharmony
The process of signing up for eHarmony definitely isn't the fastest, and when compared to other modern dating offerings, it isn't cheap either. However, even if the initial investment throws off some potential clients, we've found it to be worth the money in the end.
Signing up for eHarmony is extensive because it really wants to get to know who you are as a person. It wants the most honest representation of yourself so that it can match you with someone of equal compatibility. The more you offer, the more accurate it becomes. With that, the profile bio questions can be time consuming, and as we said the investment can turn some people away, but the reason both work is because they limit the dating pool only to people really interested in finding love.  
At its core, eHarmony is looking to help those individuals that sincerely want to be helped in finding a romantic partner. Because of that, eHarmony more so caters itself to the long-term commitment crowd, rather than the short-term flings. In addition to the investment and extensive profile creation, that may turn a good bit of people away from eHarmony, but again, that's intended. To offer the "highest quality" dating pool around, eHarmony does it's best to ensure everyone in that pool really wants to be there.
6 MONTHS
Per month: $65.90
Total: $395.40
12 MONTHS
Per month: $45.90
Total: $550.80
24 MONTHS
Per month: $35.90
Total: $861.60
Member Structure
Across the entire site and app, eHarmony positions itself toward the people engaged in and looking for long-term commitments. While some might assume that would direct its crowd to an older audience, eHarmony actually boasts a dating pool that attracts crowds from 25-34 as its core member base.
With over 60 million active users on eHarmony, the pool also is roughly divided into around 52% men and 48% female from over 200 countries across the globe. With that in mind, particularly if you're in the over 30 range, there are a lot of fish to be found in this sea.
Matching Process
After crafting your extremely detailed profile, eHarmony sets out to find you compatible partners. As we mentioned, the more detail you offer (including pictures) the more accurate the algorithm will be in finding you a potential match.
Once it's set to work, however, there are even more compatibility options on the site to help make the matching even more accurate. As you wait or scroll through recommendations, you can take compatibility quizzes to help the algorithm see how you match up with potential companions. Across the various quizzes, you'll find topics like Social Values, Emotional Intimacy, Physical Intimacy, Conscientiousness, Relationship Values, Religious Values, Affection, Romance, and many more.
The matches the algorithm finds will show up on your homepage, and you can decide from looking at their profile, pictures, quiz highlights, and their own extensive bio whether or not you'd like to reach out to them. This is where you can see how eHarmony really shines among the other contenders in online dating. Even if the initial entry had a price barrier and was time consuming, the pool of potential companions feels not only massive, but full of the kind of depth you're looking for.
Contact Options
When you do see a match that looks like a great possibility for you, reaching out couldn't be easier. However, the caveat is of course that a premium membership is not required, but sort of needed because without it you have limited messages and winking doesn't really help build the relationship.  
Another benefit of the premium membership is the addition of video chats and Video Dating – through this you'll be able to invite potential matches on virtual dates or simply virtual opportunities to explore who they are more and express who you are to them.
The free and premium services of eHarmony can be broken down as follows:
Free Services
– Registration/profile creation
– Send winks and view matches
– Send 5 site-generated questions
– Browse matches outside your list
– View pictures of potential matches
Premium Services
– See who viewed your profile
– See who added you to favorites list
– Add matches to your favorites list
– Unlimited messaging
– Browse anonymously
– Get matches outside your preferences
eharmony

App
As you probably expected, eHarmony comes with a fully functional and connected smartphone app available on IOS and Android that comes packed with all the website features. The greatest benefit of both is that eHarmony, across its website and mobile app, has one of the smoothest and easiest to navigate user interfaces that we've ever come across.
A premium membership is still heavily encouraged for the app to get the most out of eHarmony's service – but if you're still on the fence about trying it, they'll often have free communication weekends where you can see everything the platform has to offer without the investment.
Conclusion
The bottom line is that eHarmony is a pioneer of the online dating world. While that age can be a drawback for some services, eHarmony has stood the test of time because rather that finding itself comfortable at the top, it continues to innovate and do everything it can to ensure that its service really is the most trusted in the industry.
While it's not a service recommended for short-term flings, if you're looking for a committed long-term relationship, there aren't many better services out there than eHarmony. With over twenty years of experience, eHarmony has earned its name as the #1 most trusted name in dating app. Check it out for yourself and start your next great love story, today!