For serious singles 50+ looking for love
Personality-based Matchmaking
For serious singles 50+ looking for love
Personality-based Matchmaking
In-Depth Review Of


SilverSingles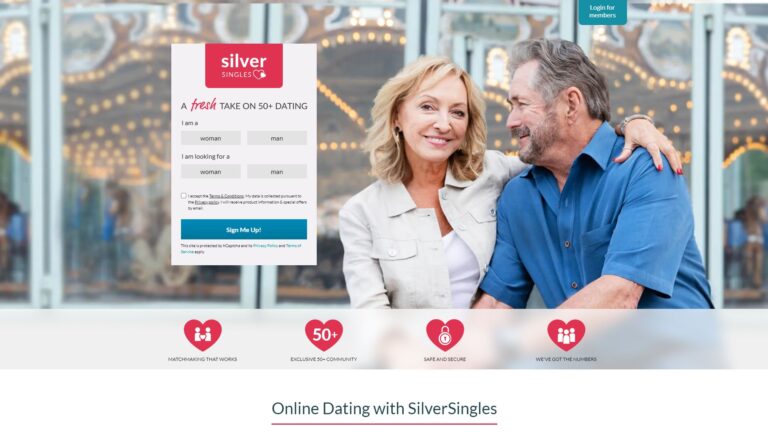 Online matchmaking services are growing more popular by the year. What was once stigmatized has now become the main method that people of all ages and demographics find their romantic connection. Because of that, matchmaking services are popping out of the woodwork all over to cater to unique markets, even the niche dating market of the over 50 crowd. But while some companies took that cue to broaden their market more recently, SilverSingles has been building a name for itself for over a decade.
Originally referred to as Primesingles.net way back in 2002, only to be renamed as Single Seniors Meet in 2009, the SilverSingles we know today made its official debut in 2011. With such an extensive history, SilverSingles has been around long enough to make a name (or many names) for itself and perfect its personality-based matchmaking algorithms.
But has it done enough to stay competitive in the modern market? Can it still stand out with so many other services catering to the over 50 crowd? We signed up for SilverSingles to find out. Read on to see our thoughts on how it stacks up to other dating sites in the modern market!
Thorough personality test for matching
A helpful customer service
Easy-to-use application
Need premium membership for most features
Must sign up for a minimum of 3 months
Signing Up for

SilverSingles
Many online dating services are designed nowadays around instant gratification. They boast sign-ups that take minutes by simply linking to social media accounts or emails. SilverSingles is a lengthier process by comparison, but by being that it weeds out potential scam accounts or members that aren't there for the right reasons.
To begin, you will be asked who you are and who you are looking for in a partner – after that you'll create your account with an email and password. After that is when SilverSingles really shows you how it finds your next great love with the 100-question personality test. This test is multiple choice and designed around the "Five Factor Model" theory of personality traits. The reason for it is to assess your preferences, personality type, and lifestyle to find compatible matches through the algorithm.
After the test, SilverSingles does even more to refine your profile and who you're looking for exactly. It asks your age, education, prior marital status, job, and what you're looking for in a partner. It also outlines seven personality traits that can be found on your profile and any other – something that potential partners can look at immediately to compare compatibility.
All that being said, the SilverSingles sign up is fairly extensive. However, as mentioned, the reason it goes to such lengths is to weed out potential scam accounts and also make sure that the algorithm has everything it needs to find you an extremely compatible partner that you want to get to know.
How Much Is SilverSingles

?
1 MONTH
Per month: $54.95
Total: $54.95
3 MONTHS
Per month: $37.95
Total: $113.85
12 MONTHS
Per month: $19.95
Total: $239.40
Member Structure
SilverSingles was founded in the US and because of that, its largest member base is right here at home. Although it is a worldwide service now, with members in the UK, Canada, Australia, France, and Germany, the majority of its millions of members are found in the US. Of those members, the divide of male to female sits at around 55% male and 45% female.
The other clear distinction about SilverSingles is that the crowd is made up of an overwhelmingly 50+ dating pool. But that doesn't mean there aren't any individuals on the site below 50. When you come across any member in their late 30s or early 40s, they're typically on there simply because they have an interest in finding a romantic connection with someone over 50. With that in mind, SilverSingles is definitely designed around people looking to build strong romantic connections and being a long-term relationship. Most members aren't looking for casual relationships or a short-term fling.
Matchmaking
Broken down, there is a free service offered by SilverSingles, but the real value of the site comes from its paid membership option. Basic accounts still have access to match suggestions, the 100-question personality test, profile views and can send smiles – but to build a real, lasting relationship, a premium membership is highly recommended.
With a premium membership, you can view photos, send and receive unlimited messages, see who visits your profile, view other personality profiles in comparison to your own, boost the number of matches you receive and also give you full access to the mobile app.
Something to be aware of with SilverSingles is that it's all about the matchmaking algorithm. Whether using a premium or free membership, you can't search for members. Because of that, it primarily functions on recommendations based on a compatibility score, which you can view at any time. You'll receive roughly 3-7 new match recommendations each day and it's your choice whether or not to begin communication. As the list gets longer, you will be able to filter it down based on age or lifestyle, but you can also add potential connections to your "Favorites" list for easier communication.  
With a premium membership, some compatibility scores that perhaps just missed the mark will also be recommended under the "Have You Met" feature, which may not have all of your interests in common, but they still could be a potential love connection.
Contact Options
To keep things extra straightforward and simple, SilverSingles doesn't have too many elaborate contact options. If you're interested in another user, you can send a "smile", and if you're a paid member, you can follow that smile up with unlimited messaging.
The other option to kick-start a potential connection is to "like" or comment on another user's profile images – very similar to social media platforms like Facebook. For users who would rather build a connection before revealing images, profile images can also be hidden until trust is firmly established – offering more security and peace of mind to some users.
SilverSingles

App
SilverSingles has a fully integrated mobile app for Android and iOS that offers all the same features of the online site. The only way to access the app is through a paid membership, but it's still an extremely convenient way to keep up with potential romantic partners while on-the-go.
Conclusion
SilverSingles is among the oldest online dating sites. Throughout the years, it may have changed names often, but it hasn't changed its primary goal – to help people over 50 find love. By maintaining an easy-to-use interface and building trust in the community to garner millions of members, SilverSingles is a go-to site for anyone over 50 looking to live out their next great love story.