Interracial Dating 

The 10 Best Interracial Dating Sites in the US
Sometimes, people aren't always interested in or attracted to people of their own race. There's nothing wrong with that. People can date whoever they want to. But oftentimes, it can be difficult to meet people of different ethnicities, backgrounds, and cultures. That's why interracial dating sites have become so popular in the US and throughout the globe. They provide a platform to meet people that we wouldn't otherwise meet in our daily lives. But with so many sites to choose from, it can be overwhelming to pick just one. That's why we've done the research and reviewed the best interracial dating sites in the US — so you don't have to!
This article contains affiliate-links.
InterracialCupid


A place to find singles from different nationalities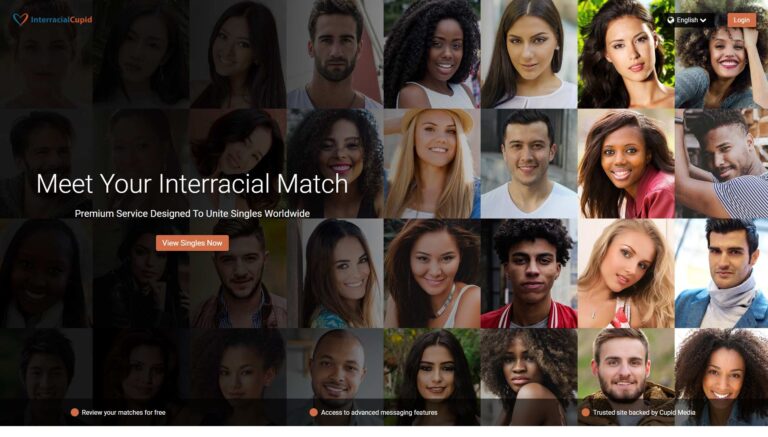 Gender distribution:
45% Female | 55% Male

InterracialCupid is part of the Cupid Media network that operates in more than 10 languages and has over 30 niche dating sites and 60 million registered users. InterracialCupid itself has more than 20 thousand users in the US and is ideal for singles looking for other singles outside of their own race. Most users on the site are interested in long-term relationships and serious dating. The dating site is also ideal for gay singles looking for serious relationships with singles from other cultures. Ideally, users of the site should speak English in order to communicate effectively with most other users on the site.
InterracialCupid allows you to sign up for free and reply to messages for free. If you would like to send messages, you'll have to sign up for the Premium or Gold membership plan. However, if a Premium member contacts you, you still have the option to message back. Because the platform is designed for international dating, InterracialCupid also features a translation feature to translate messages into your language. Without paying, you can also like profiles, add people to your "Favorites" list, search for matches, and view other members' photos. The fee-based services allow you to contact anyone, live chat, instant message, join groups, and create and view VIP profiles.
We like InterracialCupid because the dating site lets you view who is "Online Now" so you can send likes to active users. This usually leads to more and quicker responses because the members are on the platform and waiting to be contacted. You can also try out the platform for free just by uploading profile photos. Plus, you'll be able to see whose profiles are verified because users can upload copies of their IDs, providing extra security measures. Overall, the entire sign-up process is straightforward and user-friendly.
Ideal for multicultural relationships
Also for gay singles looking for love
Provides traditional dating experience
Sending messages is for premium members
International community, good English required
How much does a membership at

InterracialCupid

cost?
| | | |
| --- | --- | --- |
| Duration | Price | Total |
| 1 month | $29.98 / month | $29.98 |
| 3 months | $20.00 / month | $59.99 |
| 12 months | $10.00 / month | $119.98 |
InterracialMatch


One of the original dating sites for interracial singles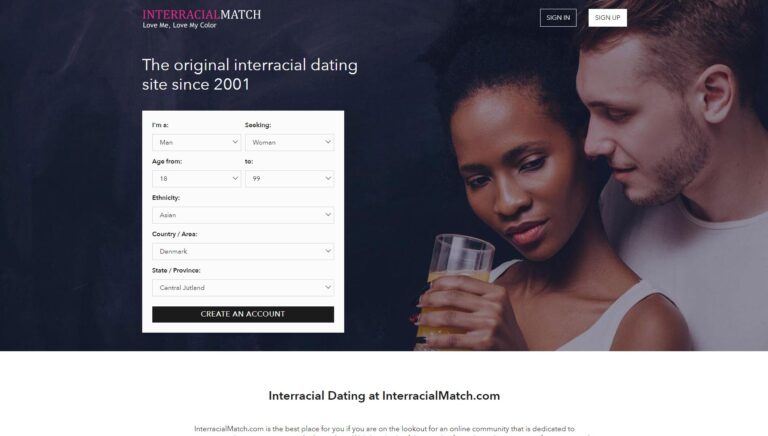 Gender distribution:
40% Female | 60% Male

Interracial Match claims to the original dating site for interracial singles around the world. With millions of registered users, people on the site are looking for everything from serious relationships to casual flings and everything in between. To differentiate users' intent, members of the site are instructed to claim what type of relationship they are looking for. For the most part, Interracial Match is good at immediately suspending suspicious profiles, which allows users to browse the site and match with other singles without much worry. That also means that you'll need to verify your profile so that the site trusts who you say you are. Couples looking to spice up their relationship can also sign up on the site.
While it is possible to sign up for Interracial Match free of charge, you'll have to pay for a membership in order to message and reply to messages. The free membership only allows you to create a profile, browse members, comment on profiles/posts, and post comments. If you want to send unlimited messages, allow others to reply for free, and see who viewed/liked you, you'll need to pay for the Premium membership. The fee-based service starts at $19.99 a month for the 6-month plan, which is higher than some interracial dating sites. But with over a million users worldwide, the platform provides tons of potential matches.
Overall, Interracial Match is a great dating site if you pay for the premium membership. Otherwise, you can't get much out of it because you won't be able to send and receive messages with the freemium plan. We also like the profile quality for most users because they usually provide a lot of details and profile photos. This will help you get a better idea about other users and find more like-minded individuals.
For serious relationships and casual flirting
For couples looking for something fun
Easy-to-use roulette style matching
Profile verification may take two days
Must pay to read and send messages
How much does a membership at

InterracialMatch 

cost?
| | | |
| --- | --- | --- |
| Duration | Price | Total |
| 1 month | $39.95 / month | $39.95 |
| 3 months | $24.98 / month | $74.95 |
| 6 months | $19.99 / month | $119.95 |
InterracialPeopleMeet

Interracial dating based on personality compatibility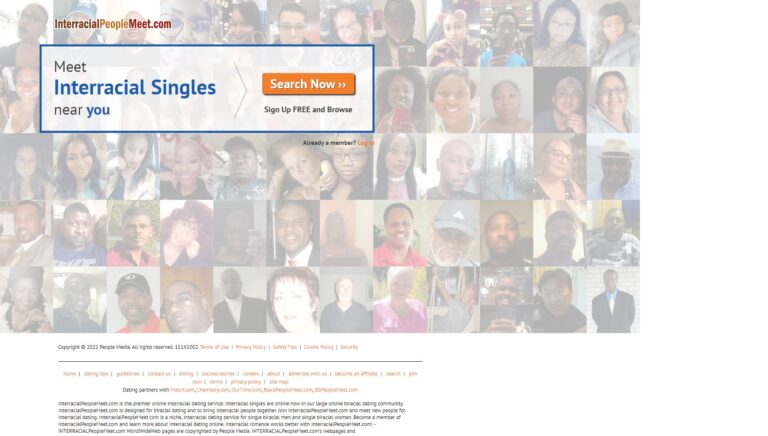 Gender distribution:
40% Female | 60% Male

Owned and operated by People Media, InterracialPeopleMeet is a niche dating site that allows singles to go on dates with other singles from diverse backgrounds and cultures. Most users on the site fall between the ages of 25 and 34, but there are also single users on the site between the ages of 35 and 49 as well. For the most part, these users are looking for serious relationships with like-minded individuals from other races. These people are open to and appreciate other traditions and cultures, and are open to different ways of looking at the world.
Available in the US and Canada, InterracialPeopleMeet offers affordable membership plans that start at just $6.49 per month for the 6-month plan. The paid membership gets you features such as messaging, photo commenting, instant messaging, profile highlighting, and better search and match results. With the freemium membership, you're limited to liking photos, sending flirts, searching profiles, saving to favorites, and playing the "Who Do You Like?" game. For the most part, you'll have to pay for a membership if you want access to basic contact features in order to start conversations with other users.
When browsing profiles on InterracialPeopleMeet, you'll come across incomplete profiles, invisible profiles, and fake profiles. Incomplete profiles exist because the site doesn't require its users to fill out every field. Invisible profiles exist because they won't appear until a user provides a profile photo. And fake profiles exist because the site doesn't take measures to verify a person's true identity. To help you connect with other users, InterracialPeopleMeets offers 4 interesting features. "Echo" alerts you when a match has been made; "Events" allows you to attend social gatherings at local venues; "Massage Ideas" gives you four pre-selected questions to get a conversation going; "Promote Me" puts you at the top of search results for exactly one hour.
For singles looking for long-term companionship
Personality questionnaire for better match results
Offers membership plan that won't break the bank
No identity verification process
Must pay for essential features
How much does a membership at

InterracialPeopleMeet 

cost?
| | | |
| --- | --- | --- |
| Duration | Price | Total |
| 1 month | $16.99 / month | $16.99 |
| 3 months | $8.99 / month | $26.97 |
| 6 months | $6.49 / month | $38.94 |
InterracialRomance


A dating site designed to connect interracial singles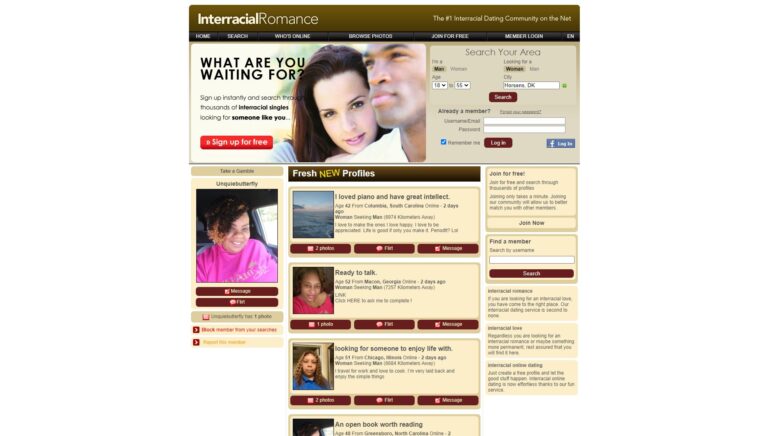 Member count:
2,000 active users
Gender distribution:
50% Female | 50% Male

At first glance, Interracial Romance appears to be a dated site that needs an upgrade. But when you start getting into the features and capabilities, the dating site is anything but dated and boring. It's also easy to navigate and doesn't require much of a learning curve. If anything, the site can actually be fun to use and makes it easy to search for matches. For the most part, you'll find a lot of Black and White single men and women on the site looking for the opposite sex. These users are typically looking for something serious that leads to a long-term relationship.
Unlike other interracial dating sites on this list, users on Interracial Romance can message freely without having to match first. This makes it fun to browse other users' profiles, read through their interests, and message like-minded singles. This type of platform is ideal for people that don't want constraints on who they can message or what users' profiles they can view. However, because the site is public, anyone that visits the site can view your profile. They can also view your profile photos and there is no way to mask your identity. But you can add private photos that other users need to ask permission to view. We don't recommend the site if you want full anonymity.
We like Interracial Romance because the site seems to do a good job at weeding out fake profiles. When signing up, the site requires you to confirm your identity with your email address. They also don't make your photos visible to the public until approved by a moderator beforehand. That ensures photos from the internet used for fake profiles don't get approved, which helps keep out people with bad intentions. Members also need to fill out a lengthy registration form that helps users find like-minded singles.
Lots of features and profiles to browse
Easy to search by location
Keeps out fake profiles
The site looks and feels dated
Profiles are public for anyone to view
How much does a membership at

InterracialRomance 

cost?
| | | |
| --- | --- | --- |
| Duration | Price | Total |
| 3-day trial | $2.65 / day | $7.95 |
| 1 month | $29.95 / month | $29.95 |
| 3 months | $13.33 / month | $39.99 |
InterracialDatingCentral


An interracial dating site with a diverse user base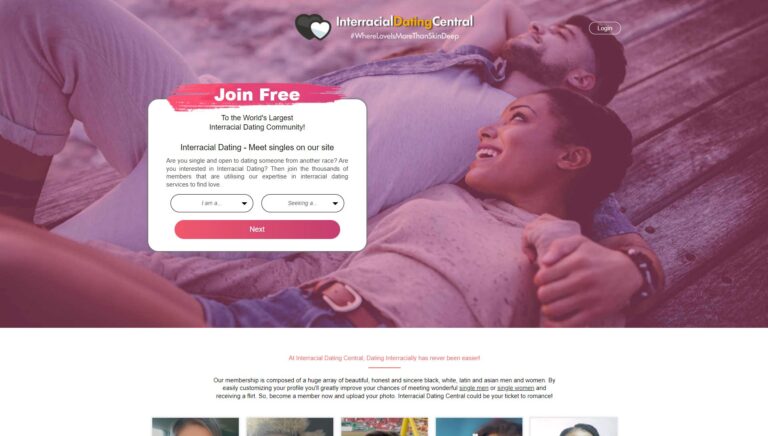 Gender distribution:
33% Female | 67% Male
Interracial Dating Central is a relatively large niche dating site with a wide array of ethnicities and people from different cultures. Mostly, you'll find that users of the site are based in the US, however, you might also find people from Canada and other countries as well. Members on the sites are typically looking for serious relationships that lead to love and marriage. In the US, members are fairly active, so it shouldn't be too difficult to start talking with another user right away. The site also provides thousands of success stories that you can read about to give you peace of mind about joining the site.
What's nice about Interracial Dating Central is that you can really get a feel for the site before deciding if you want to pay for a membership. The free plan allows you to sign up, send flirts to other singles, reply to messages, add users to your "Favorites" list, and search for other singles. For $11.66 per month for the 6-month plan, you become a Premium Member, which allows you to also send messages first, view who flirted with you or viewed your profile, and browse anonymously. Interracial Dating Central, unlike other dating sites on this list, allows you to look for friends and penpals as well.
For the most part, the details provided in user profiles are enough to get the gist of who someone is before deciding if you want to send a message or flirt. Users need to provide details such as education, appearance, personality, and lifestyle. They also need to write an autobiography of 20 words or more and write a paragraph about what they are looking for. You can see if a person pays for a membership, and you can click on the "History" button to see your interactions with that particular user.
For serious relationship seekers
Active members in the United States
Can reply to messages for free
No profile verification method
Doesn't require users to upload photos
How much does a membership at

InterracialDatingCentral 

cost?
| | | |
| --- | --- | --- |
| Duration | Price | Total |
| 1 month | $25.99 / month | $25.99 |
| 3 months | $13.17 / month | $39.50 |
| 6 months | $11.66 / month | $69.96 |
Zoosk


One of the most popular interracial sites for online dating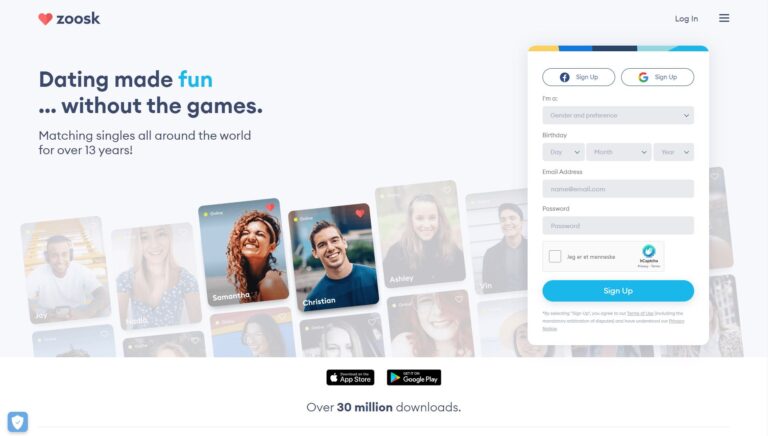 Gender distribution:
52% Female | 48% Male

Zoosk consistently ranks among the best dating sites for interracial singles to meet, despite the site not being designed specifically for that purpose. The reason so many singles flock to Zoosk to find singles of different ethnic backgrounds is that the platform has so many people. It also gives you the ability to search for what you're looking for, which basically makes it a niche dating site depending on what your interests are. With 40 million global users and millions of people from different nationalities and ethnicities, users are sure to find someone that matches their search criteria. There are also 1.6 million messages sent daily on the platform.
With a diverse community of members, you can find pretty much anything you're looking for on Zoosk. Plus, not all the members on Zoosk are looking for interracial relationships, much like other dating sites on this list. That means if you're open to dating people of your same skin color, ethnicity, or culture, you can also find them too. Zoosk has over 13 years of experience finding people their perfect match, and they take your interests into heavy consideration. They also send custom matches each day and allow you to send and view photos before deciding to message another user.
One of the things we like about Zoosk is that the age of its user base is spread out. You'll find people in their 20s and 30s like on most dating sites, but there are also many users in their 40s and even 50s as well. This means you have an even greater pool to choose from in terms of people from different ethnicities that are around your age group. You'll find singles that are interested in both casual flirting and serious dating that could turn into a long-term relationship. In short, Zoosk has almost anything you're looking for.
Advanced matchmaking algorithm
Allows you to narrow down your search
Profiles are validated and authentic
A large number of inactive accounts
Fake profiles/scammers are present
How much does a membership at

Zoosk 

cost?
| | | |
| --- | --- | --- |
| Duration | Price | Total |
| 1 month | $29.95 / month | $29.95 |
| 3 months | $19.98 / month | $59.95 |
| 6 months | $12.49 / month | $74.95 |
eHarmony


Large dating site with a diverse pool of singles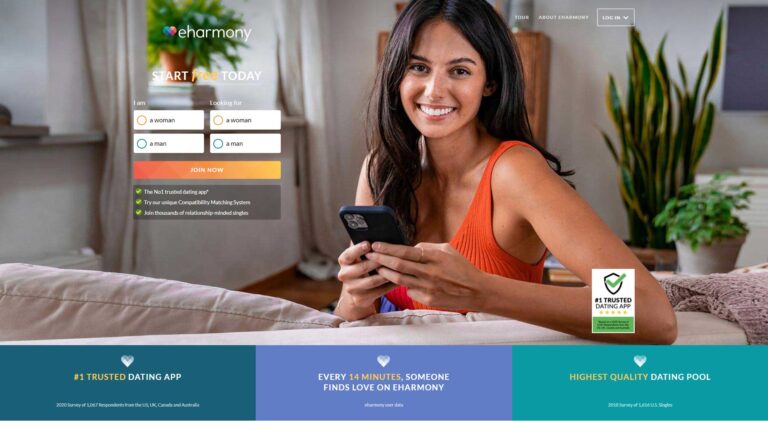 Member count:
15.5 million

Gender distribution:
47% Female | 53% Male

eHarmony has quickly become the go-to dating site for singles looking for long-term relationships and lead to marriage. From a diversity standpoint, singles on the platform range from people looking for interracial dating, to those looking for singles over 50, and LGBTQ+ options as well. Compared to other dating sites on this list, the monthly price for membership is relatively high for eHarmony. That's because the site employs an advanced matchmaking algorithm that uses the scientific research method (known as their Compatibility Matching System) for better matches. eHarmony has 29 million members in the US that are highly active. They also give out a RelyID badge to members who verify their profiles for added security.
eHarmony does allow members to sign up for free. This will allow you to send winks to other users you're interested in, view profiles, send site-generated questions to users, and browse profiles. With a paid subscription, you can take full advantage of what the site has to offer. That includes viewing photos, seeing who viewed your profile/added you to their favorites list, sending unlimited messages, and browsing anonymously. Because the membership fees are steep, eHarmony gives you the option to pay in one installment, two installments, or three installments. Look out for promos that include free trials, coupons, and more.
While eHarmony doesn't solely focus on interracial dating, the platform does help you find what you're looking for. They use intelligent matching based on compatibility and you can also filter and refine your search based on what you're looking for. Profiles also provide rich details about a person's background, interests, lifestyle, culture, and much more. For these reasons, eHarmony has become a favorite among singles looking for an interracial dating experience. With over 66 million members throughout over 200 countries, it's easy to search for other users with diverse backgrounds that meet your criteria.
Takes matchmaking seriously
Large pool of members that are active
For singles seeking a first or second chance at love
Pricey premium subscription plan
Free membership doesn't offer much
How much does a membership at

eHarmony

cost?
| | | |
| --- | --- | --- |
| Duration | Price | Total |
| 6 months | $65.90 / month | $65.90 |
| 12 months | $45.90 / month | $550.80 |
| 24 months | $35.90 / month | $861.60 |
EliteSingles


A place to find university-educated, successful singles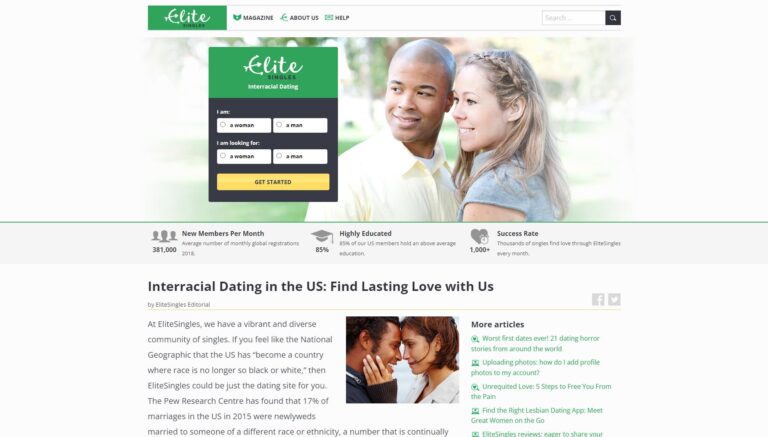 Gender distribution:
57% Female | 43% Male

Elite Singles has made a name for itself over the years as a place for successful and educated people to meet. This isn't a sugar daddy site where young women come to meet older successful men. Elite Singles is a dating site where users can meet other singles that are on a similar level when it comes to education level and career success. These are singles that are seeking long-term relationships that eventually lead to marriage. When signing up, you'll have to fill out a detailed personality survey so that the algorithm can fine-tune your matches using a psychological matching system.
Elite Singles is essentially a premium dating site with a subscription model. As a free member, you're limited to signing up, answering the personality test (and getting the results), uploading profile photos, and getting daily matches that you can send smiles and likes to. With this paid membership, you're given more features that enable you to better match with potential dates. You'll be given more details of a user's personality test, you can match with more people, send and receive messages, access photos, and leave comments. It's important to note that when you purchase a subscription, the lump sum will be paid in full for whichever membership you choose. That means you won't be charged per month.
The reason we added Elite Singles to our list of interracial dating sites is that the platform has a diverse and vibrant community of singles. Elite Singles found that more than three-quarters of the members they surveyed said they are interested in singles that speak other languages. That's a good sign that members on the platform are open to dating singles of different cultures and ethnicities. By filling out your personal preferences and partner preferences, Elite Singles will do a good job at finding you the type of singles you're interested in.
Personality questionnaire fine-tunes your matches
Verification badge given to verified profiles
Members of diverse backgrounds
No free trial or 1-month subscription
Limited to cities and populated areas
How much does a membership at

EliteSingles

cost?
| | | |
| --- | --- | --- |
| Duration | Price | Total |
| 3 months | $34.95 / month | $104.85 |
| 6 months | $19.95 / month | $119.70 |
| 12 months | 17.95 / month | $215.40 |
AdultFriendFinder


A site with a vast member base looking for fun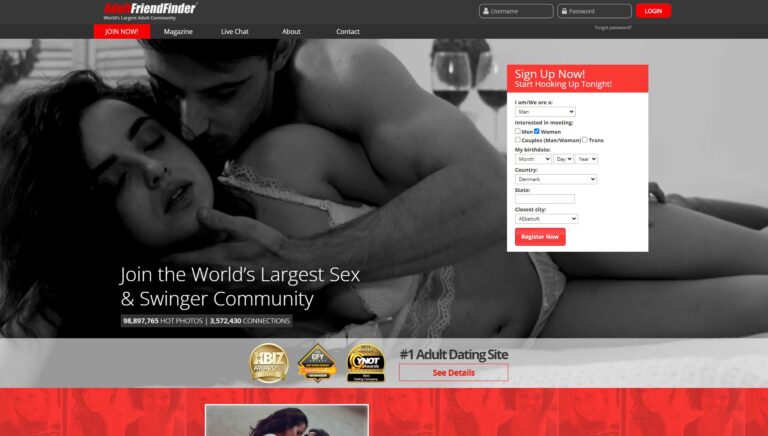 Gender distribution:
80% Male | 20% Female

Based on the number of people using Adult Friend Finder alone, we had to include it on our list. Members of Adult Friend Finder are looking for everything under the sun — from monogamy to sex to couple share and polygamy — you name it, Adult Friend Finder has it. For the most part, people on the platform are looking for hookups, cheating, casual dating, and some traditional dating. We included it on our list of interracial dating sites because users on the site are open-minded. Plus, there are 80 million members throughout the globe, so there are plenty of people from different countries and cultures to connect with.
Adult Friend Finder is essentially a paid dating platform. With the free service, you're limited to liking photos and videos, creating a Hotlist, joining/commenting on groups and blogs, and using search filters. With the Gold membership, you're able to view full profiles, add friends, send gifts, send/read messages, chat, and watch live streams of other members. At $19.95 per month for the 12-month plan, Adult Friend Finder isn't terribly expensive. But you're likely not going to spend that money to find singles that want long-term relationships. You're paying to use an array of helpful features to find casual sex, friends with benefits, swinger groups, threesomes, and sometimes a traditional partner.
Before you decide to explore Adult Friend Finder for yourself, we must warn you what to expect. While millions of people enjoy using the site, it can border on the side of sexually explicit. There are also bots, fake profiles, and inactive accounts to look out for. On a positive note, Adult Friend Finder has solid customer support, an active user base that's responsive, and you can try it for free. Just be prepared that males far outnumber females on the site.
Ideal for people looking for hookups
Free to create a profile and register
Active and responsive user base
Outdated platform design
Fake profiles and bots to look out for
How much does a membership at

AdultFriendFinder

 

cost?
| | | |
| --- | --- | --- |
| Duration | Price | Total |
| 1 month | $39.95 / month | $39.95 |
| 3 months | $26.95 / month | $80.85 |
| 12 months | $19.95 / month | $239.40 |
Plenty of Fish – POF


One of the world's largest online dating sites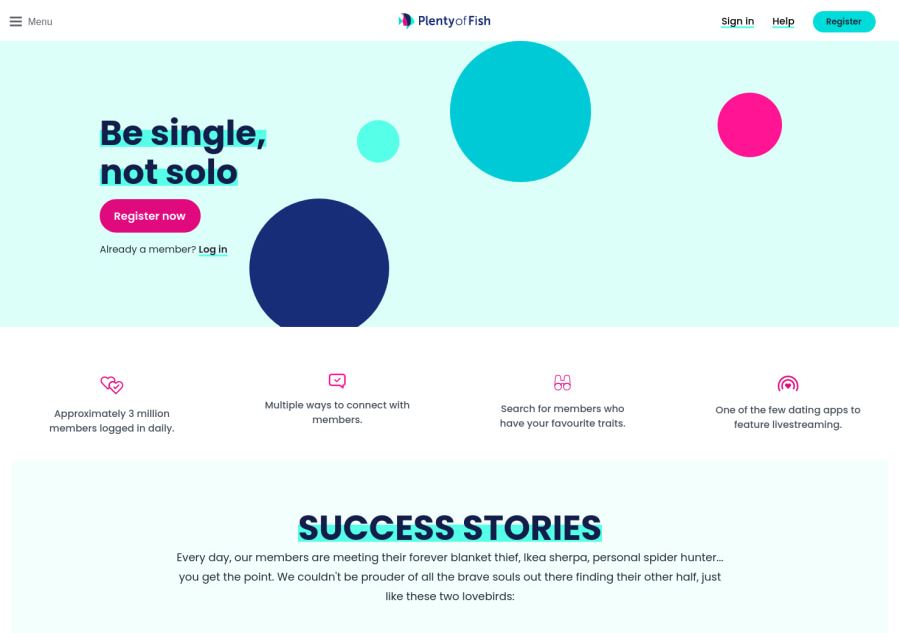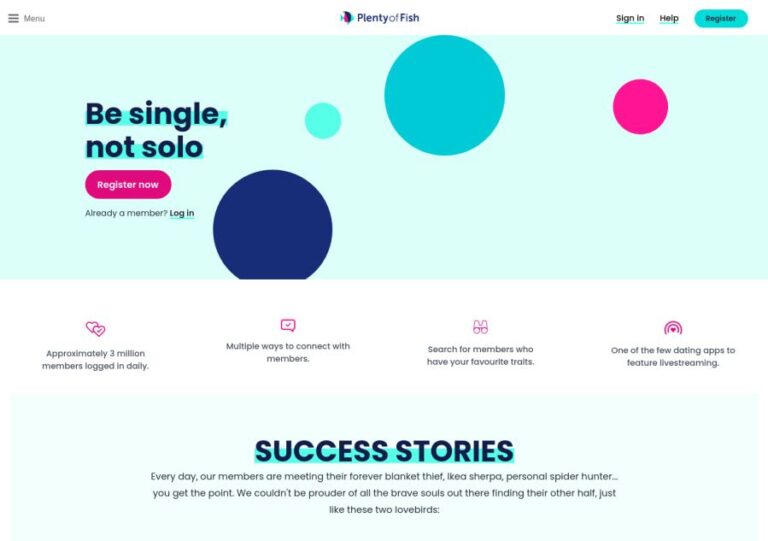 Gender distribution:
40% Female | 60% Male

Plenty of Fish (also known as POF) claims to be the largest online dating site in the world with over 90 million members and counting. And while the platform wasn't designed as an interracial dating site, there are enough people on the site interested in interracial dating to make our list. Users on Plenty of Fish are both looking for long-term relationships and casual dating, which is common for a dating site of this stature. A large percentage of those members are of different races and ethnicities looking for interracial relationships. Much like Zoosk and eHarmony, you have the option to set your preferences and add details to your profile stating your relationship interests.
In addition to casual relationships and long-term relationships, people on POF are also looking for friendships to extend their social circles. Given the platform's enormous population, there are all sorts of connections that can be made on POF. A big reason so many people are attracted to the site is that many of its features are free to use. With the freemium plan, users can send messages, get matches, browse members' profiles, voice message, and even take the Compatibility Predictor test. If you'd like to upgrade to the 2-, 4-, or 8-month plan, you can also get more exposure, view extended profiles, experience no ads, send three gifts a day, and more.
For an app that's mostly free, we like that the majority of POF's user base is in their 20s up to their late 30s. A lot of free dating sites mostly cater to the early 20s crowd, so it's nice to see a free dating platform that also attracts other age groups. Plus, most users are from the US and Canada, so you shouldn't have any problem matching with potential dates in your area.
Easy to use application
Fast registration process
Affordable premium plans
Freemium plan has lots to offer
A huge population of users 
Can filter and narrow down search results
Not for younger demographics
No video chatting feature
Very competitive market 
Fake profiles and scammers
How much does a membership at


Plenty of Fish

 

cost?
| | | |
| --- | --- | --- |
| Duration | Price | Total |
| 2 months | $19.35 / month | $38.70 |
| 4 months | $12.75 / month | $51.00 |
| 8 months | $10.18 / month | $81.40 |
Interracial Dating FAQ
Which interracial dating site is the best?
If there was one clear winner, we wouldn't have included all of these dating sites on our list. What's best for one person might not be best for you, unfortunately. That's why we recommend reading over these interracial dating site reviews and then trying the sites that seem like a good fit. Luckily, most of these dating sites allow you to sign up for free and try out their platforms. We think this is the best way to find the best interracial dating site for you. 
How do I choose an interracial dating site?
First, we recommend making a list of all the requirements you want out of a dating site. That can include the price you're willing to pay, the type of relationship you're interested in, as well as the number of success stories a dating site has. Choosing a dating site shouldn't be stressful, but you should also put aside a little time to choose the right one. If you're serious about finding a long-term relationship, you'll most likely have to pay a little more, which means you should do your due diligence before deciding on one platform. 
How do interracial dating sites work?
Interracial dating sites aren't much different than traditional dating sites. The only difference is that everyone on the site is interested in the same thing — dating someone of a different culture or ethnicity. They still employ algorithms to match you with like-minded individuals. They still let you make a profile, upload photos, and set your preferences. However, with some of these dating sites on our list that aren't specifically designed for interracial dating, you might have to do a little more work to find someone you're interested in. 
Are interracial dating sites safe to use?
They're just as safe as traditional dating sites. That being said, it's always advised to exercise caution when meeting someone online. After all, they are still strangers and can be lying about who they are. When using an online dating site, it's always recommended to get to know the person before meeting in public. You should never share any personal or sensitive information, and it's better to talk on the phone or video call before agreeing to meet. 
When meeting in public, don't rely on transportation from your date, tell someone where you're going and for how long, and share your live location via mobile device with a friend or family member. These precautions are most likely unnecessary, but your safety should always come first. Also, you should always meet in a public place with lots of people around. 
Do interracial dating sites actually work?
We chose these interracial dating sites for a reason — they're the best ones out there. They allow you to identify your race, search for specific ethnicities you're interested in, filter and narrow down your search results, recommend matches, and provide a good pool of singles to choose from. These are all important factors that make these interracial and non-specifically interracial sites so great. Now you just need to choose the site that meets your criteria.