Christian Dating

The Best Christian Dating Sites in 2023
Are you a Christian single looking for love? For most of us, it's not easy to find a date at the supermarket, gym, or church. Maybe they exist, but they don't have the personality, looks, or parameters we're looking for. That's why so many people are turning to Christian dating sites to find other singles that meet their ideal criteria. But with so many dating sites out there, how do you choose the right one? Fortunately for you, we've done the research and reviewed the best Christain dating sites in the US. Here are your options!
This article contains affiliate-links.
Christian Mingle


For Christians looking for companionship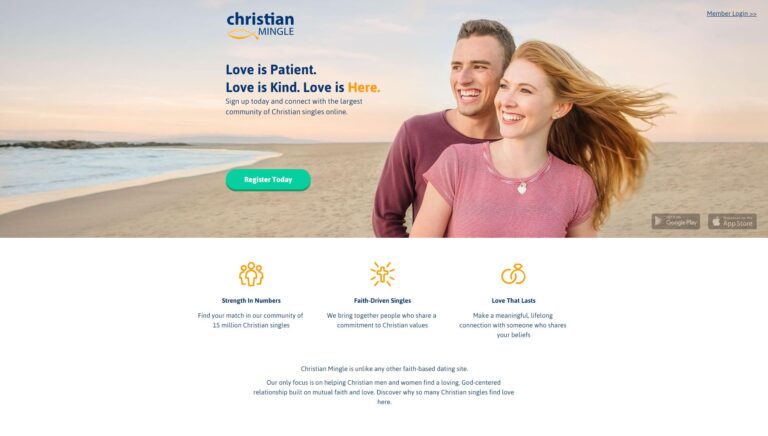 Gender distribution:
56% Female | 44% Male

Christian Mingle is usually the first site that comes to mind when Americans think of faith-based dating sites. You probably have seen a commercial of theirs or some type of advertisement. They also have a sizable member base, which is always an important selling point when deciding which dating site to go with. That usually means you'll find more singles in your area, which gives you a greater chance of meeting that perfect someone. And as is the case for most Christian dating sites, the member base tends to be serious about finding long-term love.
Before you get started, there are some things you should know, such as the cost. Christian Mingle is a paid site and their membership cost isn't exactly cheap. Even for the 6-month plan, you'll be paying about $25 a month. However, they do give you a free trial period so you can see if the juice is worth the squeeze. Basically, the company thinks they can charge that much because they're confident in their ability to hook you up with someone. For good reason too, their members tend to be pretty active, of higher quality, and responsive. In short, people that pay that much for a service are serious about using it. That's one of the perks of using a dating site with a high membership fee.
All in all, Christian Mingle users seem to be happy with the platform. They offer an easy-to-use app and website that have tons of features, a large userbase, and a solid reputation. The only downside is that there isn't much you can do on the site without paying. So you'll have to trust your gut.
7 million members
Easy to use website and app
Strictly Christian singles
Lacks a search function
Not easy to cancel membership
How much does a membership at

Christian Mingle

cost?
| | | |
| --- | --- | --- |
| Duration | Price | Total |
| 1 month | $49.99 / month | $49.99 |
| 3 months | $34.99 / month | $206.94 |
| 6 months | $24.99 / month | $149.94 |
ChristianCafe


A reliable site for Christian singles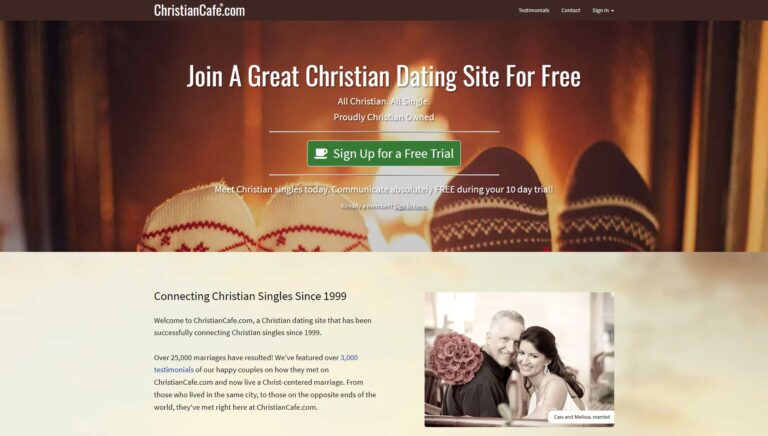 Gender distribution:
60% Female | 40% Male

As one of the originals in the Christian dating site game, Christian Cafe has a long history of connecting singles with each other. One of the unique selling points of the site is its 10-day free trial, which includes all the features included in the premium membership. The first thing you'll probably notice if you've visited other dating sites is that theirs feels a little dated. Whether that has to do with their contentment with the platform or an unwillingness to evolve, we're not quite sure. However, if that isn't a big deal to you, then it shouldn't be a problem because the site still functions correctly.
With around 1 million users in the US, you'll find fewer matches than some of the larger dating sites on our list. So if you're living in a more rural area, that could be a concern. If you're in a more populated area, there should still be plenty of pages of matches you can scroll through. Those tend to be high-quality matches as well since Christian Cafe removes any profiles that have been inactive for 3 months. Compared to other dating sites that display tons of outdated profiles, this is a big advantage for Christian Cafe.
Overall, Christian Cafe tries to cater to people that are ready and serious about getting into a meaningful relationship. Even in their signup process, they ask if you're still legally married, and won't allow anyone that is. They want real singles that have already finalized their divorce and decided to give love another chance. Once you've proven your readiness, the site also allows you really narrow down your preferences so they can match you with like-minded individuals.
High-quality matches
Specified match results
Tons of success stories
Outdated website design
Fewer users to match with
How much does a membership at

ChristianCafe

cost?
| | | |
| --- | --- | --- |
| Duration | Price | Total |
| 1 month | $34.97 / month | $34.97 |
| 3 months | $16.65 / month | $49.95 |
| 6 months | $13.33 / month | $79.95 |
ChristianCupid


For those looking for commitment and guidance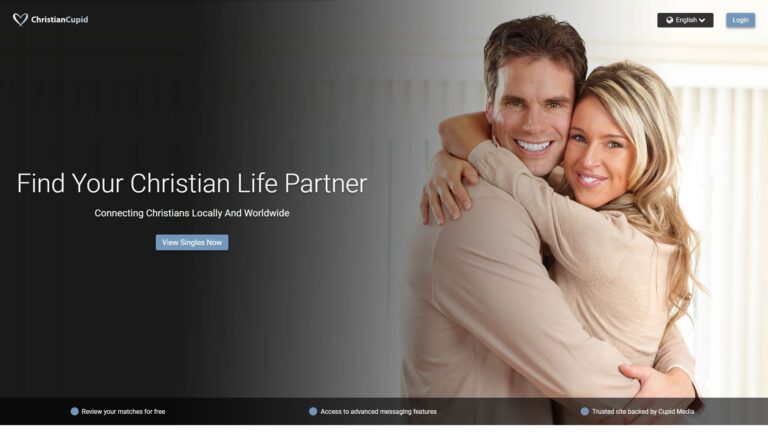 Gender distribution:
40% Female | 60% Male

Christian Cupid differs from other Christian dating sites in that it's also intended for those who would like to give spiritual comfort. With just 16,000 members in the US and 60,000 worldwide, you won't find an abundant amount of matches as you would on other dating sites of larger scales. But it makes up for that by offering a diverse community of Christ-centered users that are willing to provide spiritual support and guidance.
Christain Cupid allows you to specify what you're looking for by religious seriousness and denomination. This is intended to help match you with people that share similar views and beliefs. And while most users on the site are looking for a long-term commitment, you can decide if you want to signup for "Marriage" or "Romance." Besides that, the signup process is fairly straightforward. To register, all you need to do is use your email or Facebook account to log in, which takes less than two minutes. The only downside to this rapid registration process, however, is that there is no verification process. If security is of top concern to you, this could be an issue.
Much like other dating sites, the paid version of Christian Cupid is far superior to the free plan. The freemium version doesn't allow you to contact matches and restricts access to key features. If you want more capabilities, you can choose between the Gold and Platinum memberships. The Gold is actually the cheaper of the two, starting at $8.33/month for 12 months. That's relatively cheap compared to most dating sites, which could put Christian Cupid into high consideration.
For singles looking for long-term commitment
For people looking for spiritual guidance
Offers multi-language support
Small matching pool
Lack of verification process
How much does a membership at

ChristianCupid

 cost?
| | | |
| --- | --- | --- |
| Duration | Price | Total |
| 1 month | $29.98 / month | $29.98 |
| 3 months | $20.00 / month | $59.99 |
| 12 months | $10.00 / month | $119.98 |
CatholicMatch

A religion-based dating site for Catholics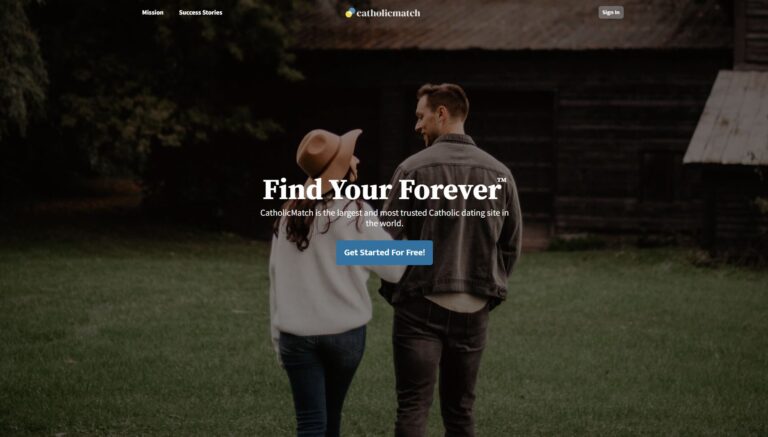 Gender distribution:
50% Female | 50% Male

If you're looking for other Catholic singles on a dating site that's strictly dedicated to that branch of Christianity, Catholic Match is that platform. While other Christian dating sites let you choose the denomination you belong to, Catholic Match is only centered around Catholic beliefs. You'll find that most users on this dating site are very committed to faith and often attend church. Catholic Match is even backed by notable Catholic figures, including Catholic radio show hosts, authors, and founders of Catholic-based organizations. These, among other reasons, are why the site has grown to over a million members.
As the largest Catholic dating site in the world, Catholic Match has over two decades of experience matching like-minded singles. However, one drawback to the site is that search results don't automatically weed out inactive members. You'll have to manually go to the search function and click the "Miscellaneous" tab. There, you will click the "Active with" dropdown menu and choose the period of time in which you want your search results to have been active. With a large population of single Catholics on the platform, you shouldn't have an issue finding hundreds of potential dates in your area. Most people on the site fill out their profiles thoroughly as well, with lots of photos, background information, and level of faith.
One area that separates Catholic Match from other dating sites is its Photo Wall feature. This features a collage of newly uploaded photos that you can click on to take you to the match. You'll also find a blog section and discussion forums, which adds a nice touch.
Ideal for Catholic singles in urban areas
Strictly Catholic, single members
Easy-to-navigate website and app
The free trial has minimal capabilities
Less matches in smaller towns
How much does a membership at

CatholicMatch

 cost?
Duration
Price
Total
1 month
$29.99 / month
$29.99
6 months

$14.99 / month

$

89.94

12 months
$9.99 / month
$119.88
Christian Connection


For Christian singles looking for long-term love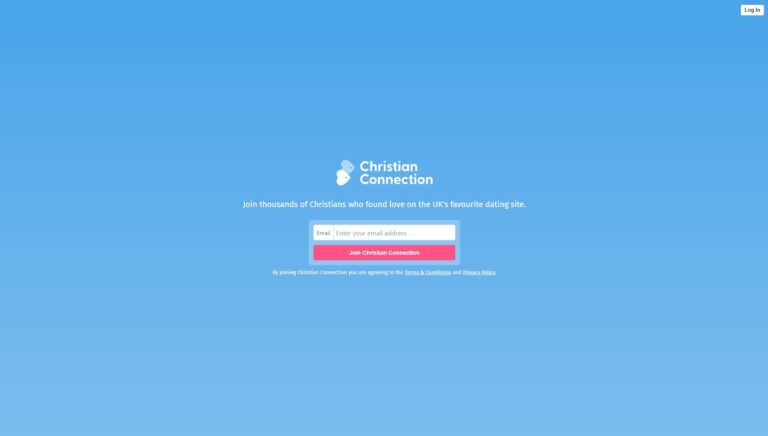 Gender distribution:
47% Female | 53% Male

Started in London back in 2000, Christian Connection has gained popularity in other countries, including the US, Canada, New Zealand, Australia, and Ireland. While their member count in the US is unknown, it seems to be significantly smaller than other Christian dating sites. For this reason, the company doesn't hold events like dance classes and holiday parties as it does in the UK. However, that could be coming soon if its member base grows in the US.
But still, its US members enjoy the platform for many reasons. For one, it has a niche audience, which makes it a good site for those who want to spend less time searching. Another reason people head to Christian Connection is that they can get to know the platform before spending any money. With the free sign-up and free 3-day trial, visitors can create a profile and see who's in their area. If they like what they see, it's fairly affordable to become a member (only $8/month for the 6-month plan). With that, they can use features such as Community Board, Private Viewing, and Meetups.
Christian Connection is for any Christian single 18 years old and over, including LGBTQ+ Christians as well. The site claims that it is for "Trinitarian Christians who accept the Bible," and those denominations include Anglican, Catholic, Baptist, Methodist, Lutheran, and much more. They seem to be somewhat open to other denominations such as independent or emerging Churches as well. However, Jehovah's Witnesses, Mormons, Christian Science, and a few others fall outside of their member base. If you're unsure about where your faith stands, they have the full list on their website.
For those looking for long-term commitment
Free 3-day trial period
Affordable Christian dating site
Small membership base in US
Freemium plan is very limited
How much does a membership at

Christian Connection

 cost?
| | | |
| --- | --- | --- |
| Duration | Price | Total |
| 1 month | $16.00 / month | $16.00 |
| 3 months | $11.00 / month | $33.00 |
| 6 months | $8.00 / month | $48.00 |
BigChurch


More than just a Christian dating site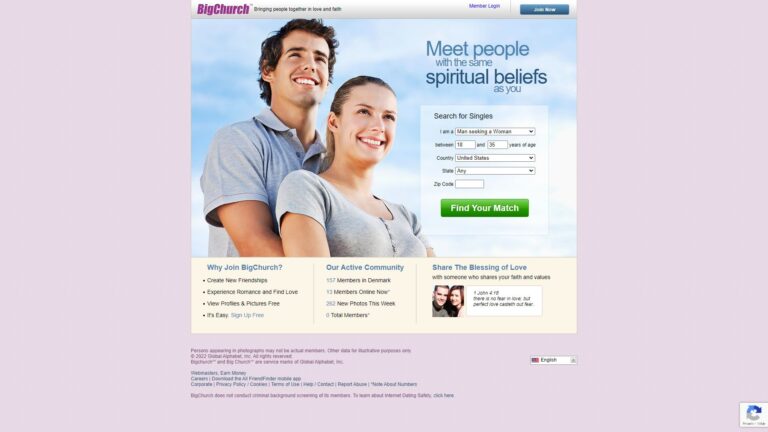 Gender distribution:
30% Female | 70% Male

There's a lot to unpack about Big Church. Overall, the dating site seems to attract a lot of visitors. That's in part to all the profiles, functions, and features you'll find on the site. The most popular of the three is the search function. It allows you to narrow your search in an almost overwhelming fashion, offering over 250 ways to find a match. This robust and comprehensive search allows you to sort by dealbreakers, values, location, age, demographic, and much more. However, with such a high percentage of male members on the site, it could be difficult for men to find women in their area that meet their criteria.
Compared to other dating sites that specifically cater to Christians (such as Christian Mingle and Chrisitan Cafe), Big Church isn't owned by Christians. The website is owned by Friend Finder Networks, which is a company that also deals in adult entertainment, most notably Penthouse magazine (sold in 2016). This has been a major deterrent for Christian singles for obvious moral reasons. Because the company also runs Adult Friend Finder, people are also concerned about their data being shared with a dating site that caters to casual hookups, threesomes, and fetishes.
If you don't mind who owns Big Church and want to give it a try, they do offer a free version of their site. You can create an account, profile, and browse matches with the freemium plan. However, like most other dating sites, you'll have to upgrade to the Silver or Gold subscription plan if you want to send messages and access other features. Only with these premium plans will you be able to meet up with dates.
Thorough search function
Detailed profiles and lots of features
Easy to get started
Cannot meet matches with freemium plan
Non-Christian, profit-driven ownership
How much does a membership at

BigChurch

 cost?
| | | |
| --- | --- | --- |
| Duration | Price | Total |
| 1 month | $19.95 / month | $19.95 |
| 3 months | $13.32 / month | $39.95 |
eHarmony


A dating site for all types—including Christians!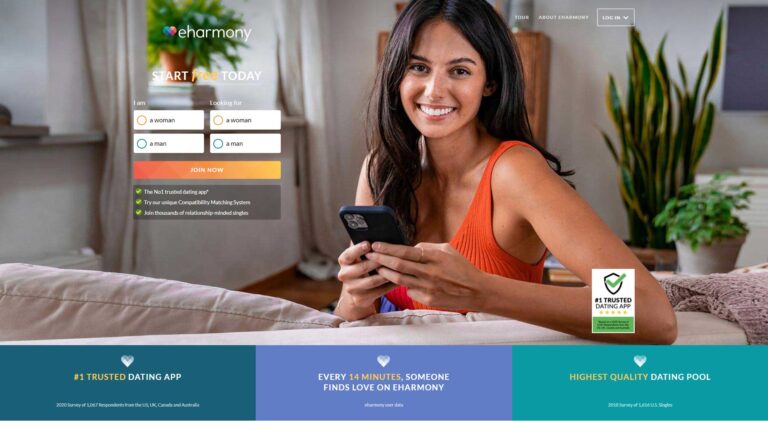 Member count:
15.5 million

Gender distribution:
47% Female | 53% Male

eHarmony isn't a Christian dating site, per se. Nor is it any type of religious-only dating site. It's a dating site for people from any walk of life, belief system, or sexual orientation. However, eHarmony does attract a ton of Christians to its site. Why is that? Well, it could have to do with the traditional Christian beliefs it was founded on. Or, it could have to do with the prominent Christian theologian, Dr. Niel Clark Warren, who co-founded the site and was a part of creating the early matchmaking system. Whatever the reason, Christians from all over the US seem to be drawn to this platform.
Considering 70% of the US population identifies as Christian, it's no wonder the site has so many Christian users. The site also features an appealing search criteria option so you can filter your matches for other Christian singles in addition to the usual things like education level and the number of children desired. And because eHarmony is richer in features and releases new features regularly, more tech-savvy singles tend to prefer the platform. Dating sites that explicitly cater to Christian singles tend to feel a little more outdated and traditional.
Due to eHarmony's popularity, reputation, and advanced features, it is costlier to become a member compared to other dating sites on our list. But if you don't mind that it's not solely owned by Christians, and you appreciate a good value, eHarmony should be a highly considered "Christian" dating site. They even offer a free (albeit limited) trial if you want to get a feel for the platform before fully committing.
In-depth compatibility questionnaire
Large membership base
Easy to meet serious singles
Pricy payment plans
Not exclusively designed for Christian singles
How much does a membership at

eHarmony

cost?
| | | |
| --- | --- | --- |
| Duration | Price | Total |
| 6 months | $54.90 / month | $329.40 |
| 12 months | $39.90 / month | $478.80 |
| 24 months | $29.90 / month | $717.60 |
Christian Dating For Free (CDFF)

The largest free Christian dating site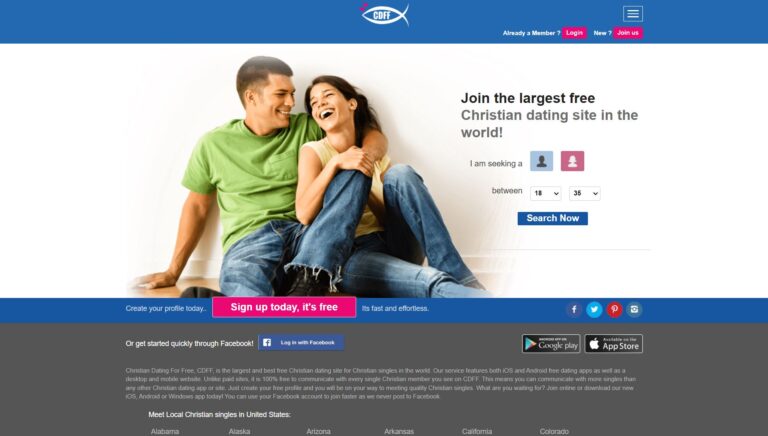 Gender distribution:
46% Female | 54% Male

CDFF stands for Christian Dating For Free, and as you might have guessed, it's totally free… kind of. There's always a catch, right? While you can use the site for free, you'll have to tolerate lots of advertisements on the desktop and mobile app versions of the site. You'll also miss out on useful, unique features that are only offered in the premium plan. But if it's free you're looking for, CDFF is probably the best option on this list. The free version still lets you send messages, create an account, receive matches, join live chat rooms, and participate in forum threads.
If you want to get more out of CDFF, you'll have to upgrade. That will set you back $8.50/month if you signup for 6 months, and more if you only do month-to-month or the 3-month plan. The fee-based service will be ad-free, put your profile at the top of searches, keep your messages longer, let you upload 16 photos, and let you see if your messages got deleted. It's important to have some photos on your profile because CDFF has a filter that allows users to require a photo. Without it, your profile won't show up in many searches.
You'll be happy to know that CDFF has a strict verification process. For a free (kind of) dating site, that's somewhat of a surprise. It means you won't see many fake accounts, bots, or scammers when searching for matches. Since the site doesn't have too many members compared to other dating sites on this list, it's good to know that the matches you do see are actually real. What CDFF members also like about the platform is the forum page, where you can answer people's questions or post your own ideas.
For people looking to fall in love
Forum for members to share their faith
Also for people looking for friendship
Free version is limited and contains ads
Not for casual flirting or hookups
How much does a membership at

CDFF

cost?
| | | |
| --- | --- | --- |
| Duration | Price | Total |
|  1 month | $19.95 / month | $19.95 |
| 3 months | $12.90 / month | $38.70 |
| 6 months | $8.50 / month | $51.00 |
Match


The original dating site with a solid reputation



Gender distribution:
51% Female | 49% Male

Much like eHarmony, we couldn't make a Christian dating site list without including Match. Simply put, a lot of Christian couples have met on Match even though it's not explicitly a Christian dating site. One of the main reasons Christians flock to the site is because of sheer numbers. With some of these smaller dating sites like Christian Cupid or Christian Cafe, you might not find too many matches in your area if you live in a rural town. You never have to worry about that with Match. No matter where you live, you're almost guaranteed to find daily matches on the platform.
Match is also for those who want options. With so many features to choose from, it's almost impossible to get bored on the site. The Match Me feature connects you with other singles you really like. Mutual Match connects you with singles that have similar interests as you based on the personality assessment everyone has to take. And Reverse Match shows you singles that don't meet your criteria but you meet theirs. These, along with local meetups, live events, and trips, are just some of the options that keep members entertained. Plus, all these options and features are going to help you meet that special someone.
If we're going to nitpick the site, one could complain about the Christian filter. When it comes to your options, all you have to choose from is Catholic, Protestant, or Other. And then after that, you can choose if faith is a dealbreaker for you. With dedicated Christian dating sites, you can get much more specific with denominations, levels of faith, involvement, and so on. Despite this, tons of like-minded Christain couples have met on Match, but you might have to spend more time wading through profiles.
40% of matches stay together for several months
Great for attracting a specific niche
Exciting features like Match Phone & Match Me
Not exclusively designed for Christian singles
No verification process
How much does a membership at

Match.com

cost?
| | | |
| --- | --- | --- |
| Duration | Price | Total |
| 3 months | $34.99 / month | $104.97 |
| 6 months | $24.99 / month | $149.94 |
| 12 months | $19.99 / month | $239.88 |
FAQ – Christian Dating
What is Christian dating?
While you might hear from other Christians how one should approach dating, the Bible doesn't specifically discuss dating methods or rules. As a Christian, it's all about placing God first in your life and striving to please him in all that you do. So when it comes to dating, as long as you act as a proper believer in your approach to dating, that is what matters most.
Because there are no Christian rules to dating, many singles take it upon themselves to find a partner through online dating. In western culture, it can be difficult to find a date with such busy schedules. Between work, gym, family, church, and other obligations, meeting someone new is often difficult. That's why 40% of Americans have reported meeting their partner online. 
How do Christian dating sites work?
Christian dating sites work like most dating sites. You create a profile, answer questions about yourself, and get matched with like-minded singles. Once you match, you can message the other person and get to know one another before meeting in person. 
The only difference is that Christian dating sites are only for Christian singles that are serious about their faith. You can specify your denomination, level of faith, how often you go to church, and so on. This allows you to narrow down your search for Christian singles that meet your criteria.  
What are the best Christian dating sites?
We've rounded up these Christian dating sites and reviewed them for you because we think they're the best ones in the US. However, which one is best for you depends entirely on what you're looking for. No dating site guarantees that you're going to find a lifetime partner. It takes some time and effort on your part. You'll have to create a solid profile with good photos of yourself and details about your wants, needs, character, and other information. After that, you'll have to match with other singles, message each other, go on dates, and find someone that you really click with. Some people meet that special someone on their first go-round, others take a few months to a year. 
How do you choose a dating site as a Christian?
We suggest giving a few of these Christian dating sites a try before committing to a subscription plan. Most offer a free trial or freemium plan, which will allow you to get a feel for how the sites function. You also want to see how many matches are available in your area. In general, larger sites are ideal for people that live in rural towns because more matches will be available. If you live in an urban area, you shouldn't have a problem selecting any of these Christian dating sites. However, you don't know until you try! 
What do I say on Christian dating sites?
Always be yourself on Christian dating sites. There's no secret pick-up line that's going to get you more dates. Christian singles, for the most part, are looking for a real, genuine long-term relationship. People don't want to be surprised when they meet you in person because your personality is totally different from your online personality. They want to get to know the person they enjoyed chatting with on the platform. That's why it's always important to be yourself, keep up-to-date photos, and avoid playing any games.
How much do Christian dating sites cost?
While you can certainly find free Christian dating sites, paid subscriptions will get you a lot more. You'll be able to message other singles, video chat, go to events, and much more. As far as the cost goes, it really depends on which site you go with and the plan you choose. On our list of Christian dating sites, the cheapest plans range from $8 to $25 for several months. If you want to go month-to-month, you'll have to pay much more. That's because dating sites typically want you to commit to at least 6 months. In most cases, that's how long it takes to meet a compatible match. However, if you've met someone or stopped using the site, make sure to cancel your plan. Most plans will automatically renew once the subscription period is up. 
Are Christian dating sites safe?
It can be naturally concerning to meet complete strangers online. But over the years, Christian dating sites have taken steps to create a more safe environment. That's why many sites will ask you to verify your profile and ask detailed questions about yourself. However, there are still bad actors on the web that will try to coerce private information from you. Fortunately, those profiles should be easy to spot if you look for these red flags:
Only one profile photo. Always watch out for profiles that have the bare minimum requirements.

Photoshoot photos. If a photo seems too perfect, it's probably a stock image. You can even do a reverse search to see if the photo is on another site.

Link sharing. If anyone sends you links or asks you to sign up for something, end the conversation immediately.

Refuse to video chat. If someone refuses to confirm their identity through a video call, that's a major red flag. Almost all devices have video capabilities these days.
Remember, most people on online dating sites are there for the same reason as you, to find a romantic partner they can share their life with. So be safe but have fun while searching for a potential partner.
How effective are Christian dating sites?
Christian dating sites are successful because all the users tend to be looking for the same thing — marriage and a family. Other dating sites attract all sorts of singles, including those looking for casual dating, hookups, or something else. With a Christian dating site, you pretty much know that all your matches are looking for something serious. Otherwise, they wouldn't be on a niche dating site. In general, 22% of American couples meet through online dating sites and end up getting engaged. So we'd say dating sites are very effective. 
What's the best way to use a Christian dating site?
On Christian dating sites, creating your profile and wading through other profiles can be an art. As you get used to the site, you'll become more familiar with the functionalities and features. But for the most part, here are the main areas to focus on:
Profile photos. Online dating is not like choosing a book. You can judge a profile by its cover (photos). Look out for ego-boosting or materialistic photos.

Be upfront. Your profile should let other singles know what you want and don't want. This will prevent confusion down the road.

Be real. If you're serious about finding a soulmate, then talk a lot and share your real opinions. That's the only way to know if someone likes you for who you really are. That means asking important questions about them as well.

Meet ASAP. The only way to know if the two of you are compatible is to meet in person. You're just wasting time by chatting for too long online. 

Be safe. Tell friends or family members where you're meeting, share your location with them, and always meet for the first time in public. 

Know when it's not working. It may take several dates with several people before you meet the right person. Don't try to force anything that doesn't feel natural.

Probe. Don't just assume they're Christian because they're on a Christian dating site. Ask questions and get to the bottom of their faith. 
Use your gut instincts when using a Christian dating site. Most of the time, that will be your best asset when navigating the online dating world.