Senior Dating Sites

The Best US Dating Sites for Seniors (2023)
Entering the later years of life can be difficult to navigate. Oftentimes, daily routines can become isolated due to friends moving away, partners passing on, or just having less energy than before. While having a community of friends and family is important, online dating has proven to help connect senior singles around the world. But with so many senior dating sites out there, it can be difficult to decide which one is a perfect fit. Fortunately for you, we've done an in-depth comparison of the most popular dating sites for seniors. Hopefully, one of them matches your needs!
This article contains affiliate-links.
eHarmony


A dating site for all ages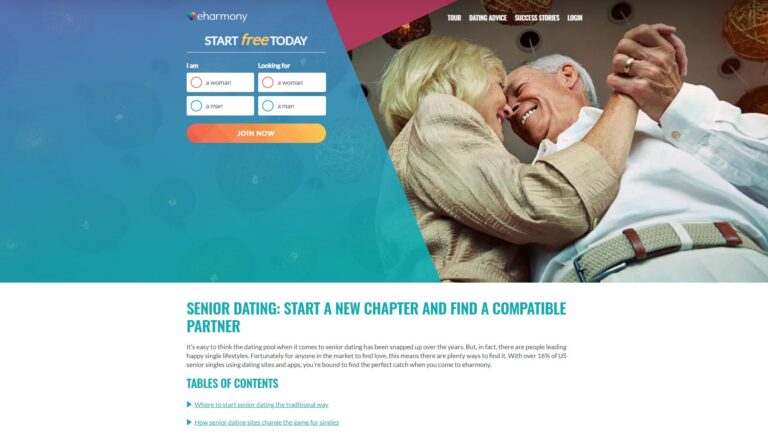 Member count:
15.5 million

Gender distribution:
47% Female | 53% Male

While there are dating sites out there specifically designed for seniors, eHarmony is still one of the best dating sites for older daters. During the signup process, you are able to enter your interests and specify what you're looking for. So, if you want to date someone in your same age bracket, the site will only show and match you with those people. On that same note, the site also allows you to date younger or older people, or you can even leave it wide open. Because the site caters to individuals that are looking for something a little more serious, eHarmony bodes well for seniors.
From a functionality standpoint, eHarmony is easy to use and has a robust customer service department. For those that aren't the most computer literate people, those two features are a big plus. In addition to those, eHarmony has a laundry list of features, including its unique matching process. What separates it from other senior dating sites is the length of the questionnaire you need to fill out before the matchmaking begins. eHarmony claims that this is what makes its site so successful, and to be fair, they have the statistics to back their claims. According to studies, over 2 million people have found love on eHarmony, which means that every 14 minutes, someone finds love on the site.
If you look at the reviews of eHarmony, you'll see that most people are satisfied with the site and the results. But, that success rate comes at a price. For most people, eHarmony isn't cheap, to say the least. However, if you don't mind the cost or the long signup process, it might be worth the investment and the extra time.
In-depth compatibility questionnaire
Large membership base
Easy to meet serious singles
Pricy payment plans
Not ideal for casual dating
How much does a membership at

eHarmony

cost?
| | | |
| --- | --- | --- |
| Duration | Price | Total |
| 6 months | $54.90 / month | $329.40 |
| 12 months | $39.90 / month | $478.80 |
| 24 months | $29.90 / month | $717.60 |
SilverSingles


A dating site made for 50 and overs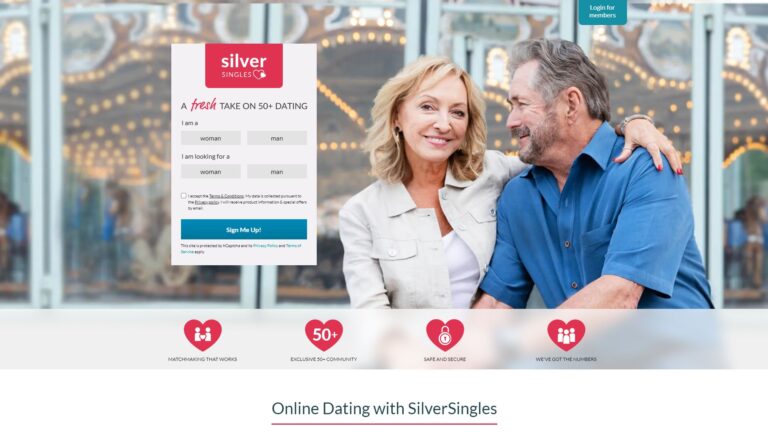 Gender distribution:
59% Female | 41% Male

As you can probably infer from the name, SilverSingles was designed with the older generations of singles in mind (50 year-olds and above, to be exact). But the big question is, how does it stand up for seniors? Well, considering the company has been around since 1997 and has a presence in 29 countries, that should give us enough data to answer that question.
As it turns out, SilverSingles does a good job at serving the senior community. They are committed to only letting the 50 and over crowd join the platform. And to foster a safe environment, the dating site requires each member to verify their profile and accurately portray themselves. For those that aren't sure if the site is right for them, it's 100% free to browse profiles before committing. With a free app and registration process as well, it's easy to get acquainted with the platform and compare it to other senior dating sites.
One of the main concerns about SilverSingles is their ratio of men (41%) to women (59%). In contrast to other dating sites, this is an oddity. While men typically have a lot of competition on other sites, SilverSingles gives them a platform where they can be the ones that pick and choose. But this can also be a benefit for women on the site because they don't get bombarded with matches. They can use the filtering tools to find a potential partner that meets their needs (e.g. travel partner, hiking date, pen pal, etc.). If you're really looking for someone to deeply connect with, SilverSingles should be highly considered.
Thorough personality test for matching
A helpful customer service
Easy-to-use application
Need premium membership for most features
Must sign up for a minimum of 3 months
How much does a membership at

SilverSingles 

cost?
| | | |
| --- | --- | --- |
| Duration | Price | Total |
| 3 months | $37.95 / month | $113.85 |
| 6 months | $21.95 / month | $131.70 |
| 12 months | $19.95 / month | $239.40 |
OurTime


An originator in online senior dating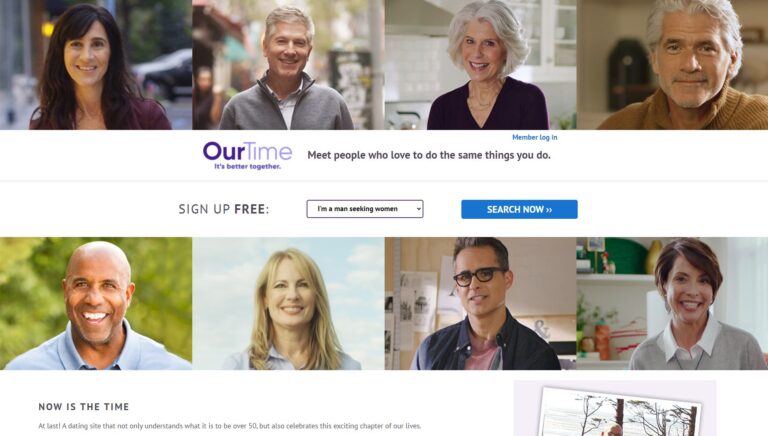 Gender distribution:
52% Female | 48% Male

This is another one of those sites that's specifically catered to 50 and overs. Considering over 10% of the world is over the age of 50, it's a good place to start if that's what you're looking for. OurTime was one of the originators in the senior dating site game. Its main focus has been to create a platform that is easy to use and straightforward for the user. Seniors can utilize their browser website or application on smart devices such as a phone or tablet.
Compared to dating sites like eHarmony, the registration process for OurTime is fast and easy. You won't have to jump through hoops to hit the ground running. But if you want to narrow down your match results, you have the option of filling out more sections (might take 20 minutes). If you really want to create a profile that shines, you can also add photos, a short introduction video of yourself, and tag your special interests. It's really up to you on OurTime—whatever you're comfortable with.
You might consider OurTime over SilverSingles if you prefer a closer gender gap. This will give both men and women almost equal opportunity to find that special someone. And with nearly 9 million users visiting the site per month, you'll be matching with a lot of potential suitors. Plus, if you sign up for the premium service long-term, which is only a 6-month commitment, you only have to pay $15.96 a month. That's quite the bargain compared to a lot of dating sites out there. However, it's difficult to know if you'll like the platform beforehand since the free version doesn't offer many features.
Fits all kinds of budgets
Simple to register and use
Try it out for free
No verification process
Must be near urban area
How much does a membership at

OurTime

cost?
| | | |
| --- | --- | --- |
| Duration | Price | Total |
| 1 month | $34.96 / month | $34.96 |
| 6 months | $15.96 / month | $95.76 |
SeniorMatch


Online service that caters to seniors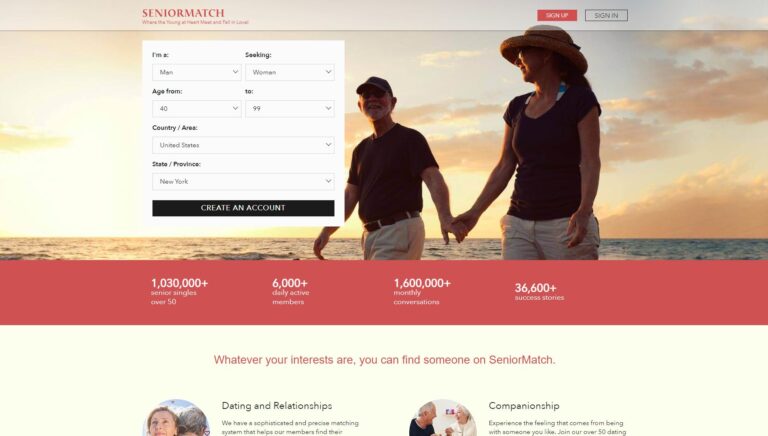 Gender distribution:
60% Female | 40% Male
With over 6 thousand daily users, 1.6 million conversations per month, and 36 thousand success stories, SeniorMatch has proven to be a worthy senior dating site. Part of SeniorMatch's popularity has to do with the site's longevity (started in 2003). For nearly 20 years, they've been focusing their efforts on bringing seniors together. On their website and advertisements, you'll notice they heavily steer towards baby boomers. They were even given a shout-out in the Will Farrel and Mark Walberg movie Daddy's Home 2.
One of the main reasons seniors choose SeniorMatch is its ease of use. In fact, Retirement Living named it the easiest to use on their list of senior dating sites. Unlike most of the sites on this list, SeniorMatch doesn't automatically match you with other like-minded users. You can browse the site, read other users' profiles, and decide if you want to start a conversation with them. The search function allows you to specify who you're looking for by age, gender, location, or even body type, religion, or height.
While SeniorMatch does allow 45 year-olds and over to join, the site really is catered towards seniors. In fact, this platform seems to be leading the way when it comes to senior dating sites because that is their focus. However, the majority of the complaints about SeniorMatch come from people who live in rural areas. So if you're not in a populated city, you might want to check out how many profiles are near your location before signing up.
Ideal for all ages over 50
Free to view other profiles
Convenient browsing feature
Shows singles as young as 30
Not ideal for rural users
How much does a membership at

SeniorMatch 

cost?
| | | |
| --- | --- | --- |
| Duration | Price | Total |
| 1 month | $29.95 / month | $29.95 |
| 3 months | $19.95 / month | $59.95 |
| 6 months | $15.95 / month | $95.95 |
Match


An established originator with a solid reputation



Gender distribution:
51% Female | 49% Male

As you are probably aware, Match has been around for a long time, almost as long as the internet itself. And what you might also know is that Match is not intended for any particular age group. But we include it on this list because there are plenty of seniors using the site. Simply put, when you go with one of the biggest dating sites in the US, you'll invariably have an extensive list of matches. They also offer a free limited membership, which allows you to test the waters before you fully commit.
The free Match membership allows you to sign up just as you would with a paid membership. That means you'll create a profile by providing details such as gender, body type, height, education, interests, and so on. You can also narrow down your search for anyone that is within a certain age range, has a certain level of education, or has other traits you desire. Once you have been matched with potential dates, you can decide if you want to pay for the subscription. Once you're a paying member, you can then chat, message, see who has been looking at your profile, and attend social meetup events in your town.
Match has certainly worked for seniors. If you search the web, you'll find tons of successful love stories. Even better, Match has a great track record of connecting people fairly quickly. You can read countless stories of couples meeting only a few months after becoming members. While Match wasn't made with seniors in mind, it's still a solid dating site with a large pool of senior members.
40% of matches stay together for several months
Great for attracting a specific niche
Exciting features like MatchPhone & Match Me
There are some fake profiles on the site
No verification process
How much does a membership at

Match.com

cost?
| | | |
| --- | --- | --- |
| Duration | Price | Total |
| 3 months | $34.99 / month | $104.97 |
| 6 months | $24.99 / month | $149.94 |
| 12 months | $19.99 / month | $239.88 |
EliteSingles


For those that are dedicated to their careers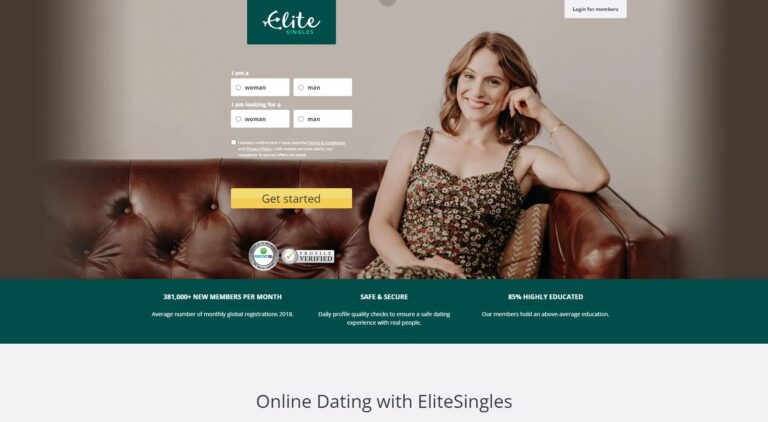 Gender distribution:
57% Female | 43% Male

EliteSingles is ideal for those over 40, including seniors, that are a tad picky about who they date. By this, we mean those that prefer someone as educated like them, preferably with higher education such as a master's or Ph.D. On EliteSingles, you'll find a very active userbase, either because they're professionals who know what they want, or because they're paying a hefty price for a membership. But if you're a smart, educated professional, you can probably afford it. That's what attracts this particular niche to this dating site.
After you sign up with EliteSingles, which is a speedy process, you'll fill out a personality questionnaire to help them find you a partner. If you don't fancy the 3 – 7 matches they find for you each day, you can head on over to the "Have You Met" search function. This will enable you to seek out seniors that seem like more your type. For your peace of mind, EliteSingles verifies every profile and requires each user to provide details about themselves. You can also use their dating site or app, both of which are easily accessible and simple to navigate.
EliteSingles claims to be different from other senior dating sites because they don't think being in a similar age group is necessary for two people to connect. That being said, they still take into account your age preferences when matching you with potential dates. But, matches are also influenced by backgrounds, interests, and lifestyles. On EliteSingles, you'll find a wide array of divorcees, widows, single parents, and much more. Plus, you can try a membership for free if you're not too sure about the site.
In-depth personality test for matchmaking
Impressive safety features
Ideal for serious professionals
Not ideal for the casual dater
Lengthy personality test
How much does a membership at

EliteSingles

cost?
| | | |
| --- | --- | --- |
| Duration | Price | Total |
| 1 month | $59.95 / month | $59.95 |
| 3 months | $57.95 / month | $173.85 |
| 6 months | $44.95 / month | $269.70 |
Zoosk


A large platform offering options for seniors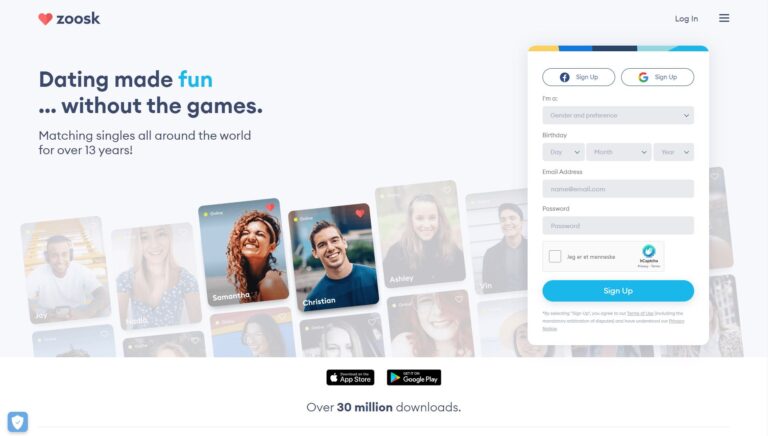 Gender distribution:
52% Female | 48% Male

Because Zook has such a large user base and lets you filter by age, number of children, and other preferences, we had to include it on our list. Seniors use this dating platform for the same reasons youngsters enjoy it, there aren't any confusing bells and whistles. So many seniors have been drawn to Zoosk that there are now over 3 million active senior users. This makes it easier to find a particular type of single senior, such as a divorcee, widow, or someone that has never married. With such a wide range of profiles to search for, Zoosk's 'the more the merrier' strategy is winning over tons of seniors.
Zoosk also doesn't take long to learn. Other dating sites can take days or even weeks to learn. Many seniors don't have the patience to figure out how to navigate complicated dating sites, they just want to meet people—plain and simple. With Zoosk, it's as simple as signing up in 5 minutes and swiping left or right on another member. Then, once the user has the platform figured out more, they can add their favorite photo and some information about themselves. As Zoosk learns more about you, they'll start sending you curated matches that are more targeted and specific to your preferences.
With the carousal-style match system, you choose who you would like to get to know better by looking at the profile photo of other members. With a paid membership, you can message the people you match with. With the free version, you can only send the match a heart emoji. So like other dating sites, the paid version is going to increase your odds of finding a date. But at an entry price of $12.49/month and a senior user-base of over 3 million, it's a convincing dating site.
A large, active userbase
Facebook verification
Quick registration process
Extra cost for Zoosk coins
How much does a membership at

Zoosk 

cost?
| | | |
| --- | --- | --- |
| Duration | Price | Total |
| 1 month | $29.95 / month | $29.95 |
| 3 months | $19.98 / month | $59.95 |
| 6 months | $12.49 / month | $74.95 |
Christian Mingle


For Christian seniors looking for companionship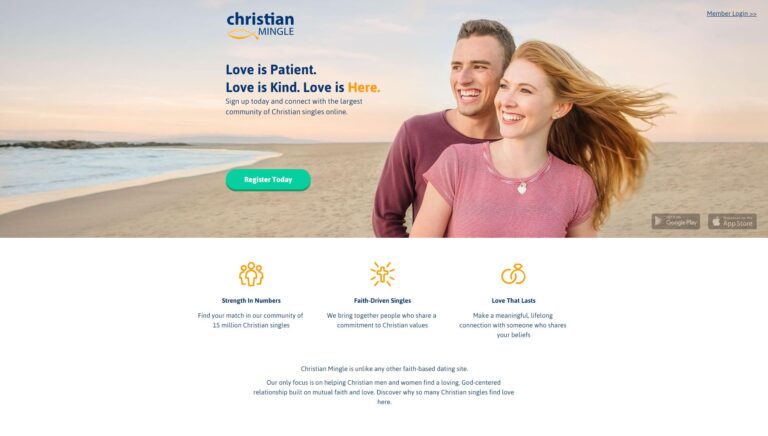 Gender distribution:
56% Female | 44% Male

You've probably seen advertisements for ChristianMingle and thought, "Oh, so that's how young Christians are meeting these days." While that is true, it's also a great dating site for Christian seniors to meet as well. With a balanced gender distribution ratio and daily matches available, it's a popular place for faith-based seniors to meet. And as you might have guessed, the users of ChristianMingle are in it for the long haul. They're looking for serious companionship.
One thing we really like about ChristainMingle is that you can sign up and receive daily matches for free. You'll find Christians of all denominations on the site in their 50s, 60s, 70, and even 80s. With a stern verification process, you can rest assured that almost everyone you meet is real and not a bot. That's 15 million verified users, many of which are Christian seniors that are ready to mingle. And with an incredibly easy-to-use website, seniors shouldn't have a problem getting their profile set up. ChristianMingle can also be used on the go with an app that is available on both iOS and Android.
ChristianMingle is 100% niche-focused on Christian dating, which means you know exactly who is on the platform. While there are other websites like eHarmony and Match that allow you to look for other Christian singles, they're not going to be as faith-oriented as ChristainMingle. With this dating site, you don't need to question the faith of the people you match with because you know what they intentionally signed up for.
7 million members
Easy to use website and app
Strictly Christian singles
Lacks a search function
Not easy to cancel membership
How much does a membership at

Christian Mingle

cost?
| | | |
| --- | --- | --- |
| Duration | Price | Total |
| 1 month | $49.99 / month | $49.99 |
| 3 months | $34.99 / month | $206.94 |
| 6 months | $24.99 / month | $149.94 |
ChristianCafe


A reliable site for Christian single seniors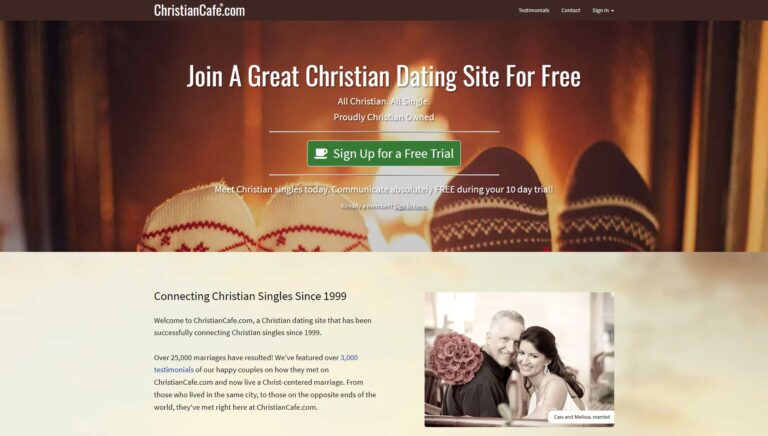 Gender distribution:
60% Female | 40% Male

ChristianCafe, another 100% Christian dating site, has been connecting thousands of older singles for over 20 years. Using a computer, tablet, or phone, you're able to set up a free trial profile so you can connect with other senior singles. While the website boasts that it has connected over 25,000 couples that have resulted in marriage, we're not sure what that figure is for seniors. Either way, that's a lot of marriages.
The reason ChristianCafe is popular with singles is in part due to its easy-to-navigate website. With its user-friendly site, you can communicate unlimitedly with other seniors during your free trial. You'll get 7 days for free and 3 additional days if you post your first photo. Find someone that shares your faith as well, such as apostolic, born-again Christians, catholic, methodist, and many more. You can also filter your searches based on church involvement, inactive profiles, and so on. In addition to searching for other senior singles, ChristianCafe can also match you with other singles based on your profile answers.
Overall, ChristianCafe is a solid dating site for Christian singles looking to connect, along with eHarmony and ChristianMingle. And while they don't have the same member count as those other two dating sites, they do offer additional material through their alliance with Focus on the Family. That includes dating advice, relationship advice, and blog posts with the membership. But the biggest benefit of ChristianMingle is that you can try it free with all the filters, quick matches, and other features. That should help you make your decision.
High-quality matches
Specified match results
Tons of success stories
Outdated website design
Fewer users to match with
How much does a membership at

ChristianCafe

cost?
| | | |
| --- | --- | --- |
| Duration | Price | Total |
| 1 month | $34.97 / month | $34.97 |
| 3 months | $16.65 / month | $49.95 |
| 6 months | $13.33 / month | $79.95 |
FAQ – Senior Dating
What is senior dating?
Not all these dating sites are specifically geared towards seniors. Dating sites such as eHarmony and Match ask questions that help you match with other seniors that have similar interests. But in general, senior dating sites exist because older people have different interests, lifestyles, and needs than younger singles. 
Senior dating sites are more about meeting other people rather than finding a soulmate. That isn't to say seniors aren't on the site to find companionship, but it's also about the opportunity to meet new people. A lot of seniors just want someone to join them out to dinner, to see a movie, or go to an event together. It's more about finding a connection with someone else.
How do senior dating sites work?
Once you find a dating website that is geared towards seniors (we recommend choosing one from this list), you usually must register by using your email address. Before searching for senior singles or matching with them, you might have to fill out a personality questionnaire. Some sites might also ask you to set your preferences, such as "Mature Dating." You might even be asked to upload a photo of yourself, which you should anyway because other users want to see what you look like. 
After you've set up your profile, you can start searching or receiving local matches, depending on the dating site. This process varies by site, but most use an algorithm to match you with potential dates. Once you've matched with another user, you can usually message them, depending on if you have a freemium or paid subscription plan. 
What are the best senior dating sites?
We think these are the best dating sites based on extensive research and experience. So the real question is, "What is the best dating site for you?" That's something you'll have to figure out by visiting each site and testing the waters. Most offer some type of free trial or freemium plan that lets you get a feel for the user interface. 
You also want to see how many other seniors in your area are on the dating site. If you perform a search within a 500 miles radius and only 20 matches pop up, you might want to consider a dating site with more senior users in your area. In the end, it comes down to comfortability with the site and the number of other senior members in your area. 
How do I pick the right senior dating site?
There are some key features you should consider when choosing the right senior dating site. We recommend looking at these areas:
Privacy features — You want to avoid dating sites that contain a lot of scammers, bots, and fake profiles. For this list, we chose reputable dating sites that have taken extra steps to keep you safe and protect your data.

The price — If you want the best bang for your buck, we always recommend a paid plan because that will increase your chances of matching with someone. However, what you're willing to pay will be dependent on which dating site you choose and how long you plan to use it. 

Communication — The ways in which you can communicate with potential matches varies by site. All the sites on our list include messaging, but others also include video chat and audio capabilities.
Is senior dating online safe?
On any dating site, you always want to look out for scams. On senior dating sites, in particular, you should look out for scammers that "love bomb" you, or shower you with affection. These scammers will hook you with their passionate messaging and then start asking for personal information or even straight out ask for money. 
Seniors are often the target of these scams because they tend to have good credit and money in the bank. Seniors also report crimes at lower rates and also don't ask for help from friends and family members as much, making them lucrative targets. 
How do I avoid getting scammed?
Online dating should be a fun experience to meet other people and connect. But just remember that the internet has all sorts of bad actors. While these dating sites do their best to verify profiles and keep out scammers, they still exist. We recommend taking these precautions:
Keep communication within the dating site or app — By only messaging through the dating site, you'll have a record of your communication with matches. This is important just in case you need to report an issue. 

Tell a friend or family member before meeting someone — It may seem like you know someone already if you've been messaging or chatting, but you just never know. We recommend telling someone before going on a date and sharing your live location with them, just to be safe. 

Never send money or extra information — If anyone starts asking for private information that you didn't share on your profile, that's a major red flag. Remember, you just met this person, you wouldn't be sharing this information with someone you met on the street. You also wouldn't be talking about get-rich-quick schemes or lending money. 
When should I meet up with people I've met online?
Experts who have studied the success rates of online dating recommend meeting sooner than later. That doesn't mean you should meet up without getting to know each other at all. But, after one to two weeks of chatting online, you should start getting to know each other in person. Deep connections don't happen through a computer screen, they happen when you can see how someone acts with you and others in the real world. Plus, it's a waste of time if you spend so long chatting online just to find out your personalities aren't a match when you finally meet up. 
Why should you date as a senior?
There isn't a dating window that automatically closes when you reach a certain age. People of all ages deserve to connect with others and find love. That's what life is all about. It doesn't matter if you're 20, 40, or 70 years old, everyone can and should find happiness through interactions with others. It's how we avoid loneliness that leads to depression and poor health, which is more susceptible to seniors who have disconnected from old friends or lost loved ones. 
Are there any free dating sites for seniors?
Most of these senior dating sites that we reviewed offer freemium plans or free trials. If you're looking for a freemium plan, it's usually best to go with the larger dating sites such as eHarmony or Zoosk. However, you do get what you pay for. For example, the SilverSingles premium plan may be pricey, but you'll find more senior singles with higher education levels and more prominent careers, in general. That isn't to say you won't find the perfect match on a freemium site, but it might take longer.