Hookup Sites and Apps

The 11 Best Sites and Apps for Casual Hookups (2023)
In the dating app world, you have a wide variety of interests. Some people are looking for a partner to share their life with. Others are looking for something fun and interesting. And then you have the people looking for casual hookups with no strings attached. For single Americans in their 20s and 30s, the latter is a fairly common interest. But with so many sites and apps for casual hookups, choosing one over all the others can be overwhelming. That's why we've put in the legwork of reviewing the most popular hookup sites and apps on the market. Each will have its own unique selling point, so we hope one of them has what you're looking for.
This article contains affiliate-links.
AdultFriendFinder


More than just a hookup site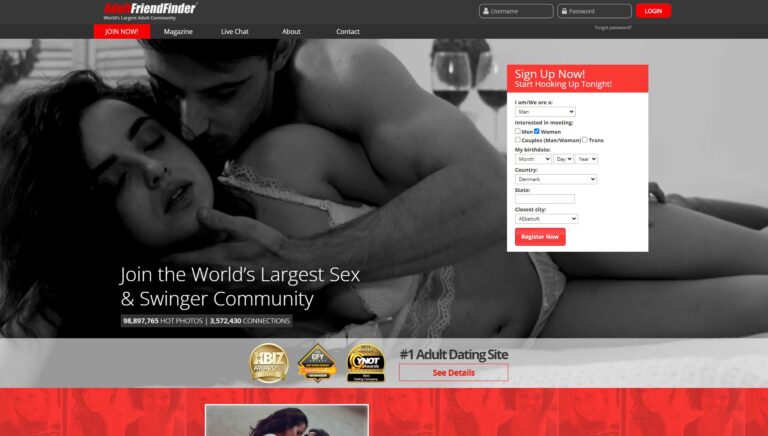 Gender distribution:
40% Female | 60% Male

Make no bones about it, Adult Friend Finder is not for finding adult friends, casual dating, or any kind of dating for that matter—it's strictly for sex. When you visit the site, prepare yourself for a lot of explicit photos and sexy online ads. For these reasons, we advise that you don't open this site at work just in case anybody walks behind you.
Adult Friend Finder, besides its contradicting name, doesn't try to hide who it is. The first words you see when you visit the site are "Join the World's Largest Sex & Swinger Community," followed by "Start Hooking Up Tonight!" So if it's sex you're looking for, this site has it all—regular hookups, quick sexual encounters, sexting, and much more. But because of the gender ratio, the site is ideal for straight men, unpredictable for straight women and gay men, and likely lacking for gay women.
Much like traditional dating sites, Adult Friend Finder shows you profiles with photos of potential matches. You can also refine your search by gender, age, marital status, body type, sexual orientation, and much more. However, what's not traditional about Adult Friend Finder is how pornographic it can be. With all the "Naughty Videos" and explicit content, it goes without saying that this site is NSFW. But if you can get past the sexplosion of content, fake profiles, and messy ads, the site can be quite useful as a hookup site. Plus, they offer tons of resources and features that will help you find exactly what you're looking for—your niche.
Welcomes all kinds of desires
Paid membership includes lots of features
Users are very active
Not for serious relationship seekers
Contains explicit content and fake profiles
How much does a membership at

AdultFriendFinder

 

cost?
| | | |
| --- | --- | --- |
| Duration | Price | Total |
| 1 month | $39.95 / month | $39.95 |
| 3 months | $26.95 / month | $80.85 |
| 12 months | $19.95 / month | $239.40 |
BeNaughty


A naughty dating platform for hooking up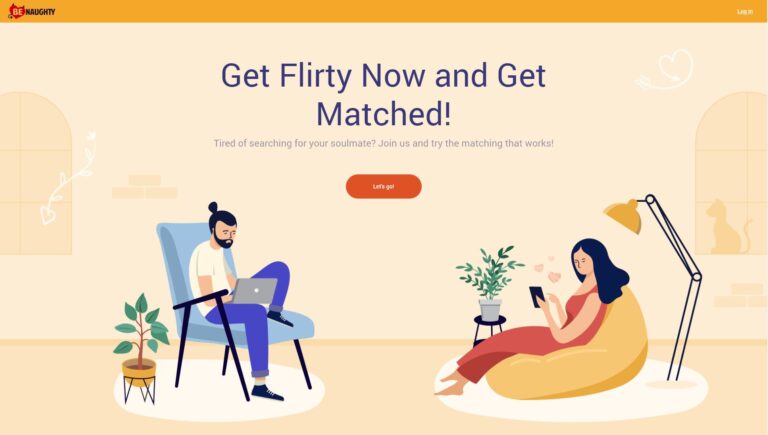 Gender distribution:
25% Female | 75% Male

Looking for an app and website exclusively designed for singles to meet and hookup? That's exactly what BeNaughty was created for—naughty hookups. If you're familiar with social media apps and any other dating app, BeNaughty should be quick and easy to learn. The platform features a section that shows potential matches with basic information such as their photo, age, proximity to your location, and the option to like or pass on their profile. There is also a search tab that allows you to search by "Nearby," "Hot," "Online," or "Verified." In the top right corner, you will find additional filters to narrow down your search even further.
Now, you're probably wondering, "That's great and all, but does BeNaughty actually work?" Based on our experience and all the reviews of the app, BeNaughty is a solid hookup app that works for most users. Sure, not everyone is pleased with the app, but that's to be expected with every app. Currently, the BeNaughty hookup and dating app has 4.8 stars on the Google Play app store, with many reviews touting how easy it is to meet other singles. While there are negative reviews, most are concerning BeNaughty's sign-up process that requires you to upload a real photo of yourself. However, we like this requirement because it ensures that verified people are using the app.
Like most casual dating and hookup apps on the market, the majority of BeNaughty's member base are men. So just know that if you're a man using the site, you'll have more competition than women users. Men also have to pay for the premium membership if they want to message other users freely. This is to ensure women don't get bombarded with messages from men every day. Women, on the other hand, can message whoever they'd like with the freemium service.
Ideal for hookups & casual dating
Free for women to use and message
Satisfaction or money back after 3 months
App only available for Android users
Men must pay for full messaging features
How much does a membership at

BeNaughty 

cost?
Duration
Price
Total

1 week

$

2.73 / week

$2.73

1 month

$45.00 / month

$45.00

3 months

$16.20 / month

$48.60
Ashley Madison


A female-dominated hookup site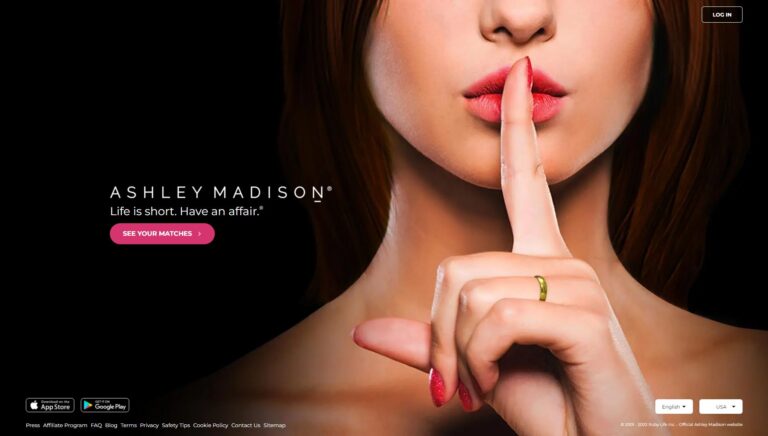 Gender distribution:
72% Male | 28% Female

Ashley Madison generated a lot of press as one the first dating sites for extra-marital affairs. But the site is much more than that. You can also find casual hookups, flings, sex, or anything that tickles your fancy. The first thing you'll see on someone's profile is their age, location, height, weight, limits (e.g. "Whatever Excites Me"), and status (e.g. "Attached Female Seeking Males). Armed with just this information, you can see that Ashley Madison users are serious about their desires. They aren't on the site to casually see what's out there. People on the site know what they want and they're not ashamed to find it.
Ashley Madison is also for people that want to find hookups discreetly. With the anonymous profile option that shows fake user information and allows discreet access, it's safe for those that don't want friends or colleagues to know what they are up to. For people that may have a lot of friends and family members in their town, this feature is very desirable. And unlike other hookup sites, Ashley Madison actually has more female users than male users, and this is intentional. The site is in fact free for female users and allows them to initiate conversation, chat, message, and much more entirely free. Unfortunately for men, Ashley Madison is very much a paid service. But it might be worth it considering all the competition women have on the site. Who doesn't want to be battled for?
What men may not like about this site is the credit system. Instead of a subscription model, Ashley Madison makes you purchase credits in bulk, which costs $59 for the Basic plan of 100 credits. As men interact with more women, they have to use more credits. On the bright side, this can be a good thing because you're only paying for what you use.
Active community of members
More women on the site
Free for female users
Pricey credit system for men
Scammers due to anonymous features
How much does a membership at


Ashley Madison 

cost?
| | | |
| --- | --- | --- |
| Credits | Cost per credit | Total |
| 100 | $0.49 | $49.00 |
| 500 | $0.30 | $149.00 |
| 1000 | $0.25 | $249.00 |
Seeking


A site for sugar daddies and sugar babies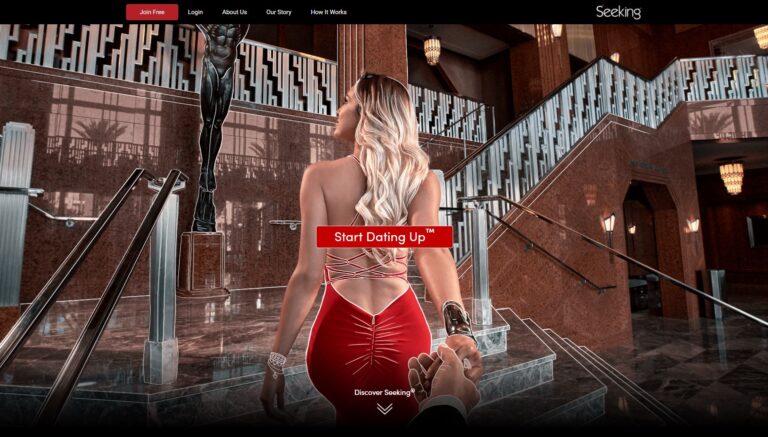 Gender distribution:
80% Female | 20% Male

Seeking (previously Seeking Arrangement) is a site for sugar babies that want to be spoiled with fancy meals, money, and a good time, and sugar daddies that want to provide those things for them. As you can probably extrapolate, you'll find a lot of rich older men and attractive young women on Seeking. If you fit the bill, and that's what you're looking for, then this site is for you. Much like Ashley Madison, they don't sugarcoat the fact that adults should have the consenting right to seek out whatever they want.
As far as hookup sites go, Seeking is more for casual dating that eventually leads to hookups. So if you're looking for a one-night stand or anything of that nature, there are certainly better sites out there. But as long as you are upfront about your expectations and honest with other users, you should find what you're looking for. Just beware of bots and scammers that ask for money or sensitive information. Much like other hookup or dating sites, these profiles should be fairly easy to spot.
For young, attractive women, the site is free, according to Seeking. But as a sugar daddy, you'll have to cough up some serious cash. If you want sugar babies to feel safe communicating with you, you'll have to get verified, which includes a $50 background check. After that, you'll have to choose a membership plan, and that starts at $70 per month for the 6-month premium package. And while that may seem steep, it should be a drop in the bucket for the type of users the site is designed for. Sugar daddies will be spending a lot more than that on the lavish lifestyle female members are looking for by using the site.
4 to 1 ratio of women to men
Extremely thorough verification process
Advanced filtering and search options
Fake profiles and bots to lookout for
Only for 6- or 7-figure incomes (men)
How much does a membership at

Seeking

 

cost?
| | | |
| --- | --- | --- |
| Duration | Price | Total |
| 1 month | $90.00 / month | $90.00 |
| 3 months | $80.00 / month | $240.00 |
| 6 months | $70.00 / month | $420.00 |
Victoria Milan


For those looking for an affair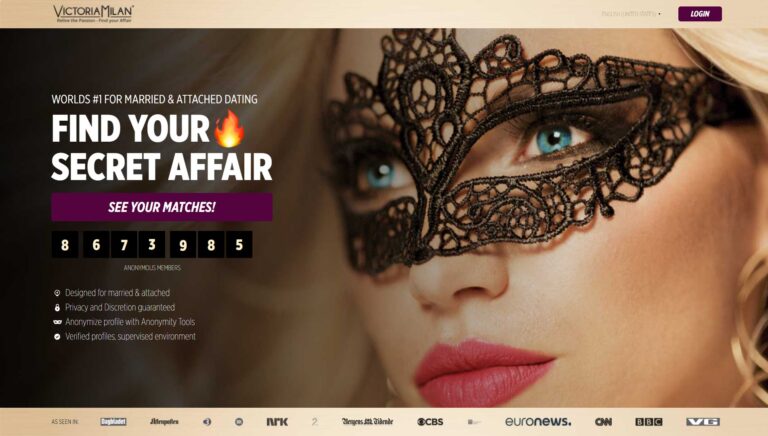 Gender distribution:
40% Female | 60% Male

If you're looking to have an affair or cheat on your significant other, Victoria Milan is the site for you. Unlike Ashley Madison, this site is specifically designed for married and attached people seeking sexual encounters with others. With the tagline, "Relive the Passion – Find your Affair," you know exactly what you're getting yourself into. The site even has a Panic button (desktop version only) that redirects you to another website when pressed. You can also browse incognito with the AnonymousBlur feature that blurs your photo. If you're just looking to hook up with married or attached people as a single person, you can also do that as well.
Victoria Milan makes it quite clear that they are a hookup site with questions that ask you about your sex drive and what makes you horny. As far as the registration process goes, it should only take you about 5 minutes. You can choose to sign up on your computer or through the mobile app, which is available on both the Apple app store and Google Play. Depending on the subscription plan you choose, there are different features available. But for the most part, you'll need to pay for the premium membership if you want to take advantage of the best features Victoria Milan has to offer. One of those is the Ask feature, which allows you to ask a member about anything you want to know.
As you can see from the pricing structure below, having an affair isn't cheap. While you can sign up for the free membership, you won't be able to search for members, view profile photos, and send and receive messages. And that's kind of the whole point of a hookup site. But with the premium membership, you get a solid hookup site that weeds out bots and scammers through a good photo verification process. That's not always the case with other hookup sites.
Anonymous profile features
Good verification process
Large percentage of active users
Paid membership to unlock key features
Mostly European userbase
How much does a membership at


Victoria Milan 

cost?
| | | |
| --- | --- | --- |
| Duration | Price | Total |
| 3 months | $59.95 / month | $59.95 |
ALT.com


A BDSM kink, fetish, and dating site



Gender distribution:
20% Female | 80% Male

ALT.com is a niche hookup site for those who want to "explore the roles of BDSM." If that's what you're looking for, then we don't have to explain what that stands for. For the uninitiated, BDMS stands for bondage and discipline + sadism and masochism (or sado-masochism). In other words, it's the consensual practice of tying, binding, or restraining for stimulation or erotic pleasure.
While this might seem like a very specific niche, we included it on our list because there are in fact millions of people on the site, all looking for something similar. Not only does the site allow you to find like-minded BDMS partners and playmates, but also to share videos of bondage fantasies and fetishes, as well as BDMS porn. They also offer bondage classes for amateurs that are new to the experience, webcam shows, and fetish games.
One of the main issues with niche hookup sites like ALT.com is that they're overrun with fake profiles. Unfortunately, this one isn't much different. Having to delete or block spammers that send you messages often becomes a chore. Alternatively, dating sites like OkCupid allow you to answer questions related to kink and sex, which often get people good matches. But with larger sites such as those, you'll also have to sift through a lot of profiles to find what you're looking for. If you're looking for more of a social network for BDSM, FetLife.com is the go-to place for the fetish and kink community.
One of the BDSM hookup site originators
Userbase of 2 million people
Offers a free plan
High percentage of fake profiles
Mostly for BDSM amateurs
How much does a membership at


ALT.com 

cost?
| | | |
| --- | --- | --- |
| Duration | Price | Total |
| 1 month | $19.95 / month | $19.95 |
| 3 months | $11.99 / month | $35.97 |
| 12 months | $8.33 / month | $99.97 |
Zoosk


A dating and hookup site for everyone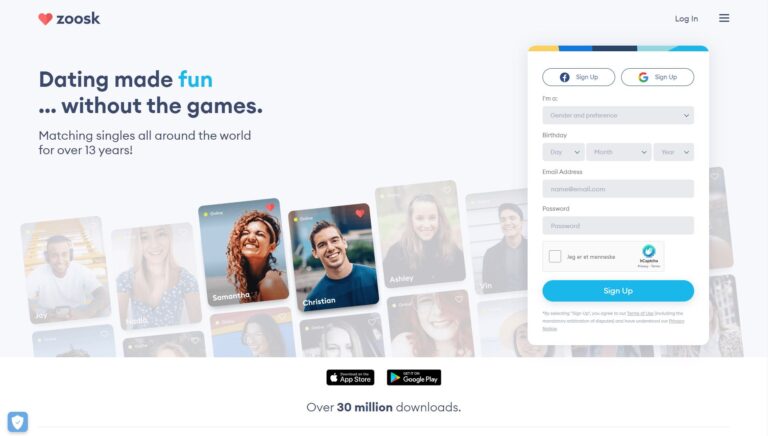 Gender distribution:
52% Female | 48% Male

If you're looking for hookups as well as casual dating, Zoosk provides a good middle ground. In fact, Zoosk is considered more of a dating site than a hookup site. However, you can certainly find both types of users on the platform. With over 35 million users, Zoosk has a good mix of members looking for all types of connections. Plus, with the free version, you can look through matches to see if it might be something you want to pay for. Considering how affordable it is to upgrade, you might just want to give Zoosk a chance.
Zoosk is the #1 grossing dating app on the Apple App Store with over 3 million messages sent daily. And unlike dating apps such as Tinder which cater to a younger demographic, the majority of Zoosk users tend to go all the way up to 45 years old. Of all those users, you can see who is currently online or who has been online recently. This will help you sift through all the inactive members. Furthermore, Zoosk works well on both your computer and smartphone, with an intelligent layout and clearly defined menus.
Some of the features we like about Zoosk include SmartPick technology, the carousel feature (much like Tinder), Gifts, and Facebook verification. Those looking for casual hookups will probably enjoy the carousel feature to find attractive matches. While the SmartPick technology is Zoosk's algorithm to help people find a long-term relationship. But the main thing that stands out about the Zoosk is that its moderators do a fairly good job at removing fake profiles. This isn't usually the case with casual dating sites.
A large, active userbase
Facebook verification
Quick registration process
No freemium membership
Extra cost for Zoosk coins
How much does a membership at


Zoosk 

cost?
| | | |
| --- | --- | --- |
| Duration | Price | Total |
| 1 month | $29.95 / month | $29.95 |
| 3 months | $19.98 / month | $59.95 |
| 12 months | $12.49 / month | $74.95 |
Tinder


Well-known hookup and casual dating app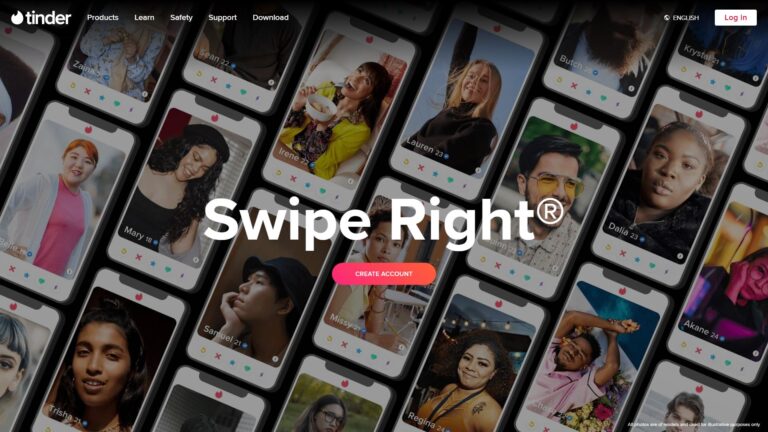 Gender distribution:
25% Female | 75% Male

As a dating app, Tinder doesn't have the best reputation. But as a hookup app, Tinder has a phenomenal reputation. Basically, if you're looking for anything casual, Tinder is a great place to start. The app was essentially built for young singles that don't want to pay for a dating or hookup site. That isn't to say people don't find love on the site — that happens all the time — but it's much more successful at connecting people looking for a bit of fun.
If you're someone that is between 18 and 30, you're going to love how many people you'll find on Tinder. According to SurveyMonkey, 75% of young adults (18 to 24 years old) use the platform. That's because young people use Tinder for more than just hooking up and dating. In a lot of cases, the app is used by people that are visiting a new place or have moved to a new city. The first thing you'll find many Tinder users do when they get to a new town is start swiping on profiles. With over 57 million users around the world, users are bound to find someone in their area to chat with.
While most users prefer the free version, 9 million of its users pay for more features such as Rewind, Super Likes, a Monthly Boost, and Top Picks. Whichever membership plan you choose, you'll be able to connect your Apple ID or Facebook account, which makes the process fairly simple. However, one issue casual hookup users might have with the app is that there are no anonymous settings, so other people you might know will see that you're on a hookup app.
Easy to use interface
Tons of singles near you
Solid free membership option
Limited swipes for free members
Not solely for hookups
How much does a membership at


Tinder 

cost?
| | | |
| --- | --- | --- |
| Duration | Price | Total |
| 1 month | $39.99 / month | $39.99 |
| 6 months | $20.00 / month | $119.99 |
| 12 months | $12.50 / month | $149.99 |
Grindr

Hookup app for gay, bi, and trans singles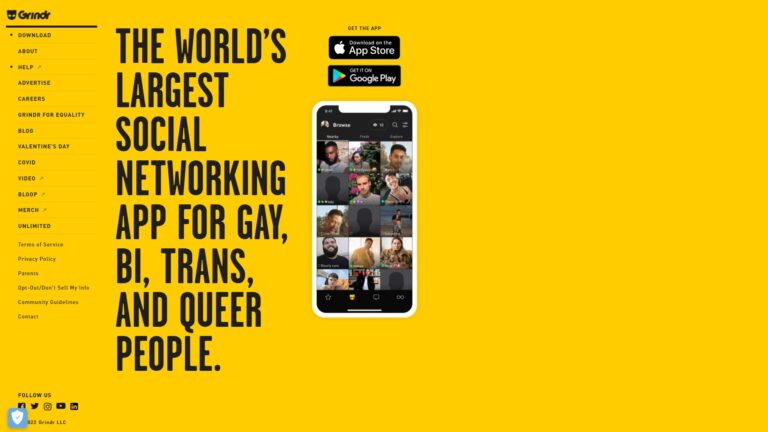 Gender distribution:
94% Men | 6% Nonbinary

For the most part, Grindr is a hookup app for gay and bisexual singles. For 13 years now, since 2009, they've been the top hookup app for men seeking other men. The free and easy-to-use app is the go-to platform for men looking for a weekend fling or just a quick encounter. And with over 27 million users and 3.6 million daily users throughout the world, it's fairly easy to find someone close by.
You might like this: It takes 2 minutes to sign up for the free and paid versions of the app, and that includes messaging for both. However, the paid plan, Grindr Xtra, does offer some cool features that might interest you. Unsend, for example, allows you to delete a message that you just sent to match. This is great for all those people that regret sending a message with misspellings, wrong names, or even to the wrong person. The app also has an Expiring Photo feature that's similar to Snapchat. When you send someone a photo, it expires 10 seconds after they open it. Considering their pricing plans start as low as $3.99/month, the extra features could be worth it.
It's important to note that Grindr is strictly an app-based platform. They do have a website that you can access by computer, but that's strictly for community resources, help articles, and other information. You'll have to sign in to the app on your phone to find singles in your area. And one final note: Grindr works extremely well, which means it can become addicting, so it's important to be aware of your usage.
High user engagement rate
Free version with messaging
Completely anonymous
Need to filter through fake profiles
The app crashes from time to time
How much does a membership at


Grindr 

cost?
| | | |
| --- | --- | --- |
| Duration | Price | Total |
| 1 month | $9.99 / month | $9.99 |
| 6 months | $4.99 / month | $29.94 |
| 12 months | $3.99 / month | $47.88 |
Pure


A hookup site where you post personal ads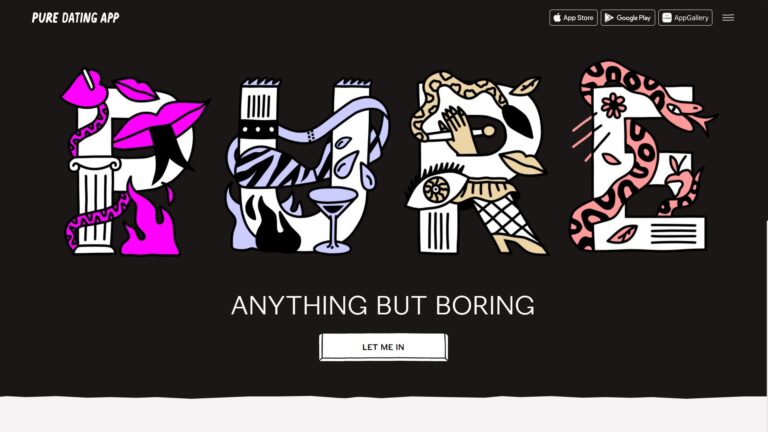 Gender distribution:
33% Female | 66% Male

Pure is definitely not your typical hookup app. Pure allows you to put out an anonymous advertisement that details all of your hookup desires. However, the kicker is that your ads get deleted 24 hours after they're posted. That means you need to create a new personal ad every time one expires. Also, there isn't any personal information on your ads other than your selfie, so it better be a good one. As you can see, Pure is clearly trying to separate itself from the pack of hookup apps with something new and unique.
The look and feel of Pure is very minimalistic and their graphics and cartoons are modern and artistic. The simplicity of their design is also in line with the ease of use of their platform. There aren't too many options on both the desktop and app versions of Pure. However, on the desktop version, you can see other users' personal ads without creating an ad of your own. But with the app version, you must pay to create and post a personal ad before browsing others' ads.
Depending on how you look at Pure, the anonymity of ads can be a good thing or a bad thing. You might consider anonymity a good thing if you don't want others knowing that you're looking for hookups. But on the other hand, the people you're matching with are anonymous as well. And this is why you need to be careful on Pure because there tends to be a higher percentage of scammers and escorts on the site. But if you know what to watch out for, it could be a fun experience for those looking for something different.
For fast and anonymous sex
Free for women
Minimalistic, modern design
Not ideal for rural areas
Only one selfie per personal ad
How much does a membership at


Pure 

cost?
| | | |
| --- | --- | --- |
| Duration | Price | Total |
| 1 month | $29.99 / month | $29.99 |
| 3 months | $17.00 / month | $49.99 |
| 12 months | $6.00 / month | $69.99 |
Bumble

For women who want to message first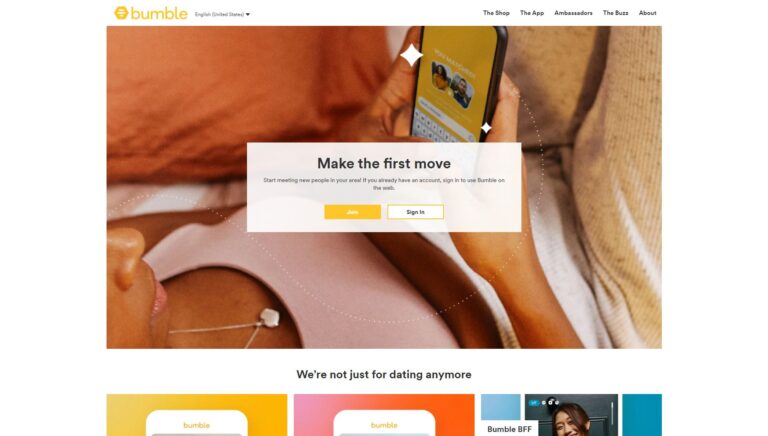 Gender distribution:
59% Female | 41% Male

The main draw to Bumble is that once a match is made, the woman has to start the conversation. It can't be the other way around. The idea is that women don't have to be bombarded with messages from guys throughout the day. That means they can swipe right on as many potential matches as they want without the repercussions of a full inbox.
While Bumble would never brand itself as a "hookup site," the feminist-founded company is still a free dating app that tends to attract those looking for something casual. However, something casual can mean going out for a meal, laughing, having a good time, hooking up, and then never seeing each other again. It's less likely that you'll use Bumble strictly to meet for a hookup. Women who use Bumble tend to choose the app for safety and comfort, so it's important to keep that in mind when chatting with matches.
If you're using Bumble as a hookup app, it would be wise to be upfront about your intentions. Don't string matches along, messaging back and forth, and expect to hook up. But if you're open and honest about what you're looking for, you won't have any problems finding like-minded individuals. Since most of Bumble's members tend to be in their 20s and 30s, you shouldn't have any problem finding people that are just looking for fun. And with over 47 million users, you're bound to find matches in your area (or anywhere you travel, for that matter).
Women message matches first
Easy to use application
Free version is feature-rich
Men can't make the first move
Pricey premium plan
How much does a membership at


Bumble 

cost?
| | | |
| --- | --- | --- |
| Duration | Price | Total |
| 1 month | $29.99 / month | $29.99 |
| 6 months | $16.67 / month | $99.99 |
| Lifetime | $149.99 | $149.99 |
FAQ – Hookup Sites
What is a hookup?
The term "hookup" or "hooking up" is basically used to describe any kind of consensual sexual encounter between two individuals that aren't in a relationship or dating. In most cases, that usually means you won't meet up again. 
For college students, hooking up usually takes place after a night of drinking, and doesn't involve responsible communication about consent or protection. But in the online hookup site world, individuals can more carefully choose their hookup partners and discuss what to expect before meeting up. For this reason, hookup sites and apps have grown so large in popularity. 
How to get a hookup?
First of all, you need to be honest with yourself and others on the dating site you're using. If you're only looking for a hookup, make it clear in your bio with something like, "Not looking for anything serious," or even something straight to the point such as, "Here to hook up."
After that, it's all about your profile and photos, much like dating sites. This is where you want to showcase who you are, what your hobbies are, and that you're a normal, social human being. You'd be surprised how many vague profiles there are out there with terrible photos. You also don't want to surprise anyone with your appearance when you actually meet. Try to upload recent photos that represent how you look in person. 
Lastly, try to swipe or match with people you'd actually be interested in hooking up with. Trying to game the system will just result in a bunch of matches you have no interest in. Some hookup sites even penalize you for over-swiping, so you might as well be picky. 
What are the best hookup sites?
The reason we put together this list is to show you that different sites are designed for different people. Are you into fetishes, BDSM, or anything kinky? Then you might want to look into Adult Friend Finder or ATL. Are you looking for an affair? Try Ashley Madison or Victoria Milan. Are you a sugar baby looking for a sugar daddy or vice versa? Maybe Seeking is the right hookup site for you. 
It really comes down to what you want out of a hookup site or app. Fortunately, most of these sites offer a free trial or freemium plan. Some even offer most of their features completely free, such as Bumble or Tinder. Hopefully, this review guide has given you a better idea of what's right for you. 
What hookup sites actually work?
Compared to meeting someone in the grocery store or at the gym, all of these hookup sites will give you much more success. Plus, you'll have a much larger pool to choose from. Especially if you live in a city, you'll have an almost infinite amount of matches to chat with. 
However, don't expect to meet up with the first person who messages you. Give it a little time before you find someone that's into the same thing as you. It also depends on what you're looking for. If you're a gay man looking to hook up with another gay man, you might find success fairly quickly on Grindr. If you're looking for a sugar daddy on Seeking, you might have to give it some more time as there is more competition.
Are there any free hookup sites?
Yes. You'll find that most of these sites offer a freemium membership. Sites like Tinder and Bumble even give you access to most of their features without paying a dime. Others like Zoosk will let you sign up for free so you can browse singles before you decide if it's worth the membership price. 
With paid sites, you'll typically get matched with more like-minded people because they use algorithms to find you someone that matches your profile. On free hookup apps, you'll need to do a little more digging to find someone that seems like a good match.
Why should I use a hookup site? 
Hookup apps are for people looking for some fun, and Americans are using dating apps at a rate never seen before. 11% of people in the US are currently using dating apps and 28% have used them at some point, according to YouGovAmerica. Considering 50% of Americans identify as single, that means a huge portion of them are on dating apps. 
Of all those Americans using dating apps, 60% are either looking for something fun and interesting or for casual sex. For these reasons, hookup apps have become so popular with singles in their 20s and 30s (the age of most singles). That's why there are so many options and so much competition, which means you're getting a better product. So if you're single and ready to mingle, why not give one a try? 
Are hookup sites safe?
In short, they're as safe as they can be. However you want to look at it, you're meeting a stranger online. But hookup sites do what they can to provide a safe place to do so. Most of them put effort into verifying who you are. Most provide video and messaging features so you can chat with someone before meeting. But after that, it's really up to you to ensure your safety. If you're going to meet up with a match, tell someone you know where you're going, share your live location, and meet in a public space. Go with intuition, because that is usually your best defense. 
How much does it cost to use a hookup site?
You know the old adage, "you get what you pay for." That isn't any different with hookup sites. Sure, you can go with free apps like Tinder and Bumble, and those apps have a lot to offer. But if you spend just a little more to upgrade, you'll get a whole lot more features. With more features, the better chance you have to meet someone that has the same interests as you, and the quicker you'll meet them. Of course, there are exceptions, but for the most part, premium plans offer a lot more. 
If you're looking to upgrade, some of these sites that we reviewed, such as Tinder, Grindr, and Pure start around $5 a month. And then you have the specialty niche hookup sites like Seeking that start at $70 per month. Before going all-in on one of these sites, we recommend doing a free trial or the freemium plan first.  
What is the difference between a dating site and a hookup site?
A site more geared towards hookups will have a userbase that's mostly looking for a fun and interesting time, usually in the form of casual sex. A site geared towards dating will have a userbase that's looking for a connection, usually in the form of a long-term relationship that eventually leads to marriage. 
As you can see, there is a stark contrast. However, some of these apps and sites on our list cater to both. So if you're looking for a hookup, but you're also open to the possibility of something serious, you might want to choose a site like Zoosk or Bumble. If you're strictly in it for the hookups, sites like Ashley Madison, Adult Friend Finder, or Tinder might be right up your alley.