Free Dating Apps

The Best Free Dating Apps in the US
For a lot of singles out there, they would rather spend their hard-earned money on actual dates rather than on dating apps. Luckily, there are so many free dating apps to choose from, and they work very well. They still provide the chance to meet singles in your area, message, chat, and go on dates. But how do you choose one dating site over all the others? To make your decision process less overwhelming, we've done a deep dive into the best free dating apps in the US. Hopefully, after reading through these reviews, you'll be able to make a much more informed decision. Good luck!
This article contains affiliate-links.
Lovoo


An app for friendships and companionship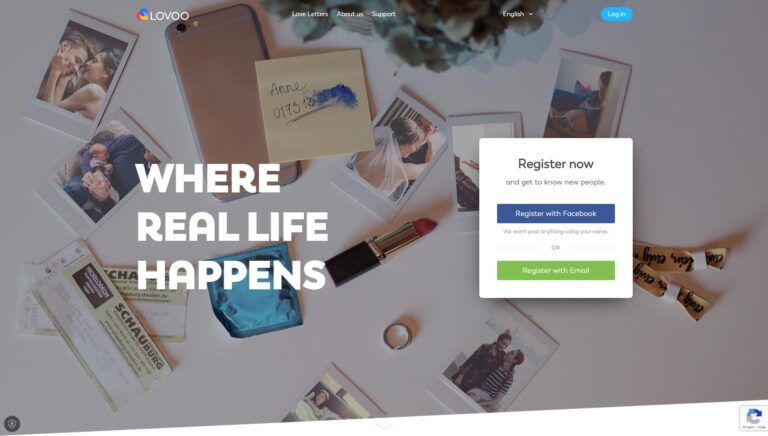 Gender distribution:
25% Female | 75% Male
As one of the fastest growing dating apps worldwide, Lovoo prides itself as a place where over 4,200 new relationships are formed each month. The app is ideal for singles that are looking for both friendship and long-term relationships. With its free membership, users can use the app for free and send messages. While most users are based in Europe, Lovoo still has over 162,000 thousand in the US and counting, with 160,000 that are active weekly. Most of these users are young professionals under the age of 35 looking for friendship and like-minded singles. However, there are also singles looking for long-term companionship as well.
Part of the reason Lovoo is so popular with the younger demographics is due to its ease of use. Registration is a breeze and users can be up and running on the app in 3 to 5 minutes. In fact, you don't even need to fill out your profile right away. You can browse the site and its features before deciding to populate your profile with the necessary profile photo and other information. Once you've done that, your profile will show up on other users' search results. Free members will be able to send hearts, message matches, and send one ice breaker message per day. But if you want to take advantage of other features such as sending gifts, you have to earn or purchase credits.
One of the main issues with the Lovoo dating app is the disproportionate amount of men to women. Men make up the bulk majority of its user base. But that's not too surprising with free dating apps, as most have a higher percentage of men. If you're fine with that, the app can be a lot of fun with features that allow you to adjust search filters and match with singles through a roulette-style matching system.
Great place to make friends
For casual daters
Offers desktop version as well
Lacks advanced search functions
Fake profiles despite verification process
Disproportionate amount of male users
How much does a membership at


Lovoo 

cost?
| | | |
| --- | --- | --- |
| Duration | Price | Total |
| 1 month | $12.99 / month | $12.99 |
| 6 months | $7.50 / month | $44.99 |
| 12 months | $5.42 / month | $64.99 |
Tinder

A dating app for all sorts of interests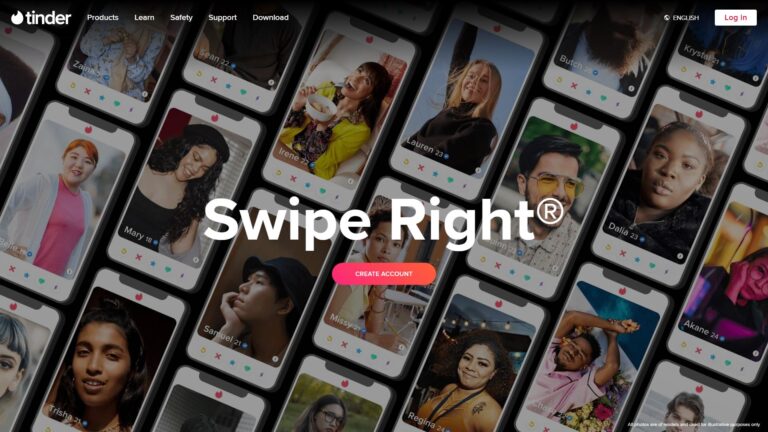 Gender distribution:
25% Female | 75% Male

Everyone's heard about Tinder. It's known worldwide as a place to find anything you're looking for — casual flings, dating, long-term relationships, or just to find someone to hang out with. For a lot of younger singles, it's the first app they open when they arrive in a new city or town. With such a massive user base located throughout the globe, you're bound to find tons of singles wherever you are. But as a dating app, how does it stack up against so much competition? That's what we're here to find out.
The first thing you probably think of is the "swipe right, swipe left" feature that Tinder has popularized. Basically, you see a profile with a photo, age, and distance away from your current location, and then you swipe right if you're interested or left if you're not. If you'd like to learn a bit more about the person before deciding, you can click their profile to find more information and photos. Once you match with another user, you can start messaging each other. If you want more than those basic features you can purchase a membership. This will give you the chance to "Boost" your chances of getting noticed, see members that liked you, rewind your swipe, and swipe unlimitedly.
With over 8 million users in the US alone, it's fair to say Tinder is still popular after all these years. However, much like other dating apps of the same nature, there are much more men than women. The demographic also swings to the younger side between the ages of 20 and 35. While the app certainly has a large portion of members looking for casual fun and hookups, there are also people that find long-term love. So it's best to keep an open mind and be patient while using the app, no matter what you're looking for.
Easy to use interface
Tons of singles near you
Solid free membership option
Limited swipes for free members
Expensive to upgrade
How much does a membership at


Tinder 

cost?
| | | |
| --- | --- | --- |
| Duration | Price | Total |
| 1 month | $39.99 / month | $39.99 |
| 6 months | $20.00 / month | $119.99 |
| 12 months | $12.50 / month | $149.99 |
Bumble


A dating app that gives women control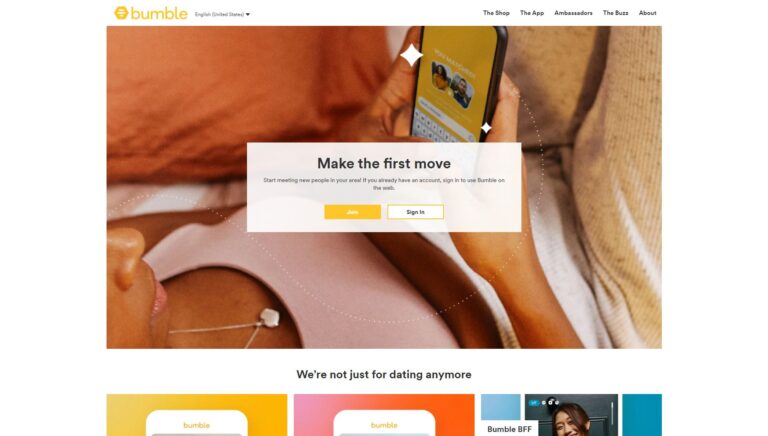 Gender distribution:
59% Female | 41% Male

Much like Tinder, you're going to use the carousel style match feature on Bumble to swipe left or right on other users. The biggest difference is that once you match, the woman has to make the first move (message first). Bumble also allows you to search for business connections and friends as well. Most people on the app are looking for something serious and long-term. In fact, according to Bumble, less than 1% of women and less than 4% of men on the platform are looking for hookups. So for the most part, the app attracts users that want to find someone to date.
If you have a Facebook account, the sign-up process is fairly quick and easy. The app can simply take all the information from your Facebook page to populate your Bumble profile. For people that aren't interested in filling out long questionnaires, this is a nice bonus. But if you don't have a Facebook account, you can still create your profile manually and confirm your identity by phone number. Once your profile is created, you can start swiping yes or no on other users. If you're looking for a platonic relationship, you just switch the app from Bumble mode to BumbleBff mode. If you'd like to network, you switch to BumbleBizz.
With over 11 million users in the US, Bumble has officially taken over Tinder. This could be because women are more attracted to a dating app that gives them more control over who can speak to them. Oftentimes with other apps that allow users to message freely, women can get bombarded with tons of unwanted messages. Another reason for its popularity probably has to do with the ability to switch between different modes — dating, friendship, or business — which provides a little something for everyone.
Women message matches first
Easy to use application
Free version is feature-rich
Men can't make the first move
Pricey premium plan
How much does a membership at


Bumble 

cost?
| | | |
| --- | --- | --- |
| Duration | Price | Total |
| 1 month | $29.99 / month | $29.99 |
| 6 months | $16.67 / month | $99.99 |
| Lifetime | $149.99 | $149.99 |
Hinge


A dating app designed for relationship seekers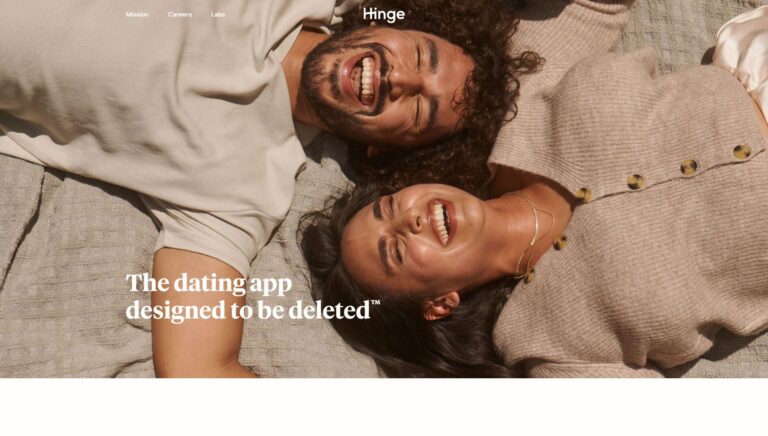 Gender distribution:
50% Female | 50% Male

Hinge markets themselves as "The dating app designed to be deleted," meaning they're goal is to find you that special someone so that you'll never have to use the app again. As you can already gather, Hinge is not for casual dating, but for those looking for long-term relationships. As a dating app, we like Hinge because it has a sleek, modern design that's easy to navigate. Most users on the app, since they're serious about finding love, fill out their profiles with lots of details and information. The app also limits the number of scammer profiles with a verification method that requires your mobile number.
Like other free dating apps, Hinge allows you to message for free, view complete profiles, and see who liked you. To match with other users, you use a roulette-style matchmaking feature much like Tinder or Bumble. But instead of swiping, you'll tap the 'x' to pass on someone or the like button if you're interested. Pushing 'x' will bring up another profile, and if you like someone and they like you back, you'll be notified that you both like each other. Then you can send them a message or visa versa. However, Hinge doesn't allow you to send photos.
We like Hinge because of its look, feel, and ease of use. The only thing the platform needs is more users. With 500,000 users in the US, you may have to give it some time before you match with other users. Especially if you live in a more rural area, you might not get many mutual matches. That being said, if you live in a major metropolitan area, it could be worth a try as many people have met their partners on Hinge.
Voice recording & video chat features
Offers other unique features 
Fun & interactive ways to interact
Smaller user base
Fake female profiles
How much does a membership at

Hinge 

cost?
| | | |
| --- | --- | --- |
| Duration | Price | Total |
| 1 month | $9.99 / month | $9.99 |
| 3 months | $6.99 / month | $20.97 |
| 6 months | $4.99 / month | $29.94 |
Happn


Matching people who happen to pass by each other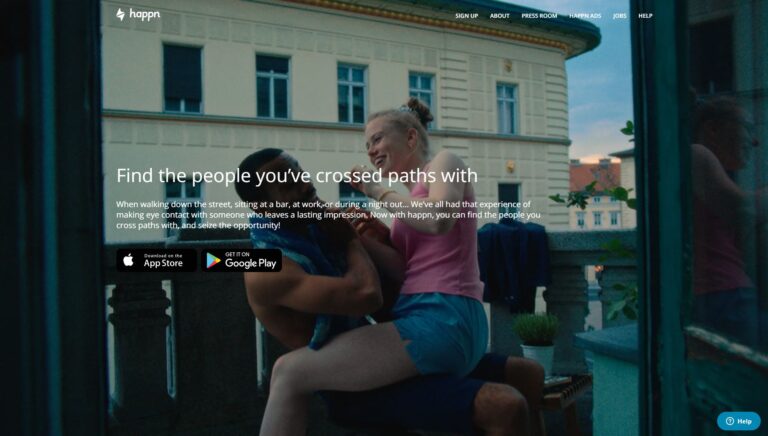 Gender distribution:
40% Female | 60% Male
Happn is a dating app designed to connect you with people around you — people you may have crossed paths with. Anyone that you might have been around in public for the last 7 days — at the gym, grocery store, or even walking your dog — Happn will connect you with that person. With over 50 million users worldwide and 5.4 million in the US, this concept has apparently caught on. And for the most part, the app has attracted users that are looking for serious relationships. However, you'll also find users on the app looking for casual flirting as well.
Happn's free services include basic matching where you send likes, messaging with mutual matches, and profile photo viewing. Like Tinder, you can purchase Boosts to increase your profile's visibility. We like Happn because the app offers unique features that can make the dating app experience more entertaining. The FlashNote feature provides a different way of communicating with other users by allowing you to ask something specific about information in the other user's profile. You can also send a Hello to someone you're interested in to let them know you want to chat. Happn gives you 10 free Hellos, then you have to purchase more. Our favorite feature, My Music Selection, allows you to sync your Spotify account and send songs to your match, or "Crush."
Overall, Happn is a great app with lots of users. The only downside is that users only get matched with others within a 250-meter radius. For people living in smaller towns away from cities, they might not get many matches. On the other hand, people living in big cities should have no problem getting matched up. But since it's a free app, it doesn't hurt to give it a go and see who's out there.
Unique features based on proximity
Can share Spotify playlists
Quickly meet someone near you
Not for rural users
Limited info on matches
How much does a membership at

Happn 

cost?
| | | |
| --- | --- | --- |
| Duration | Price | Total |
| 1 month | $24.99 / month | $24.99 |
| 6 months | $15.00 / month | $89.99 |
| 12 months | $10.00 / month | $119.99 |
CoffeeMeetsBagel


For those looking for a different kind of dating app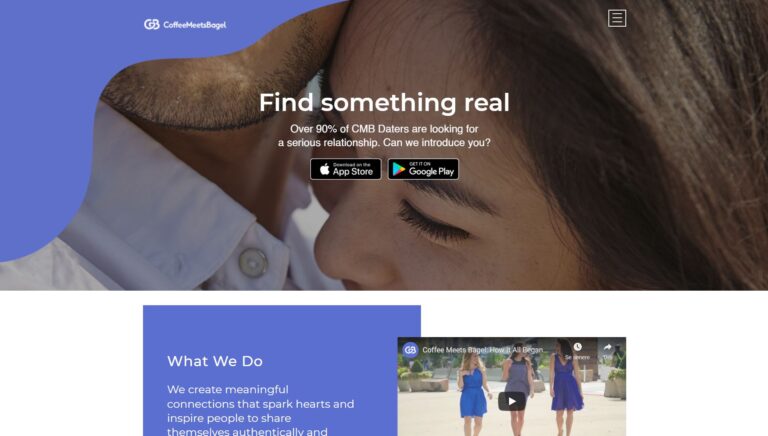 Gender distribution:
60% Female | 40% Male
Coffee Meets Bagel (CMB) is an app that's trying to break the mold of being just another endless swiping app. Instead, women will receive 6 matches each day, and men will receive matches called "Bagels." Once a Bagel is received, the man has 24 hours to like or pass on the profile. With the #LadiesChoice feature, you get matched with people you're already familiar with by finding friends of your Facebook friends. Once a match is made, other information that you filled out earlier (not visible on your profile) will be sent as an "Icebreaker" to get the conversation moving. These are all just some of the features that make Coffee Meets Bagel stand out from the crowd of other free dating sites.
With over 11 million users on the app, CMB seems to have caught on in the states. Its founder even announced that the app had recently gained millions of users in New York and Hong Kong. Most users tend to be in their 20s and early 30s, usually young professionals. Compared to other free dating apps, the profiles on CMB are much more detailed with phrases you have to fill out such as "I like…", "I am…", and "I appreciate when my date…". Profiles also emphasize more professional aspects such as education and occupation. Users can add up to 9 photos with 140 character captions attached to explain what's going on. If you're not sure which photo to choose, you can have the CMB community vote for the better of 2 options.
If you're tired of or not interested in the roulette-style swiping apps, Coffee Meets Bagel is a great alternative. The platform offers great features for young professionals looking for long-term relationships. Even more, the profiles are more detailed and the app itself offers tons of unique features. And with a large user base, you shouldn't have any problems finding matches.
Simple, easy to use platform
Simplifies the dating app process
Plenty of features with free plan
Only 6 matches per day
Only ideal for larger cities
How much does a membership at

CoffeeMeetsbagel

cost?
| | | |
| --- | --- | --- |
| Duration | Price | Total |
| 1 month | $34.99 / month | $34.99 |
| 6 months | $20.00 / month | $119.99 |
| 12 months | $15.00 / month | $179.99 |
OkCupid


A dating app that takes matchmaking seriously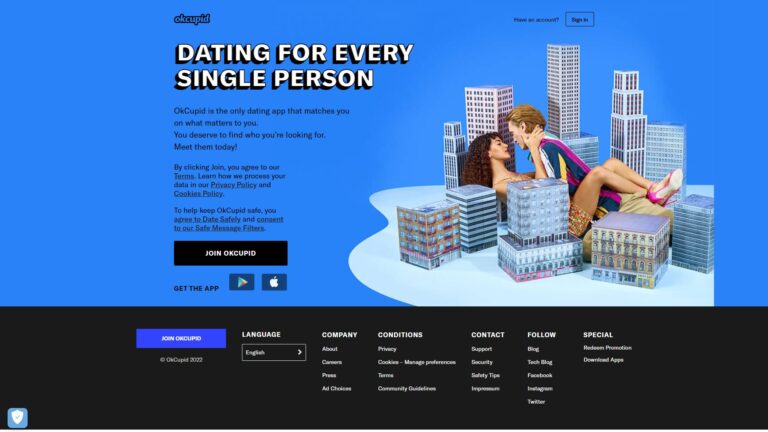 Gender distribution:
48% Female | 52% Male

OkCupid is one of those dating apps that has been around a long time and just keeps on growing. People like the app because of its matchmaking algorithm that aims to connect people with the perfect match. You're required to fill out a comprehensive questionnaire while signing up so that the app can learn your interests and match you with like-minded individuals. You can also decide if you're interested in hookups, short-term relationships, long-term relationships, or even friends.
In particular, we like OkCupid because it attracts all sorts of genders, age groups, and other demographics. That means it's not just for the younger crowd like other dating apps on this list. In fact, the most popular age groups on the app are in their 30s and 40s. Because most users are at this point in their lives, they tend to be interested in serious relationships. But with so many users and different interests, you can find anything you're looking for on OkCupid. Much like other dating apps, you'll be able to message other users once a match has been made. Before, the app would allow you to message anyone you want, but OkCupid decided to discontinue that ability.
As a free dating app, you can register, message other matches, search for matches, keep track of likes, and browse profiles. If you'd like to boost your profile, use advanced search filters, see who likes you, and experience the platform without ads, you'll have to pay for the premium plan. However, we feel like the freemium version has enough going for itself. With over a million daily logins and an active user base, we think you should not have any problem finding a date on OkCupid. According to OkCupid, millions of matches are made every week on the platform.
An inclusive platform for all types
A smooth interactive user interface
Ideal for late 20s, 30s, and 40s
Not for younger demographics
No video chatting feature
How much does a membership at

OkCupid 

cost?
| | | |
| --- | --- | --- |
| Duration | Price | Total |
| 1 month | $39.99 / month | $39.99 |
| 3 months | $26.66 / month | $79.98 |
| 6 months | $19.99 / month | $119.94 |
Plenty of Fish – POF


One of the largest dating apps in the world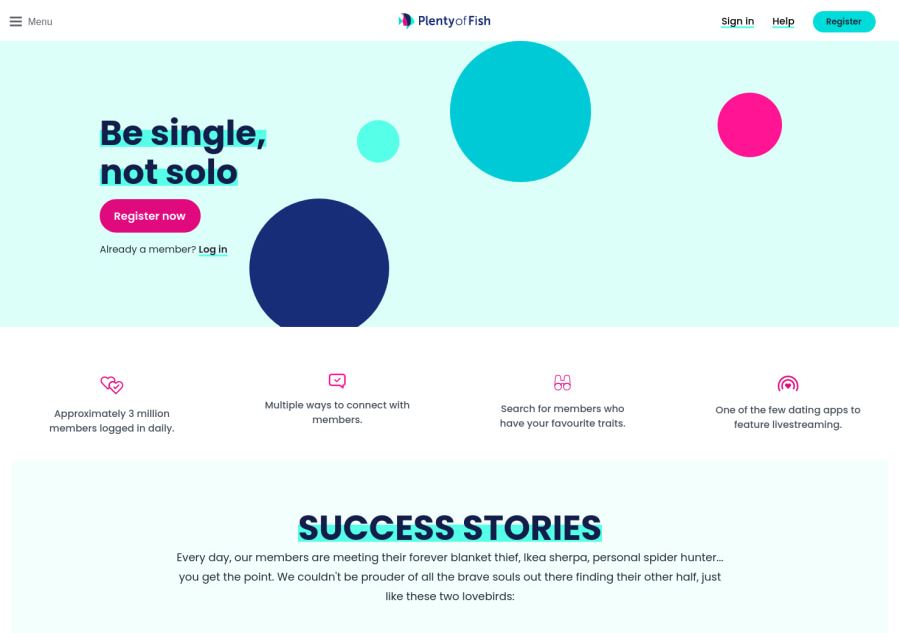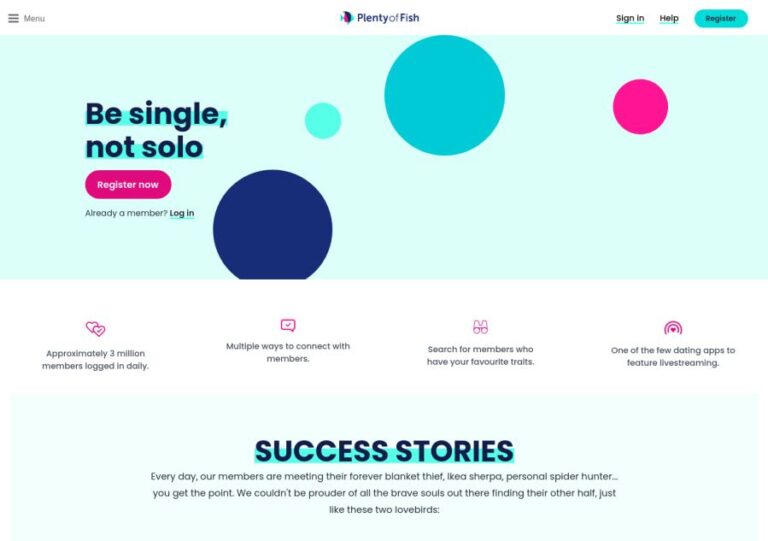 Gender distribution:
40% Female | 60% Male

Plenty of Fish claims to be the world's largest online dating app with over 90 million users, 78 million of which are located in the US. For that reason alone, we have to include it on our list. People enjoy PoF because it's a platform for singles looking for different types of relationships. It also tries to connect users with compatible and personalized matches so that conversations go more smoothly. The algorithm is able to do this because the information that users provide is very detailed. Add that to the fact that there are so many users on the app, and you get a dating app that's very successful at matchmaking.
Plenty of Fish gives you everything you need for free to meet other singles or even friends. The free service includes sending messages, getting matches, a compatibility test, profile visibility, voice messaging, and lets you see who's around you. In our opinion, that's a lot of free features that should enable you to meet someone. But the fee-based model gets you a lot too, including extended profile visibility, message status, seeing who has viewed your profile, and of course, an ad-free experience. With the free plan, you can upload up to 8 photos, while the premium plan lets you upload up to 16.
Much like the other dating apps on this list, you're mostly going to find young professionals in their 20s and 30s on Plenty of Fish. With 2 million daily logins, users are quite active on the app. However, men heavily outweigh women on the site at a ratio of 3 to 1. But that shouldn't be much of a concern considering how many potential matches are on the app. Plus, Plenty of Fish seems to be growing larger each day.
Easy to use application
Fast registration process
Affordable premium plans
Not for younger demographics
No video chatting feature
How much does a membership at

Plenty of Fish

 

cost?
| | | |
| --- | --- | --- |
| Duration | Price | Total |
| 2 months | $19.35 / month | $38.70 |
| 4 months | $12.75 / month | $51.00 |
| 8 months | $10.18 / month | $81.40 |
Badoo


A place for all kinds of friendships and relationships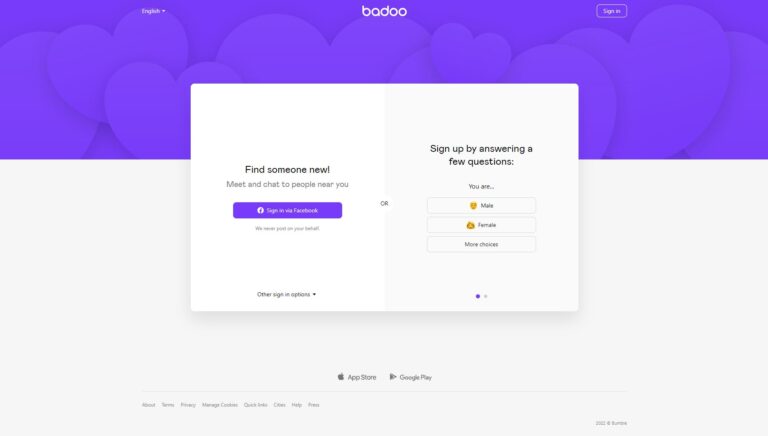 Gender distribution:
30% Female | 70% Male

Badoo offers an experience that caters to younger singles looking for friendships, relationships, and casual dating. In a sense, it's kind of a social media app and dating app all rolled up into one. While the majority of its user base is located in Europe, Badoo still has a fast-growing member base in the US with over 12 million. Most members are in their late teens or early 20s and looking for hookups and flings. For this reason, the app is often compared to Tinder. But you still do find older users on Badoo in their 30s who are looking for long-term companionship.
As a free dating app, Badoo allows you to use search filters, browse profiles, message, participate in its matching game, see who visited your profile, and use other features. If you'd like to take advantage of all the features Badoo has to offer, the lifetime membership fee is only $79.99. With that, you can view who liked you, see whose favorites lists you're on, browse anonymously, chat with new users first, increase your popularity, and much more. One of our favorite features offered to all members is Badoo Encounters, which is a game that allows you to find matches quickly. Similar to Tinder's roulette-style system, this allows users to breeze through profiles.
One thing Badoo is lacking is detailed profile information. There's no questionnaire or personality test that helps find compatible matches for you. You simply choose from a list of interests without the ability to share thoughts about topics that matter the most to you. However, Badoo does encourage photo uploading and rating other users' profiles to push people to share more. But without a solid verification process, you'll have to look out for fake profiles, which is common on these types of dating apps.
Lots of ways to communicate
A reliable verification process
Top-rated casual dating site
Stark gender distribution ratio
Matching is based on photos, not compatibility
How much does a membership at

Badoo

cost?
| | | |
| --- | --- | --- |
| Duration | Price | Total |
| 1 month | $9.99 / month | $9.99 |
| 3 months | $8.33 / month | $24.99 |
| 6 months | $5.83 / month | $34.99 |
Facebook Dating


A completely free dating app for singles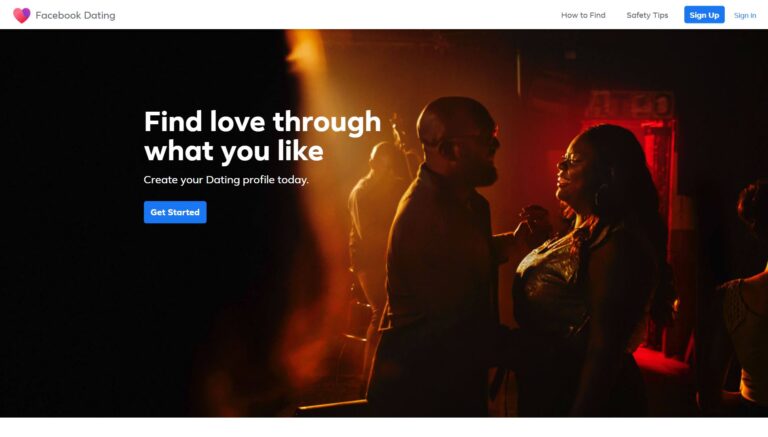 Gender distribution:
43% Female | 57% Male

Unlike the other dating apps on this list, Facebook Dating is completely free to use. By that, we mean the app doesn't offer a premium plan or sell points to purchase features. It's also a place where singles are looking for long-term relationships, which isn't always the case with free dating apps. All you have to do to get started is link your Facebook or Instagram account. If you don't have one, you can still sign up the normal way by manually registering. All of this is done through the Facebook app, as they don't have a desktop website.
With 30 million users in the US, Facebook Dating is quickly becoming one of the most popular dating sites. A good portion of its members fall between the ages of 18 and 24 and are looking to start a conversation with someone. Signing up with Facebook Dating is completely separate from Facebook, meaning nothing about it will appear on your Facebook feed. However, that also means that when you block someone on Facebook Dating, you haven't blocked them from your normal Facebook page. But Facebook Dating does use your Facebook information such as interests, likes, and mutual friends. This information is used by their algorithm to match you with like-minded singles in your area.
Facebook Dating changes things up when it comes to matching and communicating. Instead of sending someone a message, you have to choose something about their profile and ask them a question about it. Once the message is sent, you can no longer view their profile unless the message is responded to. This puts the ball in the receiver's court. It's features like these that make Facebook Dating different from other dating apps.
Totally free dating app
Easy for Facebook users
High-quality matches
Users can message non-matches
Only available through Facebook app
How much does a premium membership at

Facebook

cost?
Completely Free
Free Dating Apps FAQ
What dating apps are completely free?
All of the dating apps included on this list are completely free to use. While most offer premium upgrades, the basic features should be enough to help you match with other singles, chat, and go on dates. 
What are the best free dating apps?
All of these free dating sites offer a unique user experience. The question you should be asking yourself is, "What is the best free dating site for you?" First, ask yourself what you want out of the dating site and what you are interested in finding. If you're looking for a long-term relationship, you might want to go with a free dating app like Bumble, OkCupid, or Coffee Meets Bagel. If it's something casual you're interested in, you might want to consider Tinder or Badoo. Once you know what you're looking for, it should be easier to decide on the best free dating app for you. 
Are free dating apps safe to use?
Free dating apps are just as safe as paid dating apps. Most of these companies require a verification process to ensure people are who they say they are. But you still need to look out for fake profiles and scammers. You should also get to know someone for a few days before deciding to meet in a public space with lots of people around. Also, you should always tell a friend where you're going or even share your live location. We also recommend not relying on transportation from your date. As long as you trust your instincts and follow this advice, your dating experiences from free dating sites should be safe. 
How do free dating apps make money?
Free dating apps make money through advertisements and paid subscriptions. Typically when you pay for a dating app, the ads will be taken away and you'll have more features to use. With the freemium models, you usually have to deal with ads. Companies that advertise on dating apps are paying them good money for that much exposure.