Christian Mingle
Review 2023
For Christians looking for love
Personality and Spirituality-based Matchmaking
For Christians looking for love
Personality and Spirituality-based Matchmaking
In-Depth Review Of


Christian Mingle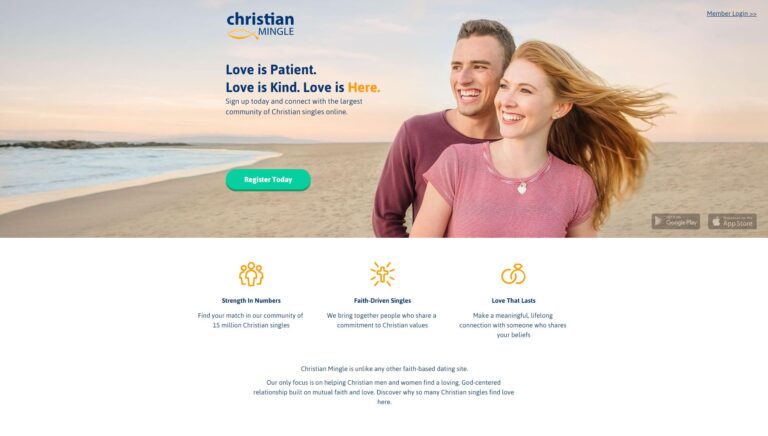 Dating sites in recent years have become far more refined, offering options to every niche and every interest. Whether you are looking for romance over fifty, a casual fling, a long-term love story or anything else – there's a platform for you. Surprisingly, one of the first niche dating services was released way back in 2001, trying to let members of the Christian demographic find one another.
Christian Mingle is operated by Spark Networks and caters exclusively to the Christians looking for love. However, even if this popular site was once considered niche, it now has over 16 million members worldwide and stays competitive with some of the largest dating platforms.
But even with a user base in the millions, is Christian Mingle really the best dating platform for Christians looking for their next great love story? We made a profile to find out. Read on to see if Christian Mingle is the ultimate online platform to mingle and match with other Christians!
15 million members
Easy to use website and app
Strictly Christian singles
Lacks a search function
Not easy to cancel membership
Signing Up for

Christian Mingle
The process to sign-up for Christian Mingle is simple and direct. With an interface that's easy to navigate, you'll start by creating your profile linked through email or Facebook, then start adding pictures and personalizing. What sets Christian Mingle apart during this profile creation stage is that it doesn't have the personality tests common on other sites. Instead, it assumes a baseline for its users and moves on to different tests and questionnaires to better understand who you are as a Christian, what kind of relationship you're looking for, and what you're looking for in a prospective partner.
Many of these tests are optional and you can start scanning the site immediately – but depending on your search, these details can help fine-tune your profile, leading you toward a stronger connection. With that in mind, the whole sign-up process can be done in less than 10 minutes and you can start your search for love without many barriers along the way.
How Much Is

Christian Mingle

?
1 MONTH
Per month: $49.99
Total: $49.99
3 MONTHS
Per month: $34.99
Total: $206.94
6 MONTHS
Per month: $24.99
Total: $149.94
Member Structure
Being a niche dating service, Christian Mingle is a platform that caters to romantic hopefuls looking primarily for a long-term relationship. To that end, there isn't much of a userbase that is looking for casual dating or is there in search of a one-night stand. It's not only that the userbase doesn't seem to be looking for that sort of relationship, but the site itself does everything in its power to encourage lasting relationships.
The structure of Christian Mingle's membership base is obviously comprised almost entirely Christians and account for 16 million members worldwide. Of those members, the majority are in the US with 60,000 sign-ups each month. Christian Mingle also boasts a fairly even divide of male members at 51% and female members at 49%.
See also: Comparison of the best Christian dating sites
To add to that, the age split on Christian Mingle is also fairly even. Most members are over the age of 25 and the vast majority fall into the range between 25 and 50. With the massive userbase and even split of male and female members, Christian Mingle handily claims the title of the highest percentage of Christian members on any dating site, globally.
Matching Process
Christian Mingle is designed around its algorithm for finding matches and providing them daily, based around your interests and what you're looking for in a partner. The longer you use the site and the more you reach out to other members, the better it comes to understand who exactly you want to find. 
In addition to daily matches, the site also offers matches through a search tool where you can use filters to refine your matches to specific denominations of Christianity, different ages, and so on. Past that, however, Christian Mingle makes the distinction between free and premium members known.
On the whole, Christian Mingle runs for a bit higher monthly membership than many other services on the market, but the exclusivity of the userbase and the extreme size of it make that investment worth it. However, the reason we bring it up is because, although you can create a profile and refine it with a free account, to contact and even receive messages from other members, a paid membership is required. If you don't have one already, the site and app are sure to remind you.
Contact Options
Christian Mingle comes with a select few of the staple contact options. As a premium member, you can send and receive messages – but not much else. Christian Mingle was founded on the idea that communication is what's needed to build a strong and lasting connection, and most everything beyond that is fairly superfluous. Because of that, they've been slow to accommodate video chats, voice chats, and other popular features of modern dating sites.
This isn't a drawback in and of itself, but it is a place where Christian Mingle shows its age. Recently, however, the site did add the LookBook feature as means of modernizing their search and making their app more appealing. Much like Tinder and other swipe services, LookBook allows users to swipe through various profiles (mainly based on location parameters) to see if there are any fellow Christians around that you'd like to reach out to.
Christian Mingle

App
Christian Mingle does has an app with all the bells and whistles of the site and is available on iOS, Google Play, and Android. It is an easy-to-use app, integrates & updates seamlessly with your site account, and makes conversations with potential matches on-the-go, a breeze.
Conclusion
Niche dating platforms are found far and wide nowadays, but Christian Mingle is among the first of them. By catering exclusively to the Christian demographic, it set itself apart in the early 2000s and continues to over two decades later.
With a massive userbase, an easy-to-use interface, and a philosophy designed around finding long-term commitments, Christian Mingle may not have all the features of more modern dating sites, but it has it where it counts. If you're a Christian looking to find a lasting love then Christian Mingle is your ticket to a true and beautiful match made in heaven.