For Singles of All Ages & Interests
40 Million Users in 80 Countries
For Singles of All Ages & Interests
40 Million Users in 80 Countries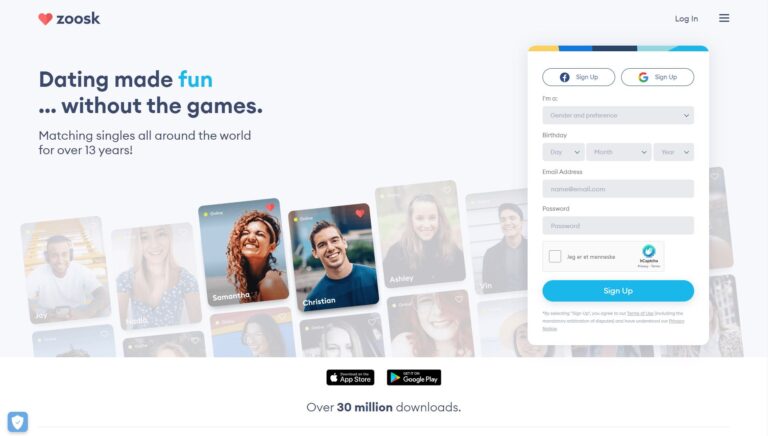 When it comes to modern dating sites and platforms, Zoosk's origin story feels the most fitting for our time. Originally founded in 2007, Zoosk was the brainchild of Alex Mehr and Shayan Zadeh, two students from Iran who had moved to Maryland to continue their studies.
Riding the wave of social media's rise to prominence, Zoosk originally functioned as a dating app that was integrated and accessible through Facebook.  Now, over a decade and a half since its founding, Zoosk has evolved well beyond its origins into a standalone dating app that boasts over 40 million members across over 80 countries.
So, what separates Zoosk from the pack? Its gradual and significant evolution over the years has produced a dating platform that benefits from a large active user base, a behavioral matching algorithm that encourages matches that fit your dating interests, and a longstanding legitimacy that ensures you trust the company curating your dating experience. While Zoosk does tend to appeal to a younger demographic, we signed up to see if it really is all its cracked up to be. Read on to find out!
A large, active userbase – 40 million users worldwide
Facebook verification
Quick registration process
Unique features and a great mobile app
Not ideal for older demographic
Extra cost for Zoosk coins
Signing Up for

Zoosk
Zoosk benefits from a simple and easy sign-up process that lets you enter the dating pool with minimal delay. All that's needed to get you started are the basics: email, birth date, gender identity, and location. You can also use your Facebook account to sign-up even faster. Once this is done, you're free to start browsing the site, though there are a few things you are encouraged to do first.
Zoosk offers fairly expansive user profiles, with plenty of options to build your own personal story. From hobbies to careers, to details about your perfect date, you have the space to make yourself stand out. Personal pictures are also encouraged, and there is a verification tool to use that lets you confirm your photos, linked social media accounts, and even military status if that applies to you.
Ultimately, the time it takes to sign up and get started on Zoosk is up you and the time you want to spend fine tuning the perfect profile.
1 MONTH
Per month: 29.99 £
Total: 29.99 £
3 MONTHS
Per month: 19.99 £
Total: 59.97 £
6 MONTHS
Per month: 9.99 £
Total: 54.94 £
Member Structure
As an extremely popular platform, Zoosk is home to over 40 million users across a staggering 80 countries. Despite its scope, the majority of members are located in the US, so American users will benefit the most from such a wide dating pool.
The site also attracts the young professional demographic, with the majority of users falling between 25 and 35. This means Zoosk has a decent mix of young millennials at different stages of their life, though it certainly isn't restricted to this demographic. The exciting part about Zoosk is that it isn't limited to long-term commitments or building enduring romantic connections. While it does cater to that audience, it also caters to the interests of the short-term flings and casual dating audience just as well.
The gender distribution is another benefit to using Zoosk. Users that identify as male or female sit right at 50/50, giving an equal chance to both sides. Regardless of sexual orientation, Zoosk offers plenty of potential matches to choose from for everyone looking for love.
Matching Process
Users of Zoosk benefit from a unique matchmaking process called the Behavior Matchmaking process. While the website allows you to input certain preferences for your partner, it also takes a more active role in learning about your likes and dislikes.
As you look at other profiles, talk with people, and generally use the service, Zoosk takes note of the things you tend to like in a partner. As the algorithm learns more about you, it will begin to suggest matches that fit the pattern of your interests. This can also be accessed directly by selecting Smartpicks on the platform. Behavior Matchmaking isn't just something behind the scenes, either. By selecting Dating Insights on the platform, you are able to look at the data Zoosk has collected, and the conclusions it has made about your preferences. This is only available to you, and might provide some clarity on what you're generally looking for even on a subconscious level.
Another option for matching is called the Carousel. This is a more standard roulette option for users, and lets you access a less personalized but extremely vast selection of available singles.
Contact Options
Contacting people on Zoosk is fairly standard fare, though you are required to have a paid subscription if you want to do more than send likes and winks. With a paid subscription, users can send each other private messages to communicate directly. They can also customize a standard opening sentence, in case they want to send one message quickly without disrupting browsing.
A newer and exciting service offered by Zoosk is something called Great Dates. This is a virtual, video calling platform, that allows you to chat face-to-face with your matches from the comfort of your home. Great Dates will place you in a fun or exciting location via your background, and also provides fun activities to get the conversation going and skip the sometimes awkward first introduction phase. 
Zoosk

 App
Zoosk is a platform intent on providing its services to users on-the-go. The Zoosk mobile application is available on iOS and Android. The apps are also regularly updated, and receive a lot of support from a very active development team. As a key part of their service, Zoosk apps offer nearly all of the features that the browser version has. The only missing service is Dating Insights. Due to the amount of information this provides, Zoosk chose not to cram the feature onto your mobile screen – but the sheer number of options available through mobile is nothing short of impressive.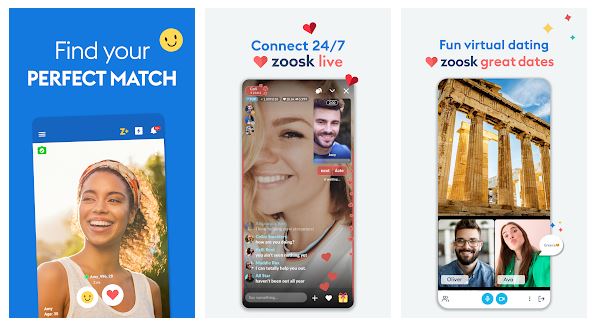 Conclusion
Zoosk is a great online dating platform for anyone looking to enter, or re-enter, online dating. It is a well maintained, feature packed, popular website that offers a ton of opportunities for singles to meet. While the demographics do skew towards the younger side, this shouldn't stop anyone for taking a chance on the service. With a 30-day free trial, there isn't any downside to giving it a try and seeing if its unique approach to online dating is for you. If you're looking for a fun way to meet other people in a comfortable and curated environment, then Zoosk might just be your perfect matchmaker.