For serious singles with above-average education
Personality and Intelligence-based Matchmaking
For serious singles with above-average education
Personality and Intelligence-based Matchmaking
In-Depth Review Of


EliteSingles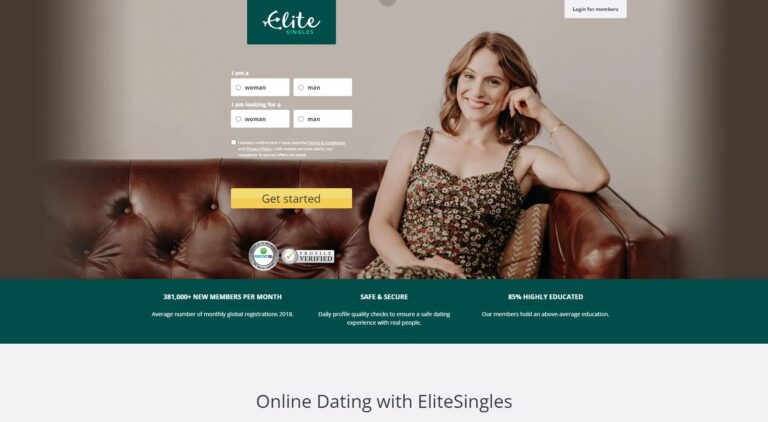 Some dating sites are designed to cast the widest net, inviting as many members as possible to create the largest possible dating pool available. But not all dating sites are designed alike. EliteSingles is a company that proudly narrows its criteria, catering its services to members "30+, who hold an above-average education." And, with millions of users spanning dozens of countries, EliteSingles has made quite a name for itself in the often-overcrowded market of online dating.
Gaining 380,000 new members each month, and with 85% of its base regarded as highly-educated, EliteSingles is a site where security is paramount and one that aspires to serve individuals looking for love who value success and education in their prospective partners. But can it live up to its bold claims? We created a profile to find out. Read our review and see how "elite" the singles of this sought-after dating site are and if this highly-educated community is one you'd like to join!
In-depth personality test for matchmaking
Impressive safety features
Ideal for serious professionals
Not ideal for the casual dater
Lengthy personality test
Signing Up for

EliteSingles
EliteSingles is a dating site that values exclusivity. Because of that, the sign-up process is a bit more in-depth than many other dating services on the market. After all the basic information and profile creation is done, you'll also have to complete a personality test based on the 'Five Factor Model' theory of personality, developed by prominent psychologists Paul Costa Jr. and Robert R. McCrae, respectively.
This test, among the few others on the site, is designed to determine your levels of openness, conscientiousness, agreeableness, extraversion, and even neuroticism. Questions on the test vary from multiple choice, to yes or no, to ratings of strongly agree or strongly disagree with any given statement. In addition to those, there are also a few short-answer essay questions thrown in to emphasize the self-reflection and introspective nature of its member base.
To many, this in-depth process of profile creation may sound daunting. However, when it comes to EliteSingles philosophy of love and dating, that's the intent. The goal of the site is to narrow the dating pool enough so that only an elite few remain who are 100% committed to finding a long-lasting, romantic relationship between like-minded individuals.
How Much Is

EliteSingles

?
3 MONTHS
Per month: $34.95
Total: $104.85
6 MONTHS
Per month: $19.95
Total: $119.7
12 MONTHS
Per month: $17.95
Total: $215.40
Member Structure
One of the few caveats of membership on EliteSingles revolves around its members being "highly-educated." And, with around 85% of its base holding high-level degrees and above average education, it lives up to that mark. That being said, there aren't many other restrictions on the site.
Singles are typically above the age of 30, with most between 30-55, but that doesn't mean that there aren't older and younger demographics present. To add to that, it also features a fairly even split of 53% of members identifying as males and 47% as females.
As mentioned, EliteSingles isn't designed for hook-up culture or the casual dating crowd. While it doesn't directly articulate that, the extensive sign-up process and psychological personality test often limit anyone joining for anything less than a committed, long-term relationship.
Matchmaking
The most effective way to get matches with EliteSingles is to let the algorithm do what it does best. After completing the extensive personality test, and putting some fine-tuned detail into your profile, the algorithm will offer you roughly 4-7 matches per day. All of these matches are guaranteed to have a high potential for compatibility, of course assuming the accuracy of both profile answers.
The matches per day can also be expanded up to 20 through "Wildcard Matches", which is a service offered only to premium members where the algorithm matches you with potential partners that have some qualities in common, but not as much as your daily matches. To add to that, there is also a search feature that allows you to input certain parameters and "like" profiles to add them to your "Favorites".
Finally, another premium service EliteSingles utilizes is the "Have You Met" feature, which allows you to view one profile at a time and swipe left or right, a lot like Tinder, until you find someone that you see potential with. If it's a match, all that's left to do is reach out!
Contact Options
As far as contact options, EliteSingles varies slightly between its free and premium offerings.
A free account is an extremely limited one. You will still be able to take a "Five Factor" personality test and create an account that can upload photos. You will also be offered matches daily, but you can't do much to communicate with those matches beyond liking photos and commenting.
On the other hand, a paid membership will not only give you more communication options including unlimited messaging, but in addition to that, you can also get a breakdown of your personality test results, see who visits your profile, and send "smiles" to users you're interested in. Once you and a potential partner have both accepted communication, they will be added to your "Matches List" where you can send and receive personal photos as well.
EliteSingles

App
EliteSingles offers a mobile app for both iOS and Android that includes all the amazing features of the website. While the app is free to download, and new users can use it or the site to complete their profile and the personality test, most communication features are still restricted to paying members.
Conclusion
Sometimes the drawbacks of certain dating sites are that they inherently try to make their services approachable to everyone. While that can sometimes be extremely helpful, it can also make their services oversaturated with potential partners who don't share similar interests.
The value of EliteSingles is a dating pool of people who know exactly what they are looking for, and signing up for the service is like weeding through countless incompatible profiles in one fell swoop. To take it one step further, the psychologically-based personality test and profile customization of EliteSingles ensures that who you match with will relate to you on a number of different issues and worldviews, making your compatibility with them far more likely.
With all that in mind, if you consider yourself to be a highly-educated, successful professional who is looking for a long-term, committed relationship founded on compatible values, EliteSingles is the perfect site to begin your search.