The Best Dating Sites for Over 50s 
If you're someone that's in their 50s or 60s and is recently divorced or widowed, the dating scene can be overwhelming. If it's been 20+ years since you've played the dating game, it can feel you have no idea where to start. That's why so many singles 50 and over are turning to dating websites. They provide one centralized community where everyone is looking for the same thing — companionship. But with countless dating sites on the internet, how do you choose the right one? Fortunately, we've done all the hard work for you by evaluating the best ones and presenting our findings. All you have to do is keep reading to discover the best dating site for you!
This article contains affiliate-links.
eHarmony


A dating site that uses relationship science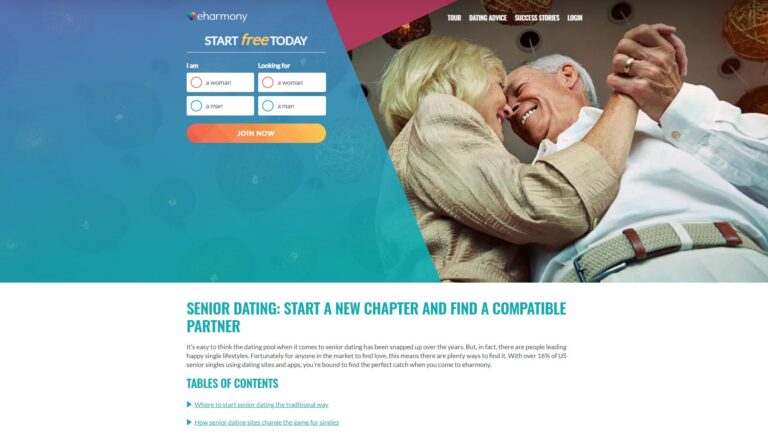 Member count:
15.5 million

Gender distribution:
47% Female | 53% Male

Simply put, eHarmony is a great dating app for singles of all ages looking for long-term companionship. The website allows you to use advanced filters to refine your match list based on age, whether you have children, education, religion, income level, and much more. This allows singles that are over 50 to really narrow down what they're looking for and see what's out there before committing to the Basic Membership plan. Free features include registering, a compatibility quiz, profile creation, and matching. You can also use the limited filter feature to narrow down your results.
If you want to take advantage of eHarmony's best features, you're going to have to pay for a subscription. The Basic Plan provides features such as unlimited matches, messaging, advanced filters, anonymous browsing, and Smiles, Icebreakers, and Greetings. Because age is only included in the advanced filter option, eHarmony is essentially only useful to singles looking for others over 50 if they pay for the Basic Plan. But that shouldn't be a huge deal anyways if you want to take advantage of all the other useful features the Basic Plan offers.
When it's all said and done, the real strength of eHarmony lies in its questionnaire. It goes above and beyond the typical questions that ask you how many dogs you have and what you like to do on the weekends. eHarmony's questionnaire is meant to get to the heart of who you are as a person — your thoughts, emotions, and values. For singles over 50, these questions are a vital part of finding other like-minded singles that you can hit it off with right away. After all, you probably don't want to spend too much time playing the field.
In-depth compatibility questionnaire
Large membership base
Easy to meet serious singles
Pricy payment plans
Not ideal for casual dating
How much does a membership at

eHarmony

cost?
| | | |
| --- | --- | --- |
| Duration | Price | Total |
| 6 months | $54.90 / month | $329.40 |
| 12 months | $39.90 / month | $478.80 |
| 24 months | $29.90 / month | $717.60 |
SilverSingles


A dating site strictly dedicated to 50 and overs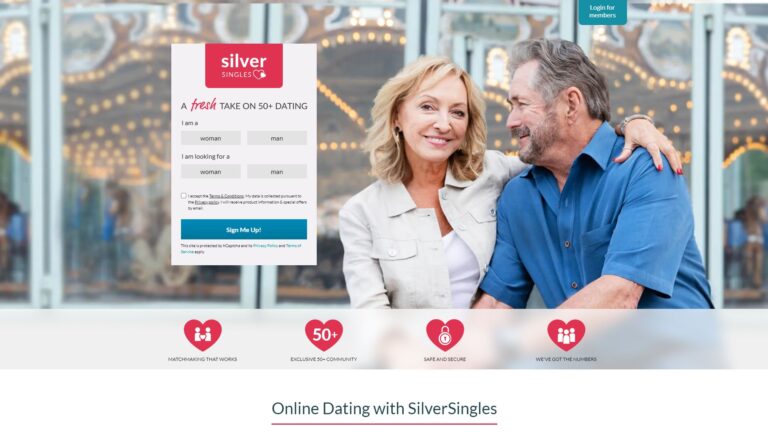 Gender distribution:
59% Female | 41% Male

Silver Singles was launched as PrimeSingles.net way back in 2002. Since then, they've gone through a lot of change (e.g. their name). They rebranded by adding new features, a handy application, and much more. The one constant in the past 20 years is their dedication to seniors as well as singles 50 and overlooking for companionship. And because not everyone in this demographic is technologically savvy, the company has made the signup process simple and easy. Plus, you can get acquainted with the platform and explore singles in your area before committing to a paid subscription plan.
For men familiar with other dating sites, SilverSingles is a breath of fresh air. With most dating apps, men far outweigh women. With almost 60% of its membership base identifying as female, men have the advantage on this platform. However, that shouldn't turn women away from SilverSingles because an exclusive membership allows them to narrow down their search results to only attractive and viable singles if they so desire. A paid membership can be fairly pricey depending on what you'd like to spend each month on a dating service. However, look out for flash sales and discounts because SilverSingles is always offering promotions throughout the year. Also, the pricing structure changes often due to different demands, so don't be surprised if the one listed below has gone up or down.
Most people over 50 are looking for someone that is fairly successful and has a similar background as them. If that's you then you'll be glad to know that 80% of SilverSingle's membership base has a university degree. Most of them come from the United States, but their membership base does reach 20 countries as well. These users will usually be divorced or widowed singles looking for a 2nd or 3rd chance at love.
Ideal for those looking for love
Highly educated singles 
Improved match-making with personality test
Singles in their 30s & 40s on the site
Freemium plan doesn't offer much
How much does a membership at

SilverSingles 

cost?
| | | |
| --- | --- | --- |
| Duration | Price | Total |
| 3 months | $37.95 / month | $113.85 |
| 6 months | $21.95 / month | $131.70 |
| 12 months | $19.95 / month | $239.40 |
OurTime


One of the original 50+ dating sites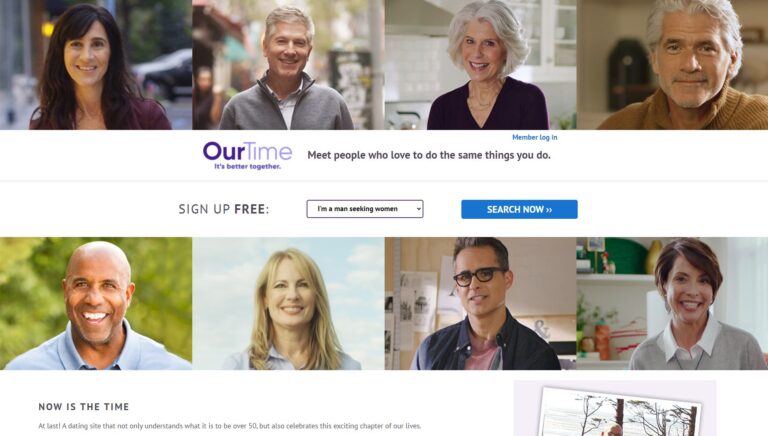 Gender distribution:
52% Female | 48% Male

OurTime has SilverSingles beat by one year in terms of senior dating site longevity. Launched in 2001, OurTime is one of the largest 50 and over dating sites worldwide, with 8.9 million visitors each month. That's because they make it extremely easy to get started — anywhere between 5 and 20 minutes depending on how many sections you want to fill out. They even provide a setup guide so you can easily navigate the registration process. Unlike eHarmony, you don't need to answer a long list of in-depth questions. Instead, you'll type what you're looking for, explain yourself in a nutshell, and add some further thoughts.
In particular, we like OurTime because the website or app allows you to go into detail as much as you're comfortable with. For example, you can create a bio full of what you're interested in, what you're looking for, and you can also add photos as well as videos. And then once you're ready to start browsing other profiles, you'll be presented one profile at a time, at which point you can either Like or Pass. If you're not a fan of the carousel feature, you can also search for matches by age, gender, personal habits, religion, location, family life, and more.
Compared to other dating sites that cater to the 50 and over crowd, OurTime is pretty affordable. For example, if you pay for a 6-month subscription, you'll end up paying only $3.75 per week. We think that's a heck of a bargain for a dating site as well-known as OurTime. Also, with the Basic plan, which is free, you can still respond to messages and send likes. For someone that's just dipping their feet into the online dating pool, OurTime might be a good starting point.
Allows you to send virtual gifts
Created for 50 and over singles
Offers mobile application as well
Must pay for useful features
Look out for fake profiles
How much does a membership at

OurTime

cost?
| | | |
| --- | --- | --- |
| Duration | Price | Total |
| 1 month | $34.96 / month | $34.96 |
| 6 months | $15.96 / month | $95.76 |
SeniorMatch


A straightforward dating site for 50+ singles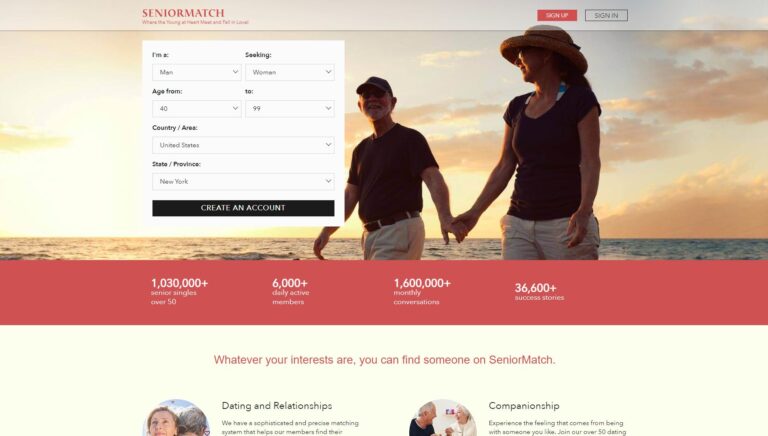 Gender distribution:
60% Female | 40% Male
We know, the first question that probably popped into your head when you saw the name was, "But what about 50 and overs that aren't seniors?" Well, you'll be happy to know that Senior Match isn't just for seniors. In fact, its members range from their 40s to 70s, so you actually have quite a large pool to choose from. But with the name Senior Match, it goes without saying which demographic they market to the most. You'll certainly find more mature, established singles on this site compared to others like eHarmony and SilverSingles. If that's what you're in the market for, Senior Match should have you covered.
We like Senior Match because while its members are looking for long-term love, they're also looking for companionship, a travel partner, friendship, and more. They're made up of divorcees and widows that don't have a partner in crime anymore and want that special bond with another person again. And like some of the other 50 and over dating sites we reviewed, Senior Match makes it easy for the non-technical-minded singles to get set up and ready to start matching. You'll have to provide a photo, however, which is actually a good thing because they verify it to confirm your identity. This is helpful for keeping fake accounts and scammers off the site.
Overall, Senior Match doesn't try to make itself too complicated. You can send winks, message back matches, and use the reverse match feature based on your self-description. If you'd like to message other users first and get assistance from your own personal account manager, you'll have to upgrade to a subscription plan. Oftentimes, Senior Match will offer a number of days free if you're unsure about the platform.
For all types of companionships
Simple and easy to use website
Has a very active user base
Not many users in rural locations
No mobile app available yet
How much does a membership at

SeniorMatch 

cost?
| | | |
| --- | --- | --- |
| Duration | Price | Total |
| 1 month | $29.95 / month | $29.95 |
| 3 months | $19.95 / month | $59.95 |
| 6 months | $15.95 / month | $95.95 |
Match


An enduring dating app full of rich profiles



Gender distribution:
51% Female | 49% Male

Match, as you probably already know based on your familiarity with the name, is one of the most popular dating apps on the market. As one of the originators, they've built quite the name for themselves, while growing their member base significantly. That's why we put Match on our list of dating sites for over 50s. According to Hayley Quinn, a dating coach for Match, over 1.6 million people have met their partners through the platform. That includes people of all age groups, including the 50 and overs. "When you're using dating apps older people tend to be less tech-savvy so some platforms don't have enough options," says Quinn. "But Match eradicates this issue with its desktop capabilities and extensive database."
Compared to some of the other dating sites on this list, Match's signup process is a bit more exhaustive. They require you to fill out a comprehensive questionnaire in order to find matches that are as close to what you're looking for as possible. You'll also be able to narrow down your criteria to include only those above 50, which is why so many older singles are on the site. Because Match goes through all of this trouble, the platform highly encourages you to pay for their services. Its free offering is very limited, besides the ability to browse other singles. To unlock key messaging features and other helpful tools, you'll have to open your wallet. That will set you back around $20 a month for a one-year subscription. If you're not sure if that price is worth the squeeze, Match is offering a 3-day free trial right now. We would recommend taking advantage of this free trial to see how many potential dates are located in your area.
Events are held for members to meet
Plenty of 50 and overs
Easy to use interface
Pricey membership
Fake profiles and scammers
How much does a membership at

Match.com

cost?
| | | |
| --- | --- | --- |
| Duration | Price | Total |
| 3 months | $34.99 / month | $104.97 |
| 6 months | $24.99 / month | $149.94 |
| 12 months | $19.99 / month | $239.88 |
EliteSingles


A dating site for serious, educated singles to meet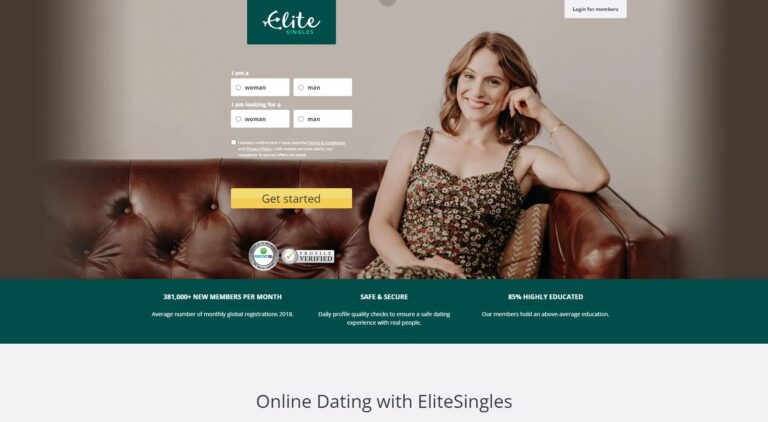 Gender distribution:
57% Female | 43% Male

EliteSingles is similar to SilverSingles in that 80% of its user base has a university degree. This means you're going to find professionals that are typically successful and evenly matched intellectually. You'll find that the vast majority (90%) of its user base is above the age of 30. So for those 50 and over, you should find a good amount of singles. Mostly, you'll find other users are from the US, but they also have a large international membership base, which typically comes from Canada and the UK.
EliteSingles really tries to separate itself from the pack of other dating sites by giving you a psychologist-designed personality test that analyzes 29 different personality traits. We recommend putting aside approximately 20 minutes to answer these questions pertaining to your personality. After you're done filling out the questionnaire, you'll be matched up with similar, like-minded individuals. To send, read, and reply to messages, you'll need to become a paying member. With the freemium plan, you're limited to sending winks and narrowing down your search results. Both the standard and premium plans allow you to view one profile at a time in the "Have You Met?" section, where you essentially say yes or no on matches.
Due to the fact that the signup process is so detailed, EliteSingles' profiles are quite in-depth. This allows you to spend time delving into profiles to find the perfect potential date. Aside from the usual information like physical characteristics, you'll also find their Personality Profile to gain additional useful insights into their likes, dislikes, habits, and more. You can also find all of this information on the mobile app as well, which is great for users that want to search for singles on the go.
In-depth personality profile
Successful and intelligent users
For those serious about finding love
Not just for the over 50 crowd
Limited number of singles outside cities
How much does a membership at

EliteSingles

cost?
| | | |
| --- | --- | --- |
| Duration | Price | Total |
| 1 month | $59.95 / month | $59.95 |
| 3 months | $57.95 / month | $173.85 |
| 6 months | $44.95 / month | $269.70 |
Zoosk


A dating site that caters to all ages, including over 50s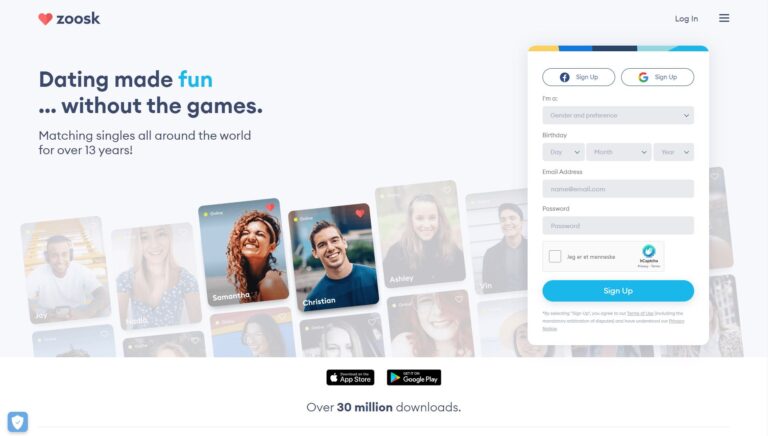 Gender distribution:
52% Female | 48% Male

Here's another dating website much like eHarmony and Match that doesn't specifically cater to singles 50 and over. But for the same reason we included those other two on our list, Zoosk has an enormous user base full of people over 50 that we just can't ignore. In fact, Zoosk even has a blog post on its website completely dedicated to telling you about Zoosk Seniors. The majority of its 50 and over users are drawn to Zoosk because of the interface's ease of use and navigability. Its carousel feature, much like Tinder, is also simple to understand and fun to use. Combine that with a mobile app that consistently gets solid ratings, and you get a home run dating app that attracts millions of users per month.
Zoosk is a viable option for singles 50 and over that are also interested in or open to relationships outside their age group. Not all 50-year-olds want to date someone the same age as them. There are many recent divorcees, widows, and others looking for love or something fun with someone from any age group. This is where Zoosk has the upper hand over other dating apps that specifically cater to seniors over 50 years old. However, if it's the same age group that you're interested in, Zoosk also allows you to utilize its advanced filter feature to refine your preferences.
All in all, Zoosk has 40 million users. That makes it one of the most popular dating sites for all age groups, not just people 50 and over. With that type of potential talent pool, it's no wonder so many over 50s have flocked to the site. It doesn't take a behavioral science background to figure out that humans like more options. The more users there are, the more potential dates to choose from.
A large, active userbase
Large 50 and over demographic
Quick registration process
Need social media account to verify profile
Extra cost for Zoosk coins
How much does a membership at

Zoosk 

cost?
| | | |
| --- | --- | --- |
| Duration | Price | Total |
| 1 month | $29.95 / month | $29.95 |
| 3 months | $19.98 / month | $59.95 |
| 6 months | $12.49 / month | $74.95 |
Christian Mingle


An online dating site for Christians of all ages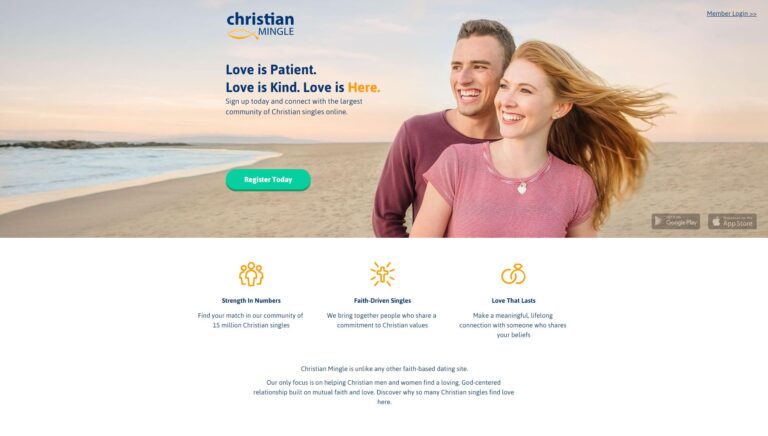 Gender distribution:
56% Female | 44% Male

The US has the largest Christian population in the world with around 250 million, making up 70% of Americans. For that reason, Christian Mingle, one of the original Christian dating sites, has grown to over 15 million members. For the most part, Christians want to find a partner that has the same values and beliefs as themselves. They want someone they can go to church and do other activities with, as well as start a family. With the slogan "Love is patient. Love is kind. Love is here," Christian Mingle markets itself as the go-to place for Christians to find long-term companionship.
Like most of the dating sites on this list, Christian Mingle requires you to pay for a subscription plan if you want to enjoy all the features that make the site great. For instance, if you want to message freely, customize your visibility, and browse using stealth mode, you'll have to pay for the premium plan. You can also pay extra to boost your profile to increase your chances of getting noticed by potential dates. You'll find that Christian Mingle members are quite active on the site, with over 900,000 visits per month.
If you're a single that is 50 and over, you will have to narrow down your search results if you want to find someone around your age. The majority of Christian Mingle's user base is between the ages of 25 and 40, typically the age single people want to settle down, get married, and have kids. Most of the singles in their 50s, 60s, and beyond are usually divorced or widowed. Neither men nor women have the upper hand on the platform because the gender distribution is balanced, which we like. As long as you don't live in a small rural town, you shouldn't have any problem getting matches on Christian Mingle.
Ideal for serious commitment
For those who share similar values
Balanced gender ratio
Fake profiles & scammers to look out for
Fewer singles 50 and over
How much does a membership at

Christian Mingle

cost?
| | | |
| --- | --- | --- |
| Duration | Price | Total |
| 1 month | $49.99 / month | $49.99 |
| 3 months | $34.99 / month | $206.94 |
| 6 months | $24.99 / month | $149.94 |
OkCupid


One of the most popular dating sites worldwide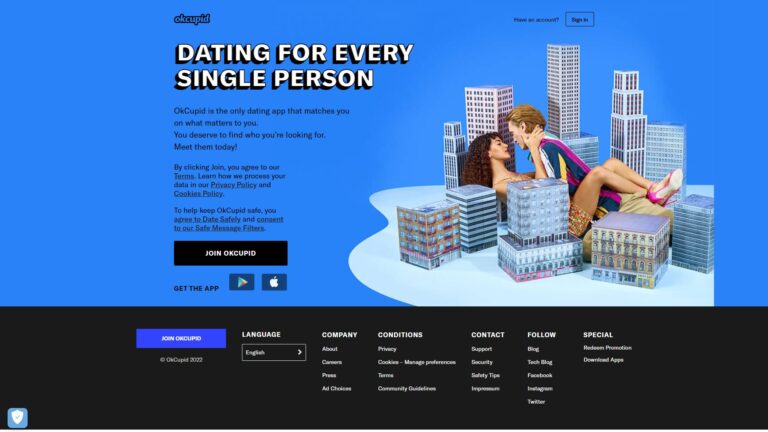 Gender distribution:
48% Female | 52% Male

While OkCupid is certainly geared towards a younger audience, with over 50 million users, there are still plenty of singles over 50 on the platform. We like OkCupid in particular because it's a fun dating site to use. They ask questions such as "Would you rather go to a concert or watch a sports game?" or "Would you rather share a kiss in a tent or a kiss in Paris?" These questions help OkCupid get to know your personality and match you with like-minded individuals. And while there are a lot of questions to answer, the process is more entertaining than other dating site questionnaires that ask you the same old boring questions.
Much like other dating apps such as Tinder, OkCupid features "Double Take" matching where you are shown a profile preview and you either swipe left if you want to pass or swipe right if you're interested. If you and another member swipe right on each other, then you have a match. On OkCupid, only matches can message each other. This is intended to keep members that like to bombard inboxes with messages away. With the premium membership, you can see a full list of people that liked you. This gives you a major advantage because you can pick and choose who you want to like back and start messaging.
OkCupid also allows you to take a stance on reproductive rights by giving you the ability to add a Pro-Choice badge to your profile. OkCupid donates $1 to Planned Parenthood every time someone adds a badge. Furthermore, the company also attempts to take safety seriously by enabling you to add an "I'm Vaccinated" badge to your profile. The requirements are to have at least one dose of the coronavirus vaccine.
Singles looking for serious relationships
Comprehensive questionnaire
Offers useful freemium plan
Mostly 25 to 35-year-old crowd
Many fake profiles and scammers
How much does a membership at

OkCupid 

cost?
| | | |
| --- | --- | --- |
| Duration | Price | Total |
| 1 month | $39.99 / month | $39.99 |
| 3 months | $26.66 / month | $79.98 |
| 6 months | $19.99 / month | $119.94 |
Dating Sites for Over 50 FAQ
What are the best dating sites for over 50s?
Ultimately, you need to decide whether you want to go with a dating site that's specifically designed for singles 50 and over, or a dating site that caters to all age groups but gives you the option to narrow down your search results to an older demographic. On this list of reviews, we've given you a mix of both. For the most part, sites that cater to 50 and overs tend to be on the pricier side, while dating sites like Zoosk are much more affordable because they include a younger, less established audience. Either way, most of these sites offer a free trial or freemium plan so you can get a feel for the site before committing to a paid subscription plan. We would recommend doing that and seeing what kind of singles are on the platform first. 
How do dating sites for those over 50 work?
Dating apps designed for 50 and overs work the same way most dating sites work. They take information that includes your age, gender, location, interests, and more, and use that information to match you with like-minded individuals. These websites employ algorithms to match people based on all the data you give them. That's why it's so important to fill out your whole profile when signing up. Otherwise, the algorithm can not do its job to the best of its abilities. 
The same goes with trying to find a perfect match on these dating sites and not providing enough photos or leaving areas blank. Users won't want to match with others that have vague profiles because they might seem suspicious. That's why you should always provide as much information as possible to find like-minded individuals that share your same interests, values, and opinions. 
What over 50s site should I choose?
All of the sites we reviewed here have solid reputations. Millions of couples have found love by using these sites. It really comes down to how much you want to spend on features and whether there are plenty of singles 50 and over in your area. As we mentioned previously, give some of these sites a try before fully committing to a paid subscription plan. See how you like the layout of different sites, try out different features, and browse who's out there. After putting in a little time, it'll become clear which site is ideal for you. 
Are dating sites for over 50s safe?
These dating sites do as much as they can to provide a safe environment to meet other singles. That being said, you're still meeting strangers online, so you should always take the necessary precautions before meeting anyone in person. Here's a list of safety tips we recommend taking:
Don't use social media photos. A reverse image search will make it easy for other people on the dating site to find your social media profiles. 

Look out for suspicious profiles. Authentic profiles should have plenty of photos and information about themselves. 

Block suspicious users. This will prevent other users from getting scammed or taken advantage of. 

Watch out for financial help. No one should be talking about money problems or asking for sensitive information from someone they just met online.

Video chat before meeting. Don't trust that the person on the other end of the message is who they say they are. 

Tell someone where you're going. Even better, share your live location with a friend so they can track your whereabouts to ensure you are where you said you would be. 

Meet in public. Don't meet up with someone for the first time somewhere private. Choose a place with lots of people like a coffee shop or restaurant. 

Don't rely on them for transportation. Be in control of when you want to leave and how you're getting somewhere. 

Use your intuition. Trust your instincts and bail if you feel like something is wrong or is weird. Don't worry about coming off as rude, your safety is the most important thing. 
When should I meet up with people I've met on a dating site for over 50s?
It's always best to meet up as quickly as you can. It's difficult to get a feel for someone else's personality when chatting online. The longer you wait, the more time you will have wasted on the wrong person when you finally meet and they're not the one. Just be sure to follow the safety tips above when deciding to meet in person. Haley Quinn, a dating coach for Match, says you shouldn't wait any more than one or two weeks after matching. If you wait any longer, she says you will most likely overthink the situation, which will make the spark fizzle out.