AdultFriendFinder
Review 2023
Designed for Casual Dating & Hook-Ups
Over 80 million members worldwide
Designed for Casual Dating & Hook-Ups
Over 80 million members worldwide
In-Depth Review of


AdultFriendFinder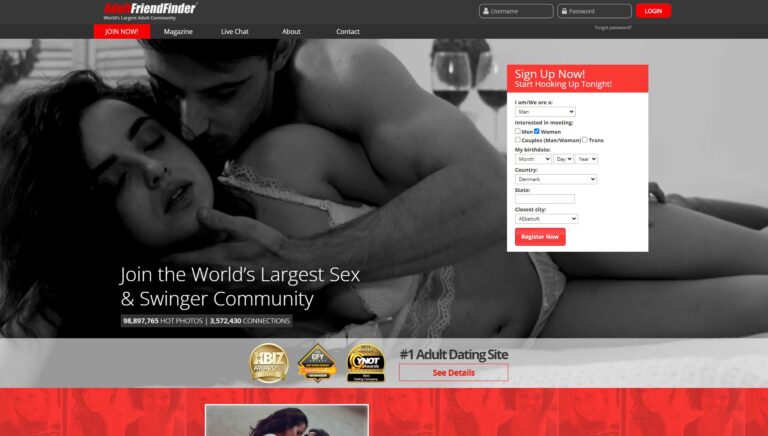 While a great many online dating platforms cater to people seeking long-term relationships and deep romantic connections – that's just not what everyone is looking for in the wide world of online dating. To embrace the casual dating market and design a dating site that caters more exclusively to hook-up culture, AdultFriendFinder was created.
Originally founded back in 1995, AdultFriendFinder is a service that focuses its attention on adults who are looking for more casual relationships and one-night stands. However, although it was one of the first to breakthrough the market, it definitely isn't the only one any longer. With a sometimes-oversaturated market of dating platforms designed around casual dating, can AdultFriendFinder stay competitive?
We created a profile to find out. Read on to see our review of this premiere hook-up site and discover if it's the right start for your next or first foray into casual dating.  
Welcomes all kinds of desires
Paid membership includes lots of features
Users are very active
Not for serious relationship seekers
Contains explicit content and fake profiles
Signing Up for

AdultFriendFinder
As you might expect, the sign-up process for AdultFriendFinder is a breeze, so you can start scrolling the site for potential matches immediately. After inputting some basic information like age, location, and interests, you're asked to verify your account through email before getting underway.
It's important to note that your real name will not be displayed on the site should you choose for it not to. Instead, you are allowed to choose a username, giving you as much or as little anonymity as you'd like. This also functions as an added security measure, as linking names to emails helps to limit any fake accounts on the site and keep the userbase free of bots. To that end, it's only fairly successful.
As mentioned, speed is of the essence on AdultFriendFinder. The whole sign-up likely won't take longer than a few minutes – and yet, it can take as long as you want. In addition to the basics, there are options on the site to outline your desires in more depth – covering everything from specific kinks to sexual fantasies. Beyond that, pictures and videos are also encouraged on user profiles and the explicit nature of the site can make itself known when scrolling such media.
How Much Is

AdultFriendFinder

?
1 MONTH
Per month: $39.95
Total: $39.95
3 MONTHS
Per month: $26.95
Total: $80.85
12 MONTHS
Per month: $19.95
Total: $239.40
Member Structure
As far as hook-up sites and casual dating platforms go, AdultFriendFinder stays plenty busy. It has over 80 million members all over the world and 2 million active each week. The bottom line is that there are a lot of fish in this sea and the US, being the original home of AdultFriendFinder, benefits from the most active userbase worldwide.
However, this massive userbase also has a fairly clear drawback when it comes to the divide between women and men on the site. On AdultFriendFinder, males dominate the percentages accounting for nearly 80% of the base with only 20% left for females. Because of that, women interested in men might have plenty to choose from, but the same can't be said for the other way around.
Another drawback of AdultFriendFinder is that, even with added security measures mentioned above, they have a problem with an overabundance of fake profiles. This is often a caveat of an easy sign-up site, but it makes the likelihood of scam or bot accounts that much higher.
Matching Process
AdultFriendFinder has done what it can to evolve with the times. In that way, the entire site and app feel much more akin to a social media platform than a typical dating service. Pictures are encouraged to be shared and liked – and anybody can post content to public pages to start conversations. It's a unique approach to a dating platform, but it also feels very familiar in our social media saturated world.
However, because there is no standardized matchmaking other than location-based connections – which is important for casual dating sites – it does offer a lot of opportunity to communicate and share sexual interests openly with other users. Through forums, journals, chatrooms, video chats, and a filtered search, there are a number of ways to find potential partners.
Contact Options
Even though there are a number of ways to communicate, it's important to know that many of those methods are blocked behind a paywall. On AdultFriendFinder, a free member can "like" photos and videos, comment on them, create a 'hot list' of other favorite users, upload their own content and use the search feature. As free accounts go, that's quite a lot.
On the downside, however, the only way to make direct contact with a potential partner, whether through DM or video chat, is with a premium account. Still, the amount of communication options and the unique implementation of them make AdultFriendFinder a very social dating site.
To add to that, the site is also well-known for providing an open forum to talk about sexual interests, sexual issues, and anything else related to romance that one might think of. These group chat rooms, blogs, live-stream videos, and journals give an opportunity for everyone and anyone to explore their sexuality. In that way, AdultFriendFinder really lives up to the name. Not only is it a method to find casual flings or hook-ups, but a social site designed to invite like-minded individuals to explore and uncover sexual interests just as friends.
AdultFriendFinder

App
AdultFriendFinder has a mobile app with all the same features as the site and is available on iOS and Android. In addition to access to all the sought-after social media-like scrolling that the site is known for, it also is perfect for location-based matchmaking.
Conclusion
AdultFriendFinder has been around almost three decades, but it has done everything in its power to stay relevant to the demographic it tries to serve. In that, it succeeds. If you're an adult single looking for a hook-up, to casually date, or a means of exploring your sexual interests in an open forum, AdultFriendFinder might just be the perfect site for you.
It may have a fairly wide disparity of men and women users, and a lot of fake accounts to boot, but with millions of real members worldwide and an extremely active community, AdultFriendFinder is as close to a successful Facebook meets dating platform as we're ever likely to find.