It wasn't such a long time ago that online dating was part of the fringe world of romance. Most people were skeptical about the viability of online dating. They claimed it was a kind of "fake" or "illusory" dating experience in which people simply lied about who they were. Anything serious that emerged from online dating was considered miraculous.
That was then, and this is now. In 2022, online dating is absolutely part of the dating mainstream, with major dating platforms such as eHarmony reporting that there are some 40 million Americans currently using online dating services out of roughly 100 million or more singles across the country. In other words, online dating has been thrust firmly into the mainstream.
However, none of this means that everyone out there even knows what online dating really is. In today's blog, we're gonna take a deeper look at the world of online dating and clarify exactly how it all works.
What Does "Online Dating" Really Mean?
Let's start with a clear definition of what we're referring to when we talk about online dating. In simple terms, "online dating" simply means when people search for romantic or sexual partners using online platforms rather than through more traditional channels such as being introduced by friends and family, or meeting by chance in various social situations such as in bars, at parties or events, etc.
We'll talk more about the process of online dating further below, but we should clarify that "online dating" doesn't typically mean that you conduct a relationship exclusively online with another person. The more usual pattern involves meeting and connecting online initially, followed up by in-person meetings, dates and more. Having said that, there is a portion of the online dating world where two people may connect online and conduct a kind of relationship entirely online, or at least online for a long time before meeting in person.
What is the Point of Online Dating?
Since people have been meeting each other and dating for so many years, you might ask yourself what the point of introducing this online element is in the first place? Why do we even bother with online dating when apparently our current system of dating seems to do the world fine, even contributing to a now 7-billion and growing population of Earth?
Well, it's a fair question, but quite easy to answer. The real point and value of online dating is to help those who perhaps don't feel comfortable in the more traditional world of dating.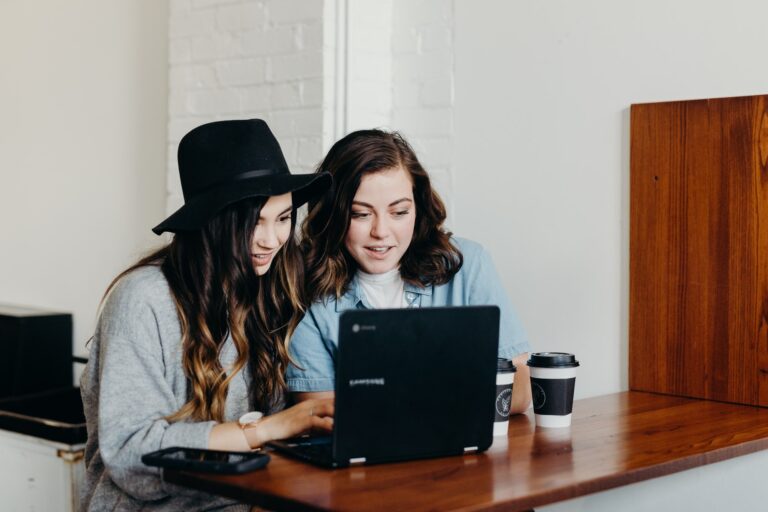 → Online Dating is Empowering
Shyness is one of the biggest crippling factors when it comes to the world of dating. It holds countless people back from talking to an attractive girl or guy in a bar or at a party; it stops people trying to strike up a conversation with someone they bump into in public, leaving them forever wondering what might have been. Online dating is a perfect engine for those who are shy, because it eliminates the element of public awkwardness or embarrassment.
In this sense, a clear value in online dating is how it empowers shy people to get a grip on their dating life and take action. Rather than striking up a conversation in person, they can take time to construct a carefully worded message to send via an online platform, or via email or instant message. If the other person doesn't reply, then it's unfortunate, but no one has suffered. Through the anonymous and safe window of online dating, one can initiate contact without fear.
→ Online Dating Connects Niche Groups
A further value of online dating is in the way it connects people of specific types and interests. This is particularly good for people living in small towns who may struggle to find people who share a particular passion of theirs. Through the online dating world, they can match with people just like them, some of whom might be closer than they first thought. One example of a dating niche is "Christian dating sites"
→ Online Dating Allows People to Get to Know Each Other Before a Date
In the traditional dating sphere, first dates can be awkward and nerve-racking because the two people involved have almost zero knowledge about each other. It can take a few dates of getting to know each other before things even feel relaxed. Online dating allows for that process of understanding each other first to happen more naturally before the first date even happens.
What's more, since it all happens through online conversations, emails and whatnot, it also feels more relaxed and easygoing than in-person conversation can be at those early stages. There are no awkward silences to fill, and the conversation can flow as quickly or slowly as anyone feels like.
→ Online Dating is Efficient
One further value of online dating is in its efficiency. Where the traditional dating scene typically sees an individual dating just one person at a time before finally settling down, the online dating scene offers scope to initially connect with many people at once before making a decision on which one you are most interested in seeing romantically.
Since the initial stages of online dating are most often based around pure communication rather than anything physical, it's a chance to play the field digitally, getting to know different individuals without feeling guilty or breaking any of society's so-called rules on dating just one person at a time.
What's more, if you are someone who is more in the market for something purely physical, it can happen a lot faster (and more cheaply) than it would with regular dating. You can log into an app, connect with someone nearby, and have them round at your place getting down to business within 30 minutes and at zero expense to you. It's a lot cheaper than wining and dining someone first!
How Do You Do Online Dating?
So how does online dating work? We'll cover two broad and common situations, one for a person looking for a more serious relationship, and one who is looking for something more physical; no strings attached.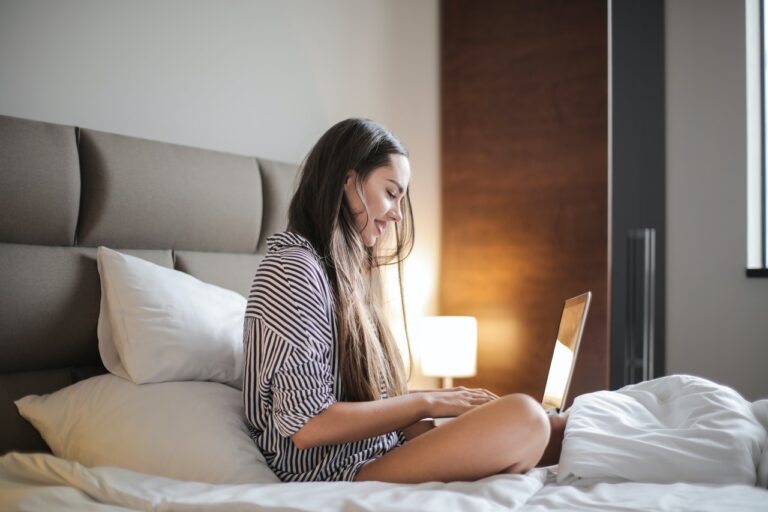 Online Dating for Relationships
The first step is signing up to a particular dating website or app. Many apps are free, but some offer a "freemium" service where registering is free and then you pay for more premium features like more detailed searches, more visible profiles in your area, and more.
The second step is building a profile. You fill in some information about yourself without revealing anything too private such as your address or social security number, and also upload a nice, recent photo of yourself. You can look sexy in the photo, but most platforms draw the line at any kind of frontal nudity, so keep that in mind.
The next step is to connect with other users. Depending on the platform, you might connect with others more proactively by searching them out and messaging them to say hello, or there might be a system where you are shown profiles and you give them a yes or no. If they say yes back to your profile, you "match" and can start chatting with them. Other systems might take your profile information and recommend other profiles to you based on the information you have provided.
Next, you continue chatting and getting to know the other person. Once you've connected, you might decide to share an off-site contact such as your WhatsApp, or Messenger name so you can continue chatting with them regularly. If these conversations go well, you might go to the next step.
After getting to know each other, you arrange to meet and date. If both parties feel good about the online chats, then they may decide to find a time and place to meet for a date, perhaps for lunch, a coffee, or a drink somewhere. From here, it evolves more into the regular type of dating that we all know.
Online Dating for Fun
The first step is downloading an app or joining a platform for singles. These now come in many stripes and brands, all offering instant connections with people in your local area. The less flattering name for such platforms are "hook-up apps" or "hook-up sites".
Second, you make your profile and enter the online space. For those looking for fun, profiles are generally simpler. You include an attractive photo and some basic information, perhaps revealing what kind of fun you're into.
Third, you connect with other users. Matching with other users can work in the same way as mentioned above for long-term dating, but connections typically happen faster as more users are often online through most of the day, especially on evenings and weekends.
Fourth, you arrange a meeting, and let nature take its course. You'll agree with your new partner to meet at one of your places, or perhaps at a hotel or other location and then get down to it. Afterward, it's anyone's guess as to whether you keep in touch.
What Are the "Rules" of Online Dating?
Some people criticize the online dating space as a kind of "Wild West" of the dating world, lacking structure and order, filled with liars and charlatans. It's hard to deny that there are indeed a lot of fake people out there, and indeed some dangerous individuals who run online dating scams. Having said all that, in reality it's no more dangerous on balance than traditional dating.
It's also wrong to say there are no rules. Over the years, some best practices have been developed to help make the realm of online dating safer and better for everyone:
– No sharing of personal data: address, social security number, ID info, workplace, etc.
– It's best not to share nude or sexually explicit photos with others until you are in a stronger place of trust and mutual understanding.
– Similarly, demanding such photos from others is impolite.
– First meetings in-person are best done in busy public places during the day.
– If anyone starts asking for money or investment, block and/or report that person to the platform.
– Avoid vulgar language and talk when chatting with a new connection.
– Steer clear of discussion on politics and religion until you are better acquainted and know that you're both interested.
– Don't badger other users with follow-up messages if they're not replying. Either they're busy, or you need to take a hint.
– On the flip side, it's always best to reply to people who message, even if it's just to say "thanks, but no thanks." Everyone needs closure, sometimes.
Verdict:
Is Online Dating Worth It?
There are, of course, many downsides to online dating. It can actually be quite unsafe, especially if you're new to it all and feeling very lonely and desperate. For example, many middle-aged women in America now are encountering "catfish" scammers who create fake profiles professing their love for these women before starting to ask them for money. Many such scammers are based overseas in places like Nigeria, and they may claim to be diplomats, oil workers, engineers and others working in exotic places — this will explain why you can't meet in person. Some women who have appeared on TV to tell their stories talk of losing hundreds of thousands of dollars to such scams.
Even without these scammers, there are fakers, liars, cheats and deceivers in the online space, it's true. What's more, you have no real way to confirm anyone is who they say they are. That's why rules such as the ones we mentioned above are so important when it comes to dating online safely.
Despite all its faults, it's hard to say that online dating is a waste of time or just a fad. With 40 million Americans using online dating platforms, and numbers continuing to grow, it seems online dating is set to become the norm in the modern age. Is it worth pursuing? Absolutely. When you follow the rules, keep a sensible head and use your common sense, it's an exciting and varied world to explore!