Where Can Christian Singles Meet?
Faith is a huge and critical part of life for many people around the world, and that doesn't go away when those same people delve into the realm of online dating. The problem for groups like Christian singles is that even though they make up the majority of religious people in countries like the United States, they often struggle to find what they want on many of the existing online dating platforms. So, where can Christian singles meet? This is the core question we are asking in today's blog.
Why Do Christian Singles Struggle to Meet Like-Minded Others?
Something like 47 percent of the US population counts itself as "churchgoing" — representing about 115 million people at the time of writing — and among them, data shows that about 1 in 4 or 1 in 5 of them are single. That's a lot of people you could potentially meet, still far more than the total population of online daters in America, which latest data indicates is about 40-50 million strong.
Looking at these numbers, it might be hard for one to imagine what the problem is for Christian singles when it comes to meeting up. The main issue is actually found in those who wish to take part in the greater online dating trend that is sweeping the world and growing year on year. While there are millions of churchgoing singles out there, meeting them isn't always easy if they don't live in your direct community and/or attend your specific church.
Online dating presents one option, of course, but which platforms are best for Christian singles? And what about those who don't wish to use online dating as an option? What should they do?
Where Can Christian Singles Meet?
As we mentioned in the background information above, there are both online and offline options for Christian singles, but what are they? Which ones are the best places to meet good people for dating?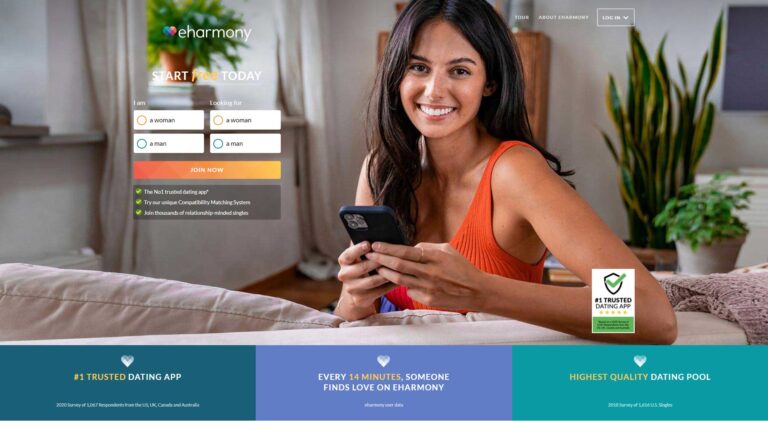 It's not just one of the top online dating sites for those looking for serious relationships and marriage, eHarmony is also a top stop for Christian singles. The platform's detailed questions during the profile setup stage allow for Christians not just to connect with others who identify as Christian, but also with those who might also profess that their faith is incredibly important to them. This further enhances the accuracy of matches, and addresses the non-monolithic nature of the Christian dating community.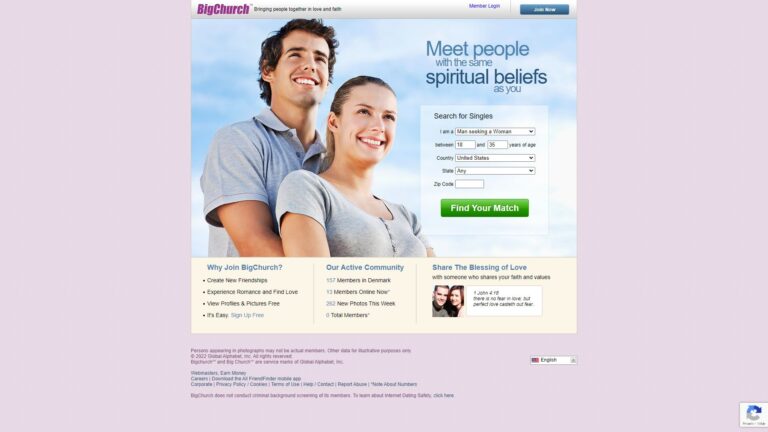 The Big Church app offers a platform for both iOS and Android users, and comes with a lot of great functions that Christians can take advantage of when looking to date. There are blogs, a bible group, friend networks and social groups, etc. It's more of an entire Christian social networking platform than just for dating.
One drawback, however, reported by some users is that there's no detailed compatibility quiz like there is on eHarmony, so outside of both being fellow Christians you might find it harder to meet someone who is truly like-minded.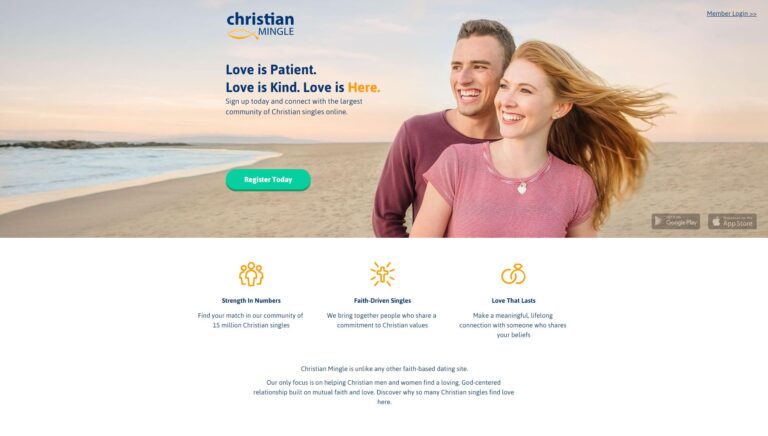 This Christian-only platform offers a monthly user base of about 160,000, as well as apps available on both iOS and Android systems. With the strong emphasis on building a faithful Christian userbase, Christian Mingle is a community where those who are more serious about finding a serious relationship and marriage can meet like-minded people.
Unfortunately, while Christian Mingle is certainly cheaper than the minimum $35.90 a month you pay for eHarmony, it's still not very cheap at around $19.99 a month, or around $45 for a single month using their premium features. For some, however, the fact that one can depend on the users being more singularly focused on making good and lasting matches makes the additional cost more worthwhile.
Offline Options
What about those who don't want to use online dating platforms? What options do that have? Are there things a Christian single can do to meet new potential dates?
At Your Church
We admit this one sounds like we are simply stating the obvious, but it makes a lot of sense to look at one's own local churchgoing community when looking to meet someone single who shares your faith. Sometimes what can happen is that you convince yourself there's no way you could meet someone in your local congregation, but have you actually looked and thought about it? Some churches, for example, organize mixers and similar social events where non-regular churchgoers might attend.
The most ideal match would, after all, be someone local who shares your beliefs, and therefore someone who you could easily keep in contact with and see regularly. If you're from a very small community church and you already know everyone there, it's a different story of course, which is why we'ce added in a few more options below.
Volunteering in the Community
Another good way to meet Christian singles would be to volunteer in your community. If being with someone who also honors their community is important to you, then you're likely to meet them at such events, right? Not only can you show the extent of your own care and commitment, but you can find someone who cares as much as you do.
Meeting someone in this way also opens up new opportunities and channels for you to volunteer more in the future, too. Your new romantic connection can introduce you to new organizations and initiatives, and you can share your own. In this way, your meeting and hopefully dating can also amplify the benefit you both bring to your wider community.
Tap Into the Friend and Family Network
If you're keen on meeting other Christian singles, then you really need to look to those with whom you have that in common in order to get introductions. Just as you can tap into your local church/congregation network, so too you can look to family and friends who could make the necessary introductions.
Who knows? It might turn out that one of your siblings or cousins is working with a Christian single who they could fix you up with. What's more, a family/friend connection instantly gives you something in common with that person, and makes integrating that new person into your life somewhat easier.
Retreats
Finally, does your community or a larger regional church or religious community organize special retreats and similar events? It could be a Bible study retreat, or something more activity-based, it hardly matters. Retreats are another excellent channel through which you can meet Christian singles, and what's even better is that you will be in the same place and focused on the same tasks for the entire length of the retreat. This boosts the chances of a positive encounter that can develop into something more meaningful.
Is It Hard Being a Christian Single?
Dating can feel more of a challenge when you're a Christian single. You may well have more specific ideas in mind for what you want from a partner, and you may feel isolated if you work in a place where there aren't many like-minded people. However, despite all this, the modern times we live in have provided Christian singles with many great channels through which to meet like-minded people of faith with whom they can build a special bond and even relationship.