InterracialMatch
Review 2023
Matching interracial singles since 2001
Millions of members around the world
This article contains affiliate-links.
In-Depth Review of


InterracialMatch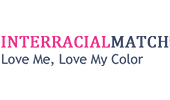 As one of the original interracial dating sites, InterracialMatch has been connecting singles since 2001. With over a million members worldwide, the majority of those users are located in the United States — 600 thousand approximately. On the platform you'll find singles of all different races, including African Americans, Asians, Caucasians, Latinos, and much more. You will also find there are many singles from Canada on the site as well. Most people using InterracialMatch fall between the ages of 30 and 50. However, you'll find younger and older demographics too. 
As far as interracial dating sites go, InterracialMatch is one of the most popular. Most members opt to pay for the Premium Membership Plan because it offers the best chance to meet other singles and go on dates. That being said, you can still sign up for free and enjoy features such as browsing profiles, posting moments, and commenting on posts and profiles. But if you would like to send unlimited messages, allow everyone to reply to your messages, and see who viewed and liked your profile, you have to play for the upgrade. Fortunately, the more months you sign up for, the cheaper the monthly charges are. 
For serious relationships and casual flirting
For couples looking for something fun
Easy-to-use roulette style matching
Profile verification may take two days
Must pay to read and send messages
How Much Is

InterracialMacth

?
1 MONTH
Per month: $39.95
Total: $39.95


3 MONTHS
Per month: $24.98
Total: $74.95


6 MONTHS
Per month: $19.99
Total: $119.95


Signing Up for

InterracialMatch
While the signup process at InterracialMatch is fairly straightforward, it does involve disclosing a good deal of information about yourself. This is intended to help other users on the site learn more about your preferences and interests before deciding if they want to initiate a conversation. In theory, this should weed out a lot of undesirable matches and connect you with the singles you're more interested in.
First, you will provide some basic information about yourself — your name, age, gender, birthday, country, state, relationship status, and of course, your ethnicity. After that, you choose your gender preferences, such as straight, gay, or bisexual. You can also choose to have affairs with curious couples or married couples.
To verify your profile, you have to provide your email address, which they will send a verification code to. Part of completing the registration process is providing a profile photo, a headline of your choosing, and an introduction paragraph that tells people whatever you want them to know about you. To ensure the profiles on InterracialMatch aren't fake, they make you verify your profile photo. That means you will need to upload an ID card or license to prove your profile photo is you. Once approved, your profile will receive an icon that shows other users that your profile is legit.
Member Structure
InterracialMatch has over 600 thousand members in the US, with over 10,000 active monthly users. Compared to other interracial dating sites, that's a large user base. It's also a great place to find couples to hook up with. Currently, the proportion of the site is 40% female singles, 50% male singles, and 10% couples. Even more, a lot of those singles and couples are straight, gay, or bisexual, which means InterracialMatch is a very open and inviting interracial dating site.
The great thing about InterracialMatch is that you set your intent right in your profile. That way, other users browsing your profile can see exactly who you are and are not interested. This saves a lot of time and energy conversing with singles and couples you aren't interested in. Plus, you won't have to worry too much about fake profiles and scammers because the site does a solid job at preventing bad actors from creating accounts. If you do spot suspicious activity, report the profile and the moderators will remove it from the site.
Matching Process
Even though you're required to provide quite a bit of information on InterracialMatch, the dating site doesn't actually use that information to match you with like-minded interracial singles. Instead, that information can be viewed on each profile to determine if they're the right match for you before deciding to reach out.
The most popular feature enjoyed by members of InterracialMatch is "Spark." This function works just like Tinder where you view profiles in a roulette-style format. You'll be shown someone's profile photo with their height, location, and relationship status. If you "Like" someone and they "Like" you back, the site will notify you of a match. You can find all your mutual likes under "Matches" in the "My Lists" tab.
Contact Options
One cool thing that sets InterracialMatch apart from other dating sites is the "Moments" feature. This allows members to post updates to their profiles and comment on different posts. You can also send winks and likes to other members, as well as leave comments on profiles if the members allow it.
If you want to message and reply to messages on InterracialMatch, you will have to purchase the premium plan. If you are serious about finding a date on the platform, it will be necessary to upgrade. Messaging is the best way to meet other singles and couples on the site. If you're having trouble coming up with first date ideas, they have a page dedicated to great ideas for first dates.
InterracialMatch

App
Unfortunately, the InterracialMatch app is only available on the Google Play store. For the most part, the app only seems to be useful when using the roulette-style matching feature, Spark. Other than that, the app seems to lack a lot of functionality, including the search function, which is why there are so many mixed reviews. However, it does seem like the developer is working on making the app more functional and creating a better experience. We will see how that goes in the near future.
Conclusion
Overall, InterracialMatch offers a pretty good premium plan that lets you meet singles and couples of different races throughout the United States and abroad. With the ability to find matches through their Spark features and also search for users by criteria, you shouldn't have any problem finding dates. Before fully committing to the paid subscription plan, we recommend signing and navigating the site to get a better feel for the experience. Once you've upgraded, you can start messaging whomever you'd like. Just remember that these niche dating sites are usually more useful in densely populated areas. So don't be surprised if you don't see many other singles or couples in a more rural town.