Which Dating Site Is Best for Long-Term Relationships?
So, you have decided to try out online dating, but you are still absolutely committed to the idea of securing a long-term relationship for yourself. That's fine, and contrary to what people tell you about online dating being all about hookups and casual flings, there are actually many great online platforms that are dedicated to the idea of helping match people who want serious relationships, and even marriage.
There's even a lot of data to back up the idea that online dating to find a long-term relationship and/or marriage is actually a smarter way of doing it, but we'll get to that later on. In today's blog, we're looking at which online dating websites are best for long-term relationships. We are not including smartphone-based apps here, although some or all of the platforms mentioned on here do run app versions of their service.
What Is the Best Dating Site to Find a Husband?
eHarmony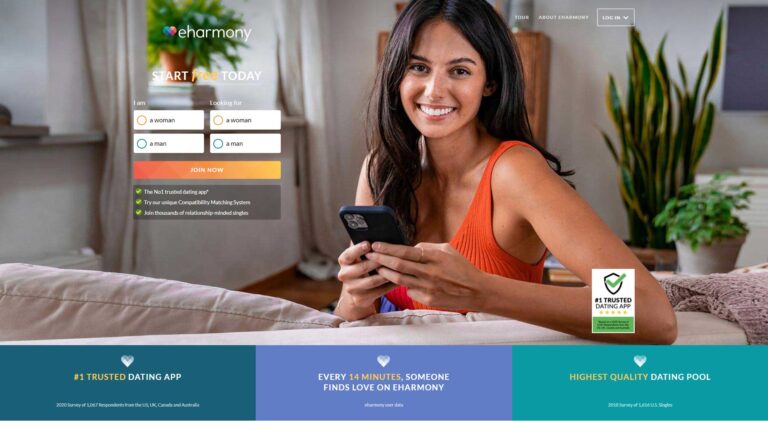 First established in 2000, for a long time eHarmony has been recognized not just as one of the most successful online dating sites in general, but in particular for its focus on creating matches that result in weddings. Its biggest rival, Match (see more below) isn't exactly a slouch when it comes to marriage, either, but the site has never claimed to be as centered on it in the way that eHarmony does.
While there are a growing number of young users who feel that the whole experience of eHarmony is rather dated and long-winded, it's hard to argue with the statistics. About 4 percent of modern US marriages — more than 460 per day — are directly created by eHarmony matches. A figure like 4 percent may seem insignificant, but when you factor in just how many dating sites and platforms there are, and the myriad ways that people meet and get together, it's actually quite impressive that a single website can capture so much of that.
What Makes eHarmony the Best Site for Marriage?
It's easy to talk about this so-called "marriage focus" but what does it really mean? First of all, the sign-up process at eHarmony begins with a long, long series of questions designed to learn as much about you as possible and then match you with eligible singles. The questions come in waves of 10-20 at a time, and it's a long, careful process to answer them all. Provided you answer them honestly, you should get good results at the end, so according to their huge satisfied user base, it's worth it.
This process of questioning has another function on eHarmony, however, and that's to test the level of seriousness that a person has for finding a serious romantic partner. In other words, it can help to weed out those who perhaps are looking more for casual connections and no-strings-attached fun. That's all well and good, of course, but eHarmony is serious about its platform, and it therefore likes to ensure everyone who successfully registers is committed from the get-go.
The careful questioning process does result in very strong matches being made, and it's not just the sheer number of marriages that helps to prove that, but also the fact that these marriages are stronger than average. Data shows that the divorce rate among eHarmony-matched couples is vastly lower than the national average, sitting at about 3.9 percent, compared to a national average of 50 percent. They're clearly doing something right.
Drawbacks of eHarmony
The main disadvantage of the platform is its price point. The best price they offer is $35.90/month for a 2-year Premium membership. If you want a short-term 6-month membership, it'll go up to $65.90 a month. That's considerably more expensive than much of the competition, but eHarmony has long known the value of their product when it comes to serious relationship seekers.
Historically, the site also wasn't so LGBT+ friendly, either, but they have since started offering same-sex matches as part of their mainstream service. Despite this, however, some claim that the site remains more heterosexual-oriented, at least at the time of writing.
What Is the Best Dating Site to Find a Girlfriend/Boyfriend?
Match
The next must-try site for those who are interested in a serious relationship is Match. While eHarmony focuses more specifically on trying to achieve marriage-level matches, Match is a little more of a mixed bag, but still offers relationship seekers a great deal. To begin, there's a massive user base some 25 million strong, and it offers more options for subscriptions, not to mention lower prices than its biggest rival eHarmony.
What's more, the platform has undergone a major refresh and redesign in recent years to help it appeal to the younger millennial and gen-z users. This included an overhaul of their well-known sign-up survey, which now features more relatable and conversational questions rather than the sort of interrogation that many felt it had become when trying to sign up. Questions designed to probe your daily habits, personal values, and how you'd react or deal with certain situations are both more engaging and useful in creating matches.
Perhaps its biggest USP isn't that i's user base is just large, but also balanced. The male-female split is about even, as is the divide between different types of users, such as those with kids and those without. They've even started to cater to the more health-conscious post-pandemic demographics by introducing "Vibe Check," a video chat feature that allows users to interact on a kind of virtual first date without breaching social distancing.
Match is no slouch when it comes to marriages either. The site boasts more than 900,000 marriages created since 1995, as well as 1 million babies born of these unions.
Drawbacks of Match
Compared to eHarmony, the lower and more flexible pricing scheme does make the platform a little less secure against fake profiles, catfishers and other scammers. Some have also complained that the site changes its annual tariffs too often, which leaves some who paid at a certain rate feeling disillusioned or annoyed if they realize a week's wait could have saved them money!
One more minor criticism of Match is that it sends too many meaningless notifications, which can make it a bit tiresome. One of the exciting things about signing up for online dating is that feeling of electricity or butterflies when someone matches or connects with you. Match's overkill notifications take that magic away, somewhat.
What Do Other Sites Have to Offer?
There are other platforms that one can explore for good chances of success in finding a long-term relationship. Below are a few examples:
Professional Connections – Elite Singles and The League
More people than ever are in work nowadays, with millions of both men and women now focused on their careers just as much (if not more) than their love life and social life. Dating platforms such as Elite Singles and The League have emerged to help serve this niche, connecting dedicated professionals with others who above all prize hard work, success, ambition and achieving goals.
On the surface it doesn't sound terribly romantic, but it's really no different than other niche dating sites, in reality. Elite Singles offers a 12-month subscription working out to $31.95 each month, and is marketed as being both for men and women, but users and reviewers tend to report that men do better on the site.
The League, on the other hand, is a site geared more towards women, but it's also VIP-oriented and costly. You can sign up free as a guest, but you'll be put on a waitlist first. The basic "Member" subscription has a lowest rate of about $66/month. Both platforms, however, do offer users a promise of connecting with interesting and unique professionals, many of whom have strong academic backgrounds, and who are mostly seeking serious relationships.
Millennial Relationship Seekers – Hinge
Another app that has become favored among millennial and gen-z users is Hinge. The first point that makes Hinge so accessible is the price point. There is a free version, first of all, but you can also sign up from just $9.99 for a single month, or 3 months for $19.99 ($6.66 a month), or 6 months for $29.99 ($4.99 a month). When the platform first launched back in 2012, it was seen mostly as a Tinder copy, but it underwent a major overhaul in 2016 to help differentiate itself. It helps that both Tinder and Hinge are now owned by Match Group!
One of the nice features shy users like is the huge number of acceptable ice-breakers to use to get a conversation started. When we say "acceptable" here, we mostly mean that the lines aren't corny or otherwise dated. Data gathered Hinge's performance also revealed great results, too. A new feature being trialed in the app called "We Met" asked users how their first dates went with other users, and 90 percent said that the first date was a great experience, with 72 percent they'd want to go on a second date.