In the eclectic and expanding world of online dating apps and websites, one of the most interesting and unique stories is that behind the creation of Bumble back in December 2014. As of February 2017, the app had 12.5 million registered users spending an average of 100 minutes a day on there. That went up to 40 million users by February 2021, and it was reported in January 2021, before the company's IPO filing, that the number of paying users had reached 2.4 million.
All these numbers are impressive, but what is this platform, why was it founded, and what is its story? These questions and more we will try to answer in today's blog: A User's Guide to Bumble:
What is Bumble? What is Bumble Mainly For?
Bumble is a women-oriented online dating platform created in 2014 by Whitney Wolfe Herd. Herd was previously a senior executive and co-founder at Tinder, before leaving the app in a blaze of publicity and scandal following he lawsuit against them for sexual discrimination and harassment.  The case was settled out of court for more than $1 million in September 2014, just months before Bumble was launched.
Whitney Wolfe Herd's big idea was to create an online dating app that would offer many of the same great features as Tinder, but an ecosystem in which women had much more control and autonomy. The app does also cater to same-sex interests, however, as well as featuring 3 unique "modes" through which users can tailor their experience to find the kind of connections that they want, be they romantic, platonic, or professional.
So, in answering "what is Bumble mainly for," we must address all its functionality, pointing out that Bumble is actually a comprehensive social media platform geared towards women that aims to give women more control over their online social interactions with others.
Bumble Demographics
Herd has described Bumble a the "feminist dating app," but that shouldn't be misconstrued that this is an app exclusively for women. Where Tinder is a mostly male-dominated app (about 2:1 in favor of men), Bumble is far closer to equal, with about 55 percent of the users being men, but with numbers breaking down differently when you split it further by platform and device, etc. For instance, Statista data shows that 67.4 percent of Android active users are male.
Overall, the male-female divide on Bumble is fairly equal, but the features of the app, which we will explore in the next section, are all geared towards giving female users more control.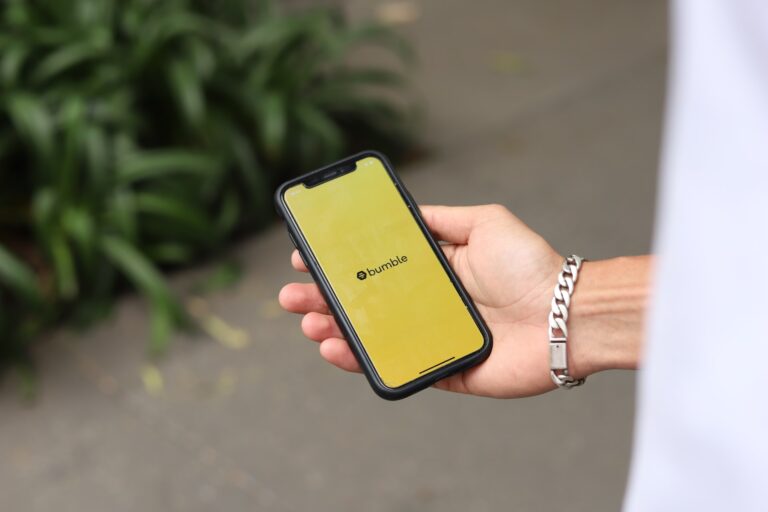 Account Setup
It is free to set up an account on Bumble, and the app comes with additional costs and premium features that can be bought as in-app purchases. This just means Bumble is monetized in much the same way that other competitors are.
The app can be downloaded onto Android devices from the Google Play store, or onto iOS devices via the App Store. The next step is to set up your profile. If you're not someone who likes filling in tons of profile details, you can connect to Bumble using your Facebook profile, which then handles all the essentials, just leaving a few additional things for you to add in or edit yourself.
You can then complete your profile with additional optional information, including:
Place of work
Alma mater and graduation year
Personal bio
Links to other social media accounts, like Spotify
It's recommended that you verify your profile using the selfie photo submission tool. This is a good way to reassure other users that you are a real and active profile, as many may skip over unverified profiles just as a matter of habit.
Once profile setup is complete, you can set various other settings, including:
Distance preferences
Age preferences
Sexual orientation
Notifications, sounds, etc.
…And more
Mode Selection
With your basic profile in place, it's now time to make a decision on how you'd like to use Bumble. This is where Bumble gets seriously differentiated from the likes of Tinder. There are three key modes in Bumble: Date, BFF, and Bizz.
When you're setting up Bumble for the first time, you'll be asked to choose a mode to get started. Don't worry though, it doesn't become set in stone. You can change between modes after you've completed the setup.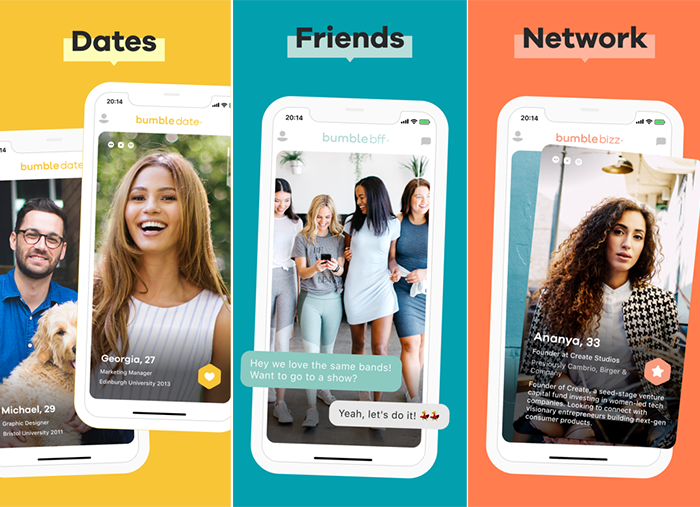 Bumble Date
Date mode is likely the one that most people want when using Bumble, and that's what places it top of the list. When set in Date mode, you'll have three basic buttons at the bottom of your screen, which is now dominated by other profile pictures that are being shown to you to swipe through. You can access this screen by pressing on the three-line logo at the bottom in the middle of the three button choices.
Meanwhile, the button on the left (human silhouette) gives you access to your account information, including (but not limited to) your current subscription and available features. You can also edit/complete your profile from here if you left anything unfinished. The right-hand button is where your conversations with matches are stored.
Going back to the center button and the other Bumble profiles, to approve one, you need only swipe to the right, and swipe left if you're not interested. You can also swipe up to see more details on the other person's profile. You'll be notified if you get a match, and here's where it gets interesting for women.
For opposite-gender matches — male-female — only the woman can initiate the conversation by sending the first message. What's more, if the female user doesn't send a message within 24 hours, the match expires and disappears. This can be a useful feature if women get matched by mistake after a wrong swipe. All they need to do is leave it for 24 hours and the match will resolve itself.
Mind you, if you notice your incorrect swipe before a match occurs, you can shake your phone to go back to the profile and swipe again.
For same-gender matches — male-male or female-female — both parties have the option to initiate the conversation. And it's as simple as that. To switch between modes, go to the account information section, click on the cog icon in the top-right corner, which opens up settings, where you can either deactivate "Date" mode, or switch to either of the other two modes.
Bumble BFF
When using Bumble in BFF mode, you'll only see users of the same gender, so in this setting, all matched users have the right to initiate the conversation. This is purely a mode in which women can find local, like-minded friends to enjoy hobbies, outdoor activities, and other interests. It's also a useful tool when traveling for those who want to connect with locals for platonic friendships.
Bumble Bizz
Setting Bumble to Bizz mode opens up its professional networking features. In this setting, your Bumble profile almost becomes like a resume, not unlike you'd find on platforms like LinkedIn. Your profile can show a headline, your "work mantra," your previous positions and education, and more. You can use it to make connections, search for mentors, and perhaps even potential business partners.
Getting Matches: Is It Harder to Get Matches on Bumble?
Some men have the impression that getting matches on Bumble is harder because of all this so-called "female-orientation" but in fact that's not true. If you get a lot of matches on your Tinder profile, or another app that uses a similar swipe mechanic, then there's no reason you shouldn't experience similar success on Bumble.
In fact, if anything, Bumble is easier than Tinder for men to get matches because there is a better balance of male and female users, unlike Tinder where men outnumber women users by about 2:1.
How to Delete Your Bumble Account
The easiest way to delete your entire Bumble account is to go to your Account Settings menu, scroll down to the bottom, and then hit "Delete." It will ask to confirm, because deletion is permanent and you can't undo it. Should you want to return to Bumble later, you'll have to set up a whole new account.
What's interesting about Bumble accounts is that one can delete just the "Date" mode part if that's what they want, just keeping the BFF and Bizz modes active. This allows you to keep getting good use out of Bumble even if your romantic needs have been met. This is a key differentiating feature of Bumble.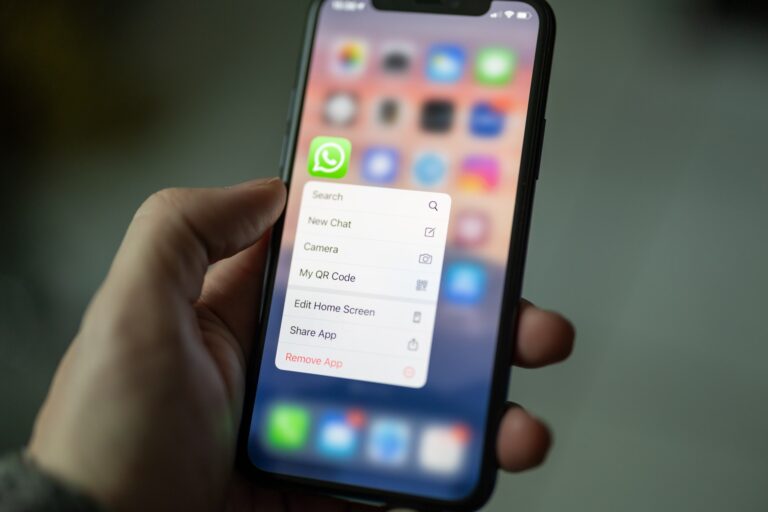 How Much Does Bumble Cost?
Bumble has a premium mode, called Bumble Boost. This starts at $7.99 a week, at the time of writing, or…:
$29.99 for 3 months
$47.99 for 6 months
Pricing can vary depending on location, but that's about right. Standard premium features include "Rematch" which for some is the most important as it allows you to reconnect with any profiles that lapsed because no one initiated contact within the first 24 hours. There's also the "Extend" feature, which allows you to extend that match window if you want to keep it active but aren't quite ready to break the ice.
You also get one use of "Spotlight" every week, which boosts your profile to users in your area. And you get 5 "SuperSwipes" each week, too, which are similar to Tinder's "Super Likes." Finally, "Backtrack" which is the feature we mentioned above where you can shake the phone to undo a wrong swipe before a match occurs. Premium membership also allows you unlimited daily swiping.
Some of these premium features can be purchased individually either using your standard smartphone payment method, or through first purchasing Bumble Coins to use as the in-app currency. These Bumble Coins have been discontinued in some regions.
How Does Bumble Work for Females?
Bumble works in much the same way Tinder does for women, but while giving them some key elements of control. The most important thing is that women gain the ability to be the only ones able to initiate a conversation with a male match. The idea behind this is to prevent women from being bombarded by overly confident, aggressive, or bawdy messages, greetings and other messages — possibly even unsolicited pics — from guys. In other words, it lets them retain control of proceedings.
Conversations with guys start when they want; the ice-breaker is what they want; the time and tone of the conversation is what they want. In short, Bumble works for women by creating a safer, more controllable environment for them.
How Does Bumble Work for Guys?
Besides the lack of any ability to initiate conversations with women, guys enjoy all the same features on Bumble. It's just that difference of control over opposite-sex conversations. Guys looking to meet other guys, as well as those using the BFF or Bizz forums with people of the same gender, can still initiate conversations to their heart's content. All other features like premium features remain the same.
Can You Stop Someone From Seeing You On Bumble?
There are two main ways to prevent someone from seeing your profile on Bumble. If someone has been behaving inappropriately, you should navigate to their profile, and then look at the bottom between the tick and the cross to where it says "Hide & Report." Press on this and follow the instructions, giving one of the first 4 reasons for inappropriate behavior:
Scam or commercial
Hate speech
Off Bumble behavior
Underage
The remaining options include "They're in a relationship," and "I'm just not interested." You can select these if you want, too, but these might not be because of any inappropriate behavior.
The second method to block someone is from within your chat window with them. In the conversation window, press on the vertical 3-dot pattern in the top-right, and press "Report." You'll get the same list of reasons, so you can select one and send them on their way.
Can Guys See When You Look At Their Profile?
No, Bumble doesn't notify other users when you or anyone else is looking at their profile. If you swipe to the right, you'll become visible to them as a potential match for them to also swipe.
Pro – More Control for Women
It's definitely a good thing that women have more control over their online dating environment. This is an app in which women who might have been treated poorly on other apps can feel safer and less likely to be subject to any kind of unsolicited messages or harassment.
Pro – Simple Profile Setup
The profile setup is pretty easy by all standards. What's more, the bio section has a 300-character limit, so that makes creating (and reading) others' profiles much easier. That makes for more efficient swiping!
Pro – Gender Balance of Users
Where Tinder is a bit of a sausage fest at 2:1 men, Bumble is more balanced. That means still a great selection of men for heterosexual female users (55 percent are male, at the time of writing), but not so many that it feels overwhelming.
Con – Men Can't Respond First!
Whatever your stance on the feminist perspective behind Bumble's mechanics, it's a shame for some guys that they can't initiate the conversation. Not all guys are pricks who want to bombard a girl with horrible pictures and bawdy comments. There are plenty of gentlemen in the world, some of whom have the most fantastic ice breakers. The women of Bumble may miss out on those!
Con – Connections Can Be Lost After 24 Hours
While connections can be regained with premium features, it's unfortunate for the majority of users who don't pay for those features who might lose touch with a potentially great match simply because no message was sent within 24 hours. There are a lot of innocent reasons why a message wouldn't be sent, possibly even because a user simply doesn't check their profile and/or notifications are off.
Verdict:
Is Bumble "Better" Than Tinder?
So, is Bumble better than Tinder? Well, it seems to depend  a lot on what it is you want from these apps. Here are some summarizing points:
Bumble's user base is more balanced, so that's better for heterosexual male users, as Tinder is 2:1 men, where Bumble has far better odds of connection.
Bumble takes into consideration female users' feelings and common negative experiences to try and create an alternative to Tinder.
Bumble and Tinder are similarly priced.
Bumble and Tinder share many similarities in features
Bumble is broader, with its BFF and Bizz modes
Overall, there's a lot to be said for Bumble, especially its more comprehensive social media and networking features. It was very clever of Herd to create the app in such a way that even when people make their romantic matches, the app continues to be useful, and unlike similar apps in the spectrum, doesn't have to be immediately deleted until one of those users is single again.
Bumble remains as useful when you're in a couple as when you're single, and that's a stroke of genius. How effective it all is as a platform remains the subject of some debate, but we say that it's definitely worth a go, for men and women alike!