eHarmony: A Look at the Net's Premium Online Dating Service
The world of online dating seems to be moving towards the hookup apps like Tinder and Grindr, all of which offer fast connections, fast gratification, and who knows, maybe even more. Where dating websites with more carefully constructed ecosystems used to dominate, now people are switching to the "swipe left or right" culture of their smartphone.
But not everyone is ready to make the switch. For some, finding a meaningful long-term connection online is still something that one can only really do on a proper dating website. This is part of the reason why platforms like eHarmony continue to do so well.
In theis article, we're taking a closer look at eHarmony, how it works, what it costs, what it brings you, and more. Hopefully it will shed some light on how this now classic dating platform has endured for so long.
What is eHarmony?
eHarmony is a website and smartphone app that aims to connect people who are looking for long-term relationships, and ultimately marriage. The site is not at all focused on hookups or no-strings-attached relationships, and offers users a detailed matching algorithm based on a very intricate personality assessment that happens when you sign up.
While it is one of the most expensive dating site/app options out there, the platform does have a strong history of success since its founding in 2000. It's younger than Match and FriendFinder, but far older than Tinder and some of the newer hookup and dating apps.
eHarmony was rather infamously considered a dating site that was unwelcoming to LGBT individuals, but since 2019 the platform has changed its approach and now does cater to those seeking LGBT coupling on its main platform. From 2009 to 2019, it offered same-sex services via a separate platform "Compatible Partners" before moving everything to the same platform.
Who Owns eHarmony?
eHarmony was founded in 2000 by Neil Clark Warren and Greg Forgatch, and is currently owned by the NuCom Group, which owns 100% of the company via two of its subsidiaries, ProSiebenSat 1 Media, and General Atlantic.
How Does eHarmony Work?
Step by Step
The first thing you should know before setting out to create your eHarmony account is that it does take a bit longer than most other sites — at least 15-20 minutes — and probably longer than any other platform that you've used. This is because of the way it uses information supplied from you to make matches. Below is our step by step guide to get started:
Step 1: Fill Out the Basic Information Section
When arriving at the eHarmony homepage and clicking to get started, you have to enter some very basic information to start. You'll start by giving your name — be sure to use an authentic first name — and then you say whether you are a woman or a man, and whether you are seeking a man or a woman for a relationship. You then entire your zip code and country, and click "Let's Go."
You'll then supply your email, desired password, and they'll ask you how you heard about the site, for which there's a drop down list you can choose whichever applies.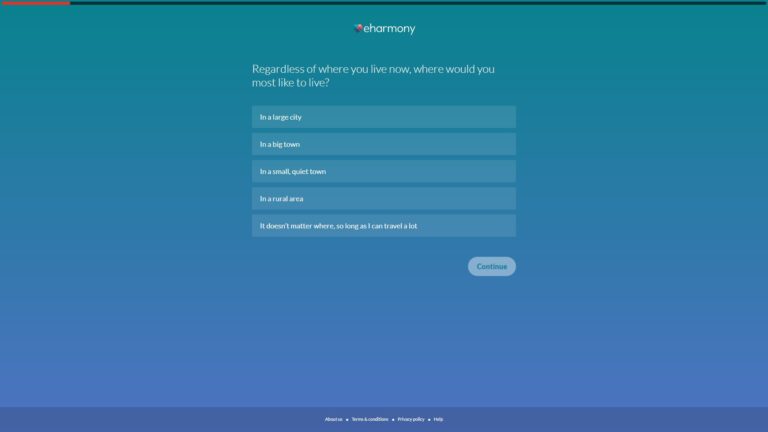 Step 2: Complete the Personality Profile Assessment
This is the most time-consuming part of the setup process, but it's not difficult. There are a lot of questions that they'll ask you, all designed to learn everything they can and match you with other users. The questions are multiple choice, and we'll try to give an overview of what to expect. The following is essentially what they ask, but it does get updated:
Section 1: Basic person information
Section 2: Personality Words – they show you words and you say how well it applies to you from "not at all" to "very well"
Section 3: More Personality Words & How Your Friends Would Describe You
Section 4: Outlook on Life – they show statements that you then say how well each one applies to you from "not at all to "very well"
Section 5: How often in the past month have you felt… – they show emotions and you say how frequently you've experienced them, from "rarely" to "almost always"
Section 6: Skills and Interests; "not skilled" to "very skilled" and "none" to "very strong interest" respectively
Section 7: More statements about you and how well they apply, "not at all" to "very well"
Section 8: How important is…in a relationship: "not at all important" to "very important"
Section 9: Education level, occupation, income level, height, appearance, ethnicity, religion, smoking/drinking
Section 10: Written answers: passions, leisure time, things you're thankful for, things you're looking for in a partner, acceptable proximity/distance from your match, etc.
One very interesting feature of the quiz is that if it senses you're rushing through questions clicking a lot of the same answers, it actually reminds you and encourages you to slow down, think about each question, and work through the quiz more patiently. This is the primary force through which they choose your matches, after all.
Step 3: Upload Photos
There are two main photos that you need to upload as the focus of your eHarmony profile. The first is a larger background image, and the second is a smaller profile image. The background image should be high-resolution because it will be larger, and you should choose it well as it is the first thing people see when they land on your profile page. Make sure it's a photo of you by yourself and not in a group.
The profile image should be a closer headshot that shows your face clearly and has a non-distracting background. It should also be of you and not you as part of a group.
Step 4: Pay
Once you've set up your profile, you proceed to the payment page. All you have to do here is select a payment plan (see further below for pricing) and then enter your payment method and buy it. If you're not quite ready to pay yet, never fear. You can navigate back to your profile page by clicking the eHarmony logo at the top. It won't erase any of your information gathered so far.
You can take a look around your profile first, see some of the matches that have started to come through, and get a feel for how it is using eHarmony. You can then, whenever you're ready, click "upgrade" and get your account back on track.
Step 5: Start Matching and Communicating
Once you've upgraded your account, you can then start reviewing your matches and getting in touch with them. You can send them messages, and if you both have premium accounts you can even go on a virtual date within the eHarmony environment. Essentially, at this point, however, you are in control of how things go.
Please note that unlike many other platforms there are no search functions or filters on eHarmony. The algorithm continuously finds matches for you based on all the info you have supplied so far. This makes it somewhat easier to use as you just have to sit back and wait for great matches to come through. The downside there is that if you like to be more proactive in your search, you have no recourse.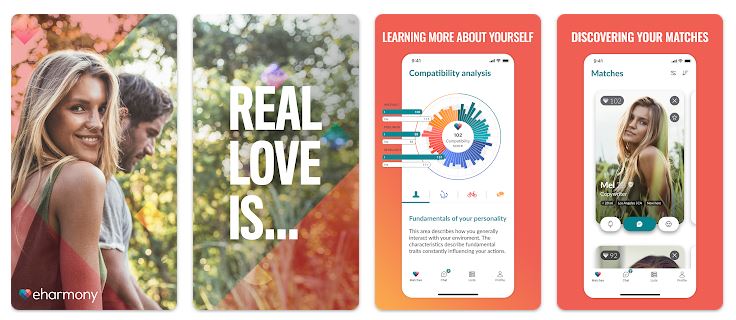 How to Delete Your eHarmony Account
eHarmony allows you two main options when it comes to removing your account from the system. You can either "hide" or "delete." Below we'll talk about it on the site, but you can find the same menus in your app version too to perform the same functions.
Hide
Log into your account, click the arrow next to your photo at the top of your screen and select "Data & Settings." Go to "Profile Visibility" and click the green slider to make it invisible. You should see a reminder on your homepage saying that your profile is no longer visible. You should note that your existing connections can still see your profile, but it will no longer appear in the matches list.
Delete
Go into the same "Data & Settings" section and delete your account by clicking the link that says "To permanently delete your profile, click here." You then just follow the prompts to complete deletion. Once you have deleted the profile, you cannot get the information back, so if you're not sure whether you might need to revisit the platform in future, use the hide profile feature instead.
Dealing with Subscriptions
If you have paid for subscriptions, you can't use the delete process, and instead you have to get in touch with their Customer Care department to start the process off.
What Does eHarmony Cost?
Here is a quick rundown of the costs of eHarmony. These prices will appear to you after you've completed the detailed evaluation.
$65.90 a month for a 6-month membership
$45.90 a month for a 12-month membership
$26.93 a month for a 24-month membership
You can use a basic free account as well, but you will lose access to many of the site's best features, or even most of the basic interaction features with matches, so if you're serious about using the site, you will have to pay for one of the plans.
Why is eHarmony So Expensive?
When there is so much competition out there, what is it that makes eHarmony feel as though they charge through the nose like this? There are a few key reasons why eHarmony is more expensive. First of all, eHarmony has a strong success rate (see below Pros and Cons for more detail on that). When they know people very often find meaningful relationships, they can charge more because people will still pay.
Another key reason for the high cost is as a measure to keep away scammers and fake profiles. With prices at this rate to engage meaningfully with users, and public knowledge of catfishing and other scams going on in the world increasing, the potential return for scammers on eHarmony is diminishing. This is why they tend to stick to sites where basic messaging functions can happen for free.
Finally, eHarmony markets itself as a premium dating service. They make bigger promises and charge more for the privilege. Out of all the dating sites that are around, eHarmony is certainly the one that presents itself as the most detailed, data-driven, and long-term success-oriented platform. They believe that for that, you should pay a premium.
Pros and Cons of eHarmony
To wrap up, let's look at a list of summarizing pros and cons to see the strengths and weaknesses of the platform. Hopefully it will act as a final deciding factor in helping you make the right decision on which platform you want to invest your time and money into to find love.
Pro – Detailed Profiles
The level of detail in the personality assessment makes the profiles on eHarmony incredibly detailed. You can really get to know a lot about potential matches, and it's very rare to see as you do on some of the hookup apps, profiles that are essentially empty and devoid of any useful or insightful information. All of this is driven by that philosophy of creating lasting matches, and some claim that the detailed profile offers great scope for conversation if and when you meet matches for real dates (though not everyone agrees here, see below)
Pro – Strong Success Rate
Data from the University of Chicago shows quite conclusively that eHarmony enjoys a great success rate when it comes to lasting matches. The data shows that "couples who meet on eHarmony are more likely to get married, and less likely to get divorced." The University of Chicago study looked at 19,000 marriages, a quarter of which came from eHarmony. The eHarmony marriages had a divorce rate of just 3.86 percent, compared to the national US average of 50 percent as per the census data.
Pro – Scammers and Fakes Driven Away
As we mentioned further above, the high prices of eHarmony as a platform are usually enough to drive most scammers and fake profiles away. However, even eHarmony isn't immune from catfishers and others, so users have to remain vigilant and look out for red flags.
Con – Takes Some Magic Out of Dating
One issue that arises from the profiles being so detailed is that it does rather take some of the magic out of the dating process. If you connect with someone near you, and you've already read a lot about them on their profile, there is a feeling that the first date loses some of its spark and electricity because there's very little mystery about the other person. Some people appreciate knowing more in advance, of course, but old-fashioned romantics feel it can take out some of the fun of traditional dating.
Con – Price
Finally, there's no getting around the fact the eHarmony is pricey compared to other platforms. With no search, filters, or swiping features to speak of, the platform can also seem rather dry and simple for what you pay for. People are more used to doing their own searches rather than just having things handed to them. They may feel as though they're not getting enough of what they really want.
Hopefully this guide will help you in making the right choice of online dating platform for your own needs.